by Mark Jent

On Tuesday afternoon I received an unexpected text that stopped me in my tracks. Throughout my journey these past five years of traveling the country to meet as many of the remaining Brooklyn Dodgers as possible, I have had many firsts along the way, yet this one was unlike any other first I've experienced thus far.

From the outset I knew that a quest of this nature did not have an indefinite timeframe given the age of my subject matters. When I first had the epiphany in the fall of 2016, there was a roster full of 25 men still with us who once adorned the Dodgers uniform and took the ballfield on the corner of Bedford and Sullivan Place in Brooklyn. (There are now only 11.) A few of those 25 are some of the most recognizable names in the history of baseball (Koufax, Lasorda, Newcombe) , while others are mere footnotes, and every type of career in between. Seeing that all of the men were between their late 70s to mid 90s, I knew it was an unrealistic expectation to think that I would ever get to all 25 of them, but along the way I have been grateful for each and every one who's given me five minutes of their time….or three hours, which is usually the case.

I knew father time would meet some of them before I did, but what I didn't anticipate then is that one can forge a deep connection with someone during a brief encounter while reflecting on events of their life that occurred more than five decades ago.

So when this text appeared on my phone Tuesday afternoon,, I suddenly realized that as I'm "Chasing Brooklyn" (working title for eventual book) to meet these men and learn about their baseball story, I'm becoming emotionally invested in such a way that goes far past me merely writing a story for the website or posting a few pictures on social media.

"Mark, I'm sad to tell you that my dad suddenly passed away yesterday in his sleep. I'm so glad that he got to meet you. Thank you for taking such an interest in his baseball days."
– Jill Demeter Cleveland

Jill is the daughter of Don Demeter, the youngest of three children. Mr. Don played in 3 games for the Brooklyn Dodgers in 1956. I sat there in my office stunned – speechless really. This was not the first time that one of "my Brooklyn Dodgers" has passed away, but it seemed the most personal because of our visits and our last phone call just two weeks prior.

He would go on to play four seasons for the Dodgers in Los Angeles and a total of 11 seasons in the big leagues from 1956-1967. In addition to his time with the Dodgers he also played for the Phillies, Tigers, Red Sox and Indians. One of my favorite one liners from our chats is when he reflected on his last stop, "Back then you knew that once you got traded to Cleveland you were at the end of the line and it was time to hang it up." He laughed so hard while telling that story! He retired at age 32 and went back home to Oklahoma City where he started a swimming pool business that is still in his family today. Then in his late 60s when most are ready to be content in a rocking chair, Mr. Don became the lead pastor at his church where he would encourage, love and care for his church family for the next 16 years, retiring a final time in his early 80's.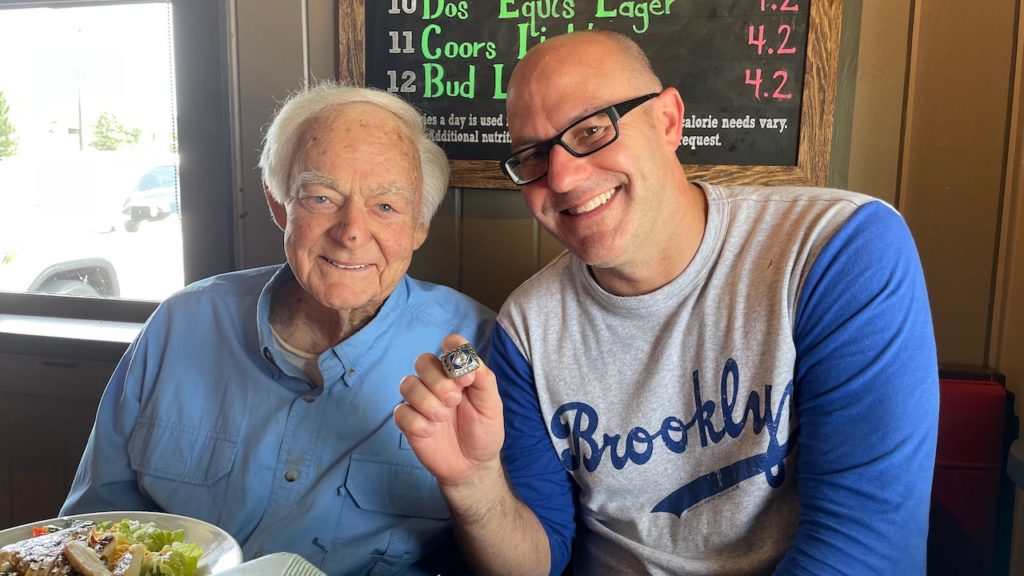 I was fortunate to have met Mr. Don twice in the past year. The first was in November 2020 where we spent nearly three hours at his church fellowship hall. The second visit was in July of this year when my friend Brian Holaway and I traveled to OKC to have lunch with Mr. Don and his Brooklyn teammate Jim Gentile.

Just two weeks ago I called him to catch up and we had a great chat. I was passing through town on a work trip and I called him at the last minute to see if he was available for lunch. He said normally he would be up for it, but that Jill was on her way to pick him up for a dentist appointment. He asked if we were staying overnight and could get together the next day, but we were on a tight schedule and only in OKC for a few hours, so we agreed to a rain check. We talked for a few minutes and I told him that I hoped to make it back out next summer to visit with him and his teammates Jim Gentile and Bobby Morgan who also live in OKC.

Little did I know that would be our last conversation.

The primary purpose of my visits were his three at bats for Brooklyn at the end of the '56 season when he was a 21 year old rookie. It was those three pinch hit at bats that I wanted to hear about in addition to what it was like to be part of the Dodgers organization in that golden era of our national pastime.

The news of Mr. Don's passing had not hit the internet yet when Jill reached out to me. Hearing it directly from her meant so incredibly much. A year ago I was just another random fan who was reaching out to her to try and connect with her father, yet in her moment of loss and grief, she somehow thought of me. (Thank you Jill!.)

Mr. Don was the 7th Brooklyn Dodger I've met. My count now stands at 11. Below is my Don Demeter story through the five hours in conversation we spent together during our two visits.
His Career
It was Wednesday, September 19th in 1956 and the final week of the regular season. The Dodgers had a slim lead over the Hank Aaron-led Milwaukee Braves, but were on their way to another National League pennant. Despite the magnitude of every game counting at this point of the season, for this day game the stands at Ebbets Field were nearly barren. There were only 7,500 fans in attendance for the final game of a two game series between the Cardinals and Dodgers. When one looks at the lineups now 65 years later, it seems like a foreign concept that such an iconic ballpark would not be sold out and packed to the brim with seven future Hall of Famers on the diamond and in the dugouts – Musial, Schoendienst, Reese, Robinson, Campanella, Snider and Dodgers' Manager Walt Alston. Yet with it being a school day in addition to the regular fanatics working their 9-5 jobs in a blue collar section of the city, a crowd of this size was not unusual.

In the bottom of the 8th inning that day with Brooklyn winning 15-2, a young, lanky rookie from Oklahoma grabbed his bat from the rack and strolled to the plate to pinch hit for starting pitcher and Dodger legend Don Newcombe (who had already hit two home runs that day). This wasn't Don Demeter's major league debut; no that occured the day before when he watched three strikes from the Cards' pitcher Larry Jackson whiz by him without ever taking the bat off his shoulder. It was an uneventful first at-bat to say the least and as he walked back to the dugout disappointed in the outcome, he told himself, "If I ever get another chance to bat, I'm going to swing as hard as I can if it's in the strike zone." For the 21 year old Demeter, the failure and lesson learned from his first at bat, led to a memory-making moment in his second at-bat.


As Mr. Don Demeter and I sat in his church's fellowship hall in November 2020 for a nearly three hour chat, you could see the grin on his face and chuckle in his voice as he retold this story yet one more time for an eager ear to hear.

This was during our first visit to meet him when I was in Oklahoma City on a work trip and had a few hours to spare. I had connected with Jill and told her about my quest to meet the remaining Brooklyn Dodgers. She gladly arranged for us to meet up on short notice the next day, fittingly enough, at the church where he pastored for 16 years. I quickly recognized his humility, his "down-home, aweshucks" demeanor and his grandfatherly persona that reminded me of my own. He was gracious and generous with his time and never looked at his watch even as we approached the three hour mark!
Back to his second at-bat.

He dug in the batter's box against the Cardinals' Don Liddle, he remembered what he told himself the day before, "Swing at the first pitch!" And he did. With one swing of the bat, Don Demeter's one day old major league career became a fairy tale that boys dream about on sandlots. When he connected on his first swing in the big leagues, Demeter crushed the ball into the left field seats at Ebbets Field for a solo home run! As he rounded first base, the Cardinals' legendary first baseman, the great Stan Musial said, "Welcome to the show kid."

As fairy tales go, the man that just greeted him was his favorite player as a kid. Growing up in Oklahoma in the 40's and 50's, St. Louis was the most western team in the league, which meant it was the closest team in proximity. Mr. Don had a glimmer in his eye as he told me that growing up he listened to KMOX on a transistor radio and that's how he came to know about the Cardinals first baseman Stan Musial.

Backyard boyhood dreams can take on all sorts scenarios when you're a kid, but it's fair to say Mr. Don never dreamed about the moment where he would be greeted by his favorite player while rounding the bases after his first swing in the big leagues. And just like he did many times before growing up, you have to imagine there were kids getting out of school that afternoon across the northeast and midwest listening on their own transistor radios as Hall of Fame broadcasters Vin Scully or Jack Buck were behind the mic for their respective teams.

Three days later in Pittsburgh Don Demeter would get his third and final at bat as a Brooklyn Dodger and he grounded out to shortstop. His final stat line as a Brooklyn Dodger: three at bats (all pinch hit at bats) one hit, one run, one rbi and one home run. Many years later he was inducted into the Brooklyn Dodgers Hall of Fame, which he found funny. He laughed while telling the story, "I only had two at bats at Ebbets Field, but they put me in their Hall of Fame because I batted .500 and my only hit was a home run!"
For nearly three hours that day I had an all-access pass to a storytelling marathon with Mr. Don. We hit rewind on the time machine that afternoon and Doc Brown's Delorean might as well have pulled up and I jumped in so as not to miss the ride of nostalgia that lay ahead. Although Mr. Don's debut took place 21 years before I was born, he made me feel like I was sitting in those 25 cent left field bleacher seats that day when his home run came sailing over the fence.

This past July I found myself back in Oklahoma City on a very intentional mission, to meet up with four Brooklyn Dodgers in 24 hours – Mr. Don, Jim Gentile, Bobby Morgan all in Oklahoma City and Fred Kipp in Kansas City. Mission accomplished! That day my friend Brian Holaway and I had a three hour lunch with Brooklyn teammates and friends, Jim Gentile and Mr. Don. This would be the first time I've ever spent time with the same one twice. Plus it was the first time I've ever had two of them together in the same location.
Over the course of both visits, Mr. Don patiently answered all my questions and then some. I had done my research to know the highlights of his career, but that paled in comparison to the encyclopedia of baseball knowledge he bestowed upon me.


---
Here are a few short stories that he shared.

Signed by Dodgers
He was signed by the Dodgers the day he graduated high school in 1953 at the age of 18 years old. He became one of 700 minor leaguers in the Brooklyn farm system

Getting The Call
He was playing in Double-A Fort Worth when his manager told him he was getting called up to the big league club in mid-September 1956. Going into his final game before going to Brooklyn he was tied for the league-lead with 40 home runs with Fort Worth teammate Jim Gentile. Demeter would hit his 41st home run in his final at bat to take the lead and win the home run title with 41. Gentile and Demeter both got called up to Brooklyn on the same day and dressed in uniform together when they arrived. The training staff determined Gentile was too hurt to take the field, so he never got in a game in '56, but would make his major league in '57. Demeter went on to get his three pinch-hit at bats that last week of the season. Today they live just minutes from each other in Oklahoma City, getting together often to reminisce about their friendship that spans over six decades.

1956 World Series
Demeter did not make the postseason roster in '56, but he was able to stay with the team as Brooklyn played their cross-town rivals from the American League, the Yankees in the World Series. He told the story of sitting behind home plate in Game 2 when Don Larsen pitched the only perfect game in MLB postseason history.

Japan Goodwill Tour
After the Dodgers lost to the Yankees in seven games, he was invited to join the big league club on a month-long journey to Japan on a Goodwill Tour playing several games against Japan's best big leaguers. It was during that month that he really got to know the legends on the team – Jackie Robinson, PeeWee Reese, Roy Campanella, Gil Hodges, Don Newcombe, Carl Erskine and more.

His Thoughts on Jackie
Mr. Don was with the farm system during spring training 1954-56, but it wasn't until he got called up in September '56 that he had much interaction with him. At that time no one knew this would be Jackie's last season. Demeter had a front row seat to Jackie's final week in the regular season and the World Series against the Yankees. He then spent more time with him on the Japan Goodwill Tour in Oct/Nov. It was after they returned home that Jackie was traded to the hated  New York Giants, but instead of ever suiting up for them, he decided to retire instead.

Being a Messenger
Tuesday's news of Mr. Don's passing was not only a first for me in being contacted by a family member, but it went a step further that I had never thought about before – I became a messenger to other teammates. Minutes after I received the news I thought of his good city and fellow Oklahoman Jim Gentile, so I called him. When he answered I asked if he had heard the news on Mr. Don and he said no. When I told him that he has passed away in his sleep the night before he was simply devastated. They had just been together a month ago at a local youth baseball dinner. The same age with similar career paths had known each other since the mid-1950's. To sit there back in July over lunch with the two of them together to hear their stories was a moment I'll never forget. Mr. Jim was really beside himself that Demeter has passed away, asking me to let him know when his funeral would be.

After I hung up with Gentile, I proceeded to call Bob Aspromonte in Houston, Fred Kipp in Kansas City and Carl Erskine in Anderson, Indiana. All of them had the same reaction and at some point in the conversation said the same thing "Well Mark, there's not many of us left." To which I replied, "That's right, with the passing of Tim Thompson in October and Demeter there are only 11 now."

Each one showed gratitude for the call.

Reflections From Carl Erskine: His Faith
The fourth and final teammate I called on Tuesday was Carl Erskine up in Anderson, Indiana. During our visits Demeter spoke so highly of Erskine and their seasons together. "Yes we've stayed in touch. Every time a tornado passes through Oklahoma City, Carl calls me to make sure we're okay," followed by a laugh.

Out of all of the 11 gentlemen I've met, Demeter and Erskine are the two most similar to one another in their calm demeanor, their personality, outlooks on their careers and most importantly, in their faith and walk with Jesus while using their platform of baseball to reach others through ministry.

A big take away from my phone call on Tuesday with Erskine is when he said, "He talked to me one time on a bus ride and he talked to me about whether he should walk away from the game, go back to Oklahoma City because he had a strong urge to be in the ministry. And he said he felt like he should be back home attending to his ministry. And I said, 'Well, I wouldn't try to give you any advice at all, but from the outside looking in, if you want a platform for your ministry, you've got it right where you are, just remember that. You are fortunate to be in the major leagues and to carry your message, you couldn't find a better platform to be where you are right now.' He talked to me later and he said that it really gave him encouragement that he needed to keep playing ball."

Mr. Don was a Sunday school teacher at his church for decades. In the early 2000's when he was in his late 60's and his church was in a transition between ministers, the church leadership approached him about filling in until they found somebody. Mr. Don said, "Well I just kept doing it as about 16 years later they still hadn't found anybody," with a big 'ole laugh. He retired from preaching and pastoring his church family just a few years ago in his early 80s, but he and his wife continued to teach class on Sunday mornings.

Closing Thoughts
There are so many other stories that Mr. Don and I discussed, which I release in time. Although the casual baseball fan might be hearing his name or looking up his Baseball-Reference page right now for the first time, let me assure you that Don Demeter was the kind of man who'd you want to be on your team, in church or part of your family.

He leaves behind his wife Betty Jo of 64 years, they had three children (Russell, Todd, Jill), 11 grandchildren and 12 great grandchildren.

Below you can find other stories released this week, along with a couple of videos highlighting his career. And finally, at the very bottom of this story below is picture you can find an update on all 11 Brooklyn Dodgers I've met with links to stories for the ones I've penned so far.

Obituary: The Oklahoman
Obituary: Dodgers Insider
Video: Intro Video – Oklahoma Sports Hall of Fame Induction (2011)
Video: Interview – Oklahoma Sports Hall of Fame Induction (2011)
Video: 1959 Dodgers 50th Anniversary Reunion (2009)
Video: Documentary by His Granddaughter (2010)


---
Below you will find the names of all the Brooklyn Dodgers I've met so far along with the dates we met. I have written stories about 5 of the 11, which you'll find linked below as well.

Don Newcombe (met June 2009): Meeting Don Newcombe
Tommy Lasorda (met July 2013): Lunch with Tommy Lasorda
Carl Erskine (met Feb 2017): Breakfast with Carl Erskine
Chris Haughey (met Sept 2017)
Joe Landrum (met Oct 2017)
Tim Thompson (met Sept 2019): Finding Tim Thompson
Don Demeter (met Nov 2020): Don Demeter: One Swing
Bob Aspromonte (met May 2021)
Jim Gentile (met July 2021)
Bobby Morgan (met July 2021)
Fred Kipp (met July 2021)

In March I had the opportunity to speak at the NINE Conference and present my journey. You can read about it here – NINE Conference: Chasing Brooklyn.

Here are other stories on the website written specifically about the Brooklyn Dodgers.
More Than 42, by Ron Rabinovitz (July 2018)
Vin Scully On The Ice Box, by Peter Trunk (January 2019)
42 Turns 100, by Mark Jent (January 2019)
Where Jackie Stood, by Mark Jent (April 2020)
Jackie 75 Years Ago Today, by Mark Jent (March 2021)

Thank you for reading this story. If you'd like to stay connected with Simply A Fan, you can do so by becoming a subscriber on our email list (see it as fun baseball spam!) by clicking here. Or you can follow along on Facebook, Instagram and Twitter.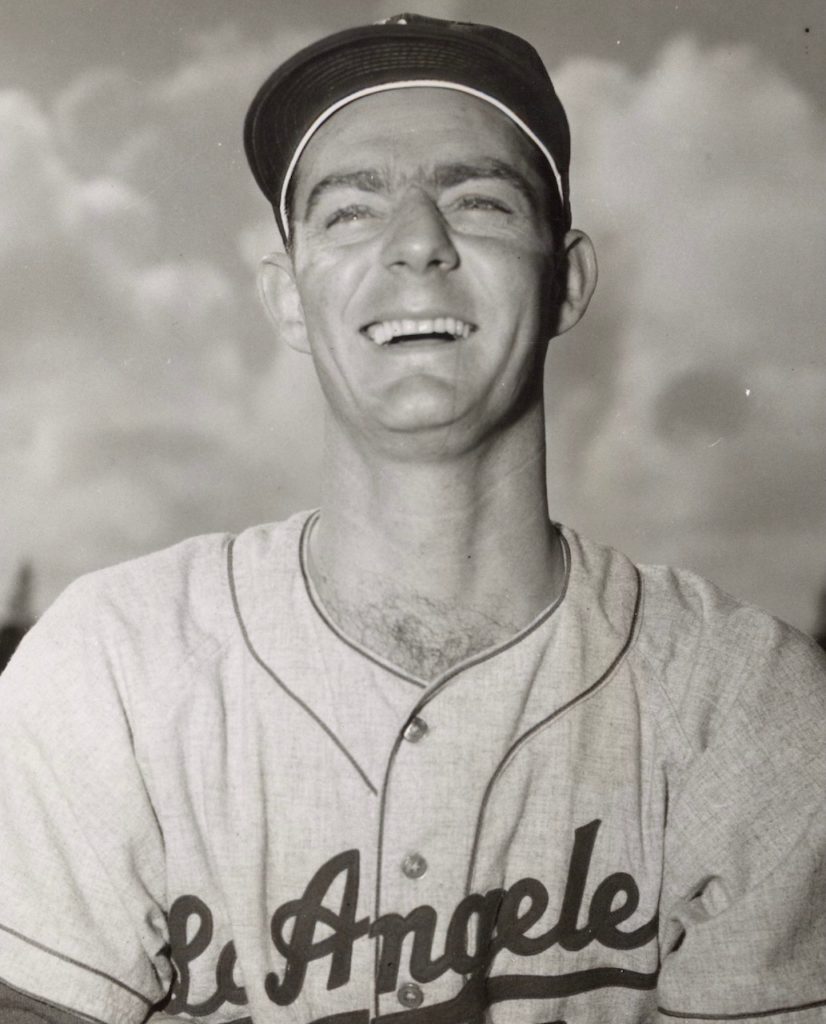 ---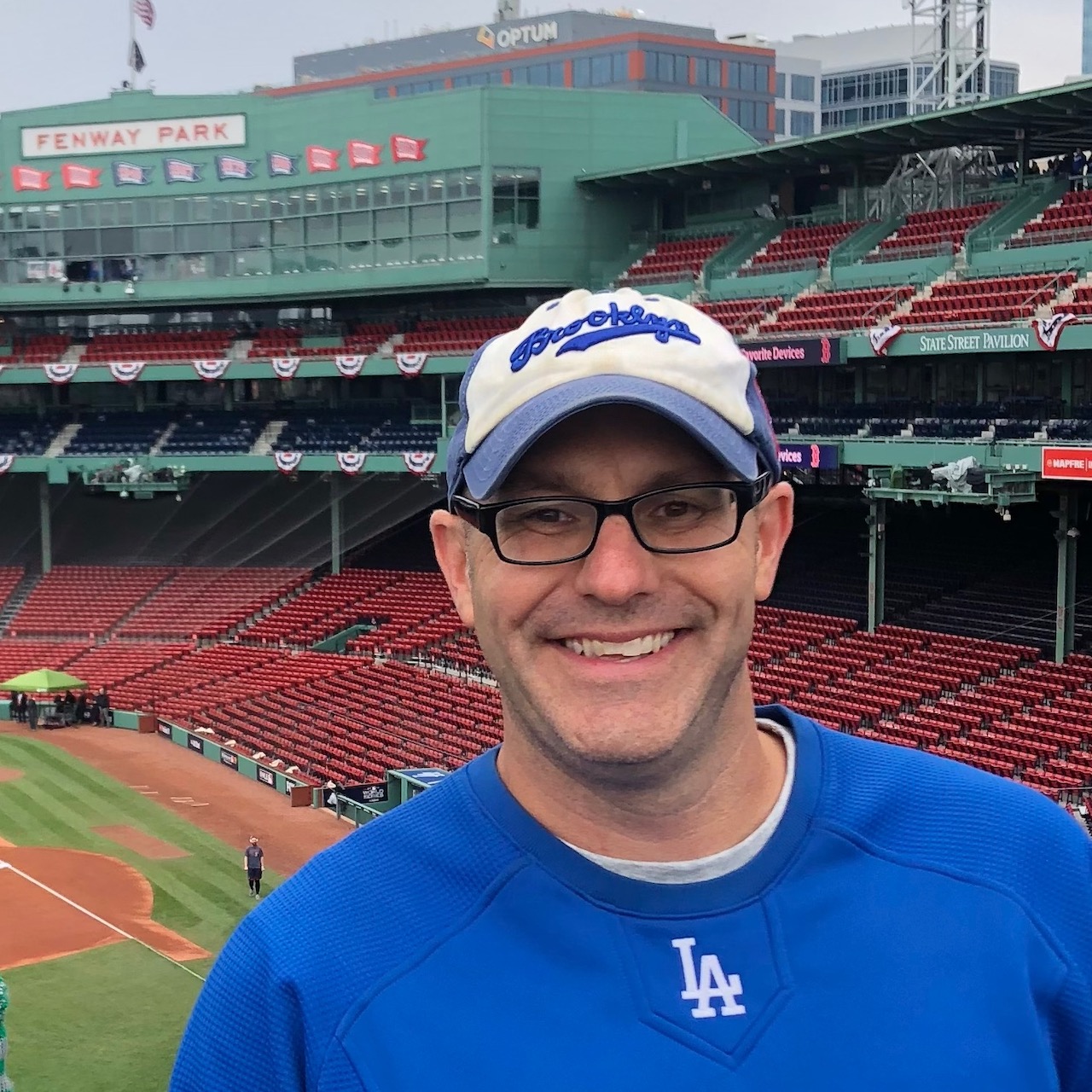 Mark Jent is the chief trip planner and designated storyteller for Simply A Fan. He lives in Nashville with his wife Beth, and their three kids, Brooklyn, Harrison and Zach. He enjoys cheering on his Dodgers, reading baseball history, hiking at Radnor Lake and chasing waterfalls throughout Tennessee with his family. He launched Simply A Fan in July 2018 with the two-fold purpose of taking people on adventures to ballparks across the country and providing fans a platform to share their baseball stories. He is currently on a quest to meet as many of the living Brooklyn Dodgers as possible.