by Mark Jent
*This is the second story in a series of my quest to meet as many of the remaining Brooklyn Dodgers as possible. Below this story you can find links to the other adventures.
It was July 2013, just another hot and humid summer day in Nashville. My brother Jason called me with a special invitation, "Do you want to go have lunch with Tommy Lasorda?" Shocking to no one, I said yes. A couple of days later I found myself sitting across the table from the Dodgers Hall of Fame manager and one of the most iconic legends of baseball. It was a surreal two hours just sitting there eating my sandwich as we were having lunch with Thomas Charles Lasorda.
I first met Tommy in September 1992 in Atlanta at the Dodgers' team hotel when I was 14 years old. My parents had taken me and a friend (shout out Nathan Staggs!) down for a weekend series between these two N.L. West rivals. I had just recently become a Dodgers fan the previous year, but I needed no introduction to Tommy Lasorda. I remember meeting him, being in awe, asking for his autograph on a ball with several other guys already scribbled on it and getting a single picture snapped on an old 35mm camera that we developed two weeks later at Wal-mart. Tommy was pleasant, cordial and jovial. He was Tommy.
Fast forward 15 years to 2007 and I'm at Dodgertown in Vero Beach. I was now twice as old as the first time I met him, and I found myself on a mission that week of spring training to find him. In the hot Florida sun, here I was meandering baseball heaven searching for an older guy in his pearly white Dodger uniform wearing #2, most likely sitting on a golf cart. At this point in my collecting memorabilia career, my fascination with getting Sports Illustrateds signed in person had become my number one priority. Tommy was on the cover of a March 1977 Sports Illustrated, which was his first spring training at the helm. I carried that magazine around with me on those backfields in '07, but was never successful in getting his John Hancock, though I did see him a few times in the distance sitting on his golf cart enjoying the shade.
I carried that '77 Sports Illustrated around with me on many trips over the ensuing five years both near and far – Los Angeles, Atlanta, Cincinnati, St. Louis. I never once saw him.
In December 2012 Nashville hosted the MLB Winter Meetings at the Gaylord Opryland Hotel. For a few days, Music City was the epicenter of the baseball universe. Prior to the Winter Meetings I got word that Tommy was coming to town early to visit the Goodlettsville Little League team for a team fundraiser. Thank you Joey Seals! True to Tommy fashion, it was a spaghetti supper! (Insert all memories from his 80's commercials here.) The previous summer these 12 year old boys played in the Little League World Series in Williamsport, PA and had captured the attention of all Tennesseans. Patrick Cameron and I went to the community center that night not knowing what to expect. We arrived, gladly paid our ten bucks to eat a plate of spaghetti and there he was – the great Tommy Lasorda just sitting at a table, chatting it up with anyone who wanted a picture or autograph. It had been 20 years since I last talked with him. Although I vividly recalled our encounter in '92, I knew he might not remember those 45 seconds, nor would he recognize me with my now receding hairline. (Actually it had completely receded.) I was elated when I shook his hand, acted like a kid as I told him what a big fan I was and then laid down my well traveled 1977 Sports Illustrated for him to sign. Seeing that Tommy was once a Brooklyn Dodger southpaw, I requested that he sign it "To Brooklyn." My reasoning in asking for the personal inscription was two-fold. One, he played for Brooklyn. Two, I figured one day I could pass it down to our daughter Brooklyn.

As if the hotel encounter in '92, seeing him off in the distance in Vero Beach in '07 or sharing a few noodles with him that night weren't enough, the future held even more.
Here is how the eventual lunch with Tommy Lasorda transpired, the story behind the story. During the spaghetti supper, I networked a connection with a local friend of Tommy's. She was holding up the wall off to the side, all by herself. I sensed she was involved in getting Tommy here and wanted to know the story. Having never met a stranger, I introduced myself and welcomed her to the party that wasn't mine. Ironically enough she knew my brother Jason as they both work in real estate. We exchanged information and said we would keep in touch, expecting nothing more than just another addition to my outdated stack of business cards. True to her word, seven months later, she alerted my brother that Tommy was coming to town in a few days and asked if we would want to join him for lunch. Upon our arrival at Johnny A's restaurant on Music Valley Drive, we were still not sure what to expect. We didn't know whether there would be 100 people there waiting on him, 50 people, 10 people – we had zero clue. Jason and I helped them unlock the doors as we were the first to arrive and wanted to get a good seat. A few minutes later Tommy walked in with his Dodgers traveling companion, shook our hands and sat down right in front of us. You see, we knew we had been invited to this lunch, yet little did we know that this lunch was solely for us. Seeing that the entire restaurant was remaining virtually empty, we began realizing that no one else was going to be joining us. At that point we settled into our seats as it was evident this was turning out to be a private lunch with Tommy Lasorda.
The stage was ours, there was no clock ticking and there were no limits to our conversation. It was a personal Q&A with a man who managed my Dodgers for 20 years (1976-1996), led them to two World Series titles in '81 and '88, won 1,599 games, was inducted into the Baseball Hall of Fame in '97, led the 2000 Olympic team to the gold medal in Sydney and has been one of the games greatest ambassadors for decades. I was star struck.
Although Lasorda's managerial career is what he's known for, he actually played in the big leagues for Brooklyn in '54 and '55, along with several more years in the minor leagues. To kick off the conversation, I wanted to hit rewind on the time machine and go back to the 50's. For many this was the golden era of the nation's past-time and a period that had captured my attention in recent years through my readings and research.
Knowing he would have a story to tell I led by asking him about playing with Jackie Robinson. He recalled a local experience when Brooklyn was coming through Nashville after spring training in '56 to play an exhibition game versus Milwaukee. Understand that this was now nine years after Jackie had integrated baseball in '47. Like it was yesterday, Tommy began telling us a story that took place just a few miles away. In what would become his final season, Jackie was still receiving racial insults and threats from those who opposed black men playing what they perceived to be a white man's sport. On this particular day in April '56 at the old Sulphur Dell ballpark, the onslaught of insults were still raining down and Jackie had to be restrained by his teammate, catcher Roy Campanella.
We then moved on to the topic of Sandy Koufax, arguably the greatest left-hander to ever toe the rubber. Tommy immediately scoffed at the mention of his name saying, "I still say that the Dodgers made a mistake when they optioned me to the minors when they signed that 18 year old boy Koufax." I was laughing. He wasn't. "I was a better pitcher than he was!" said Tommy. I will admit, it was hard to keep a straight face. Tommy had a career record of 0-4 and appeared in only 26 games. Since he was Tommy Lasorda, who was I to argue with him that his career was going to be superior to the great Sandy Koufax? Tommy pitched a grand total of 58 innings in his career and compiled a 6.58 ERA. Sanford Koufax won three Cy Young Awards, tossed four no-hitters, won four World Series titles and had 382 strikeouts in '65! I moved on and let it go.
As our Dodger Delorean kept moving forward with stories, I asked him about the present day Dodger lineup. In the summer of 2013 the baseball world was two months into knowing the name Yasiel Puig. He was a hotshot rookie from Cuba who was lighting up major league pitching with his moon shot home runs and laser throws from right field for the Dodgers. Although Tommy admired his talent, he questioned his birth certificate, "Look at that guy's muscles! Do you really think he's 22 years old? Hell no he's not 22, who knows how old he is!"
At 85 years old, Tommy was still Tommy. His memory was sharp. His wit was contagious. His love of the game oozed from his every word. This man had ate, drank, lived and breathed baseball for the past 65 years. Tommy Lasorda has rubbed elbows with the greatest legends to ever grace a diamond, all the while creating his own legacy that will eventually outlive him in the halls of Cooperstown and on ballfields across the country.
It really was an unforgettable day. For two hours Jason and I sat there in awe of what was transpiring before our baseball lovin' eyes. We had experienced many baseball adventures over the years dating back to our childhood, but none could top this as we were having lunch with Tommy Lasorda!
OTHER BROOKLYN DODGERS ENCOUNTERS
•  Meeting Don Newcombe (published 2.19.2019)
•  Breakfast With Carl Erskine (published 8.28.2019)
•  Finding Tim Thompson (published 9.20.2019)
•  Don Demeter: One Swing (published 12.2.2021)
FEATURED IMAGE:
July 2013 – Lunch With Tommy Lasorda
---
READ MORE
Click here to read more stories from Simply A Fan.
UPCOMING ADVENTURES
Looking for a fun baseball adventure? Click here to see all of the scheduled upcoming trips.

FOLLOW SIMPLY A FAN
Want to follow along with the latest stories from Simply A Fan? Click here to subscribe to receive periodic emails full of baseball stories and upcoming adventures. You can unsubscribe any time.
---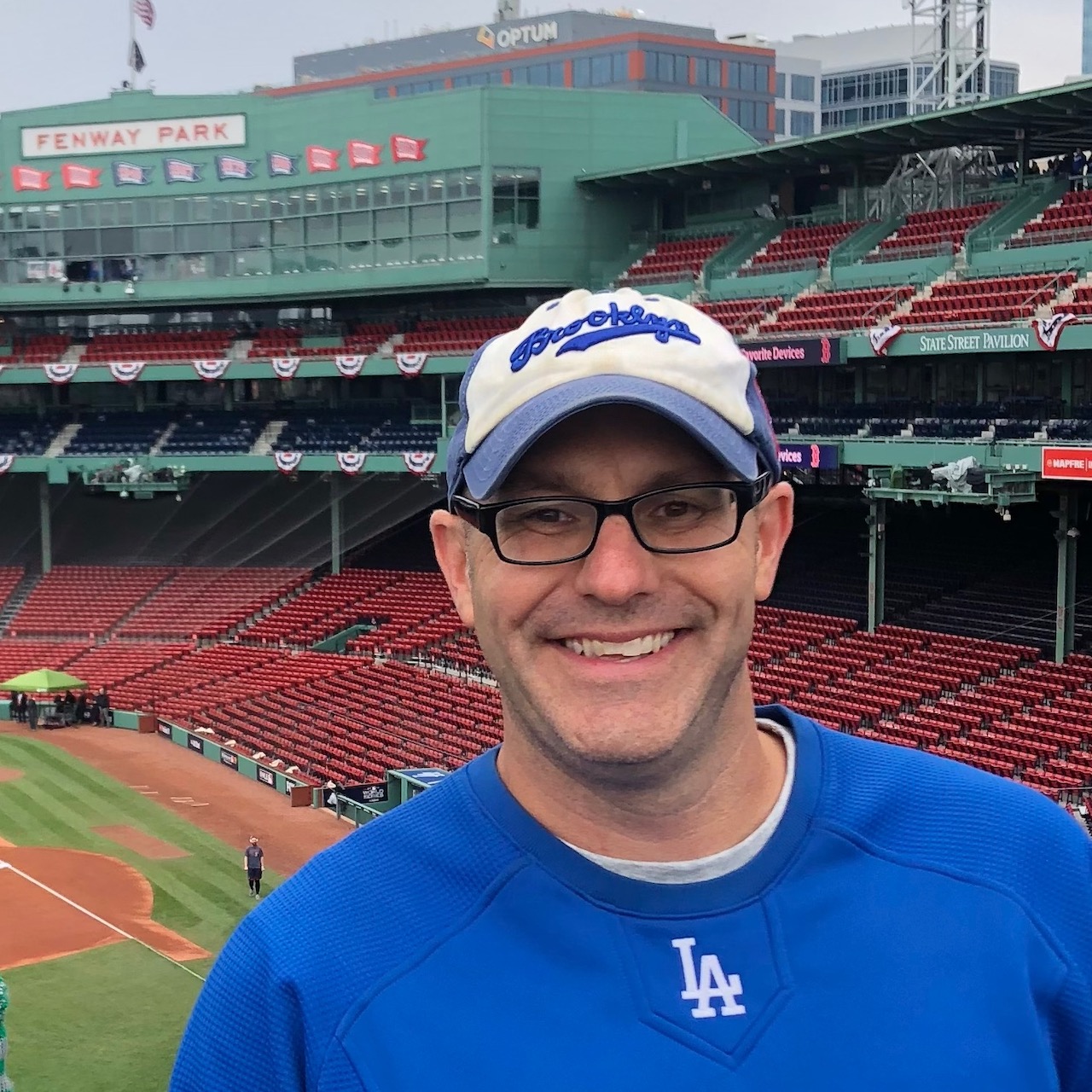 Mark Jent is the chief trip planner and designated storyteller for Simply A Fan. He lives in Nashville with his wife Beth, and their three kids, Brooklyn, Harrison and Zach. He enjoys cheering on his Dodgers, reading baseball history, hiking at Radnor Lake and chasing waterfalls throughout Tennessee with his family. He launched Simply A Fan in July 2018 with the two-fold purpose of taking people on adventures to ballparks across the country and providing fans a platform to share their baseball stories. He is currently on a quest to meet as many of the living Brooklyn Dodgers as possible.