by Mark Jent

Every March the NINE Conference brings together authors, scholars, historians, writers and fans who enjoy and are passionate about baseball. Normally held in Scottsdale, Arizona, last year's conference took place just days before the shutdown. With the ongoing pandemic, NINE decided to move forward with this year's conference in a virtual format, like many others. Instead of a three day in-person conference, this year's was spread out over three weekends March 5-6, 12-13, 19-20. The conference drew over 100 online attendees from across the country and presenters from Europe and Asia!

The opening keynote last night was Jim Gates, who retired in December after 25 years as the Librarian for the Baseball Hall of Fame. He had great insight and fascinating stories about his job in Cooperstown! The closing session on March 20th will feature Eric Nusbaum, author of Stealing Home: Los Angeles, the Dodgers and the Lives Caught In Between. Nusbaum will be receiving the Society American Baseball Research (SABR) awarded Seymour Medal.

My friend and conference co-organizer, Willie Steele, has been asking me for a couple of years to come out and to enjoy the baseball fellowship and camaraderie. He has kindly suggested I submit a proposal to be considered as a presenter. As he put it "I've been after Mark for years to join us and it took a pandemic for it to happen." I can't deny it; this is true.

Back in December I submitted a proposal. In January Willie contacted me inviting me to be part of the program! So yesterday (March 6) I was excited and honored to present as a speaker at my first baseball conference!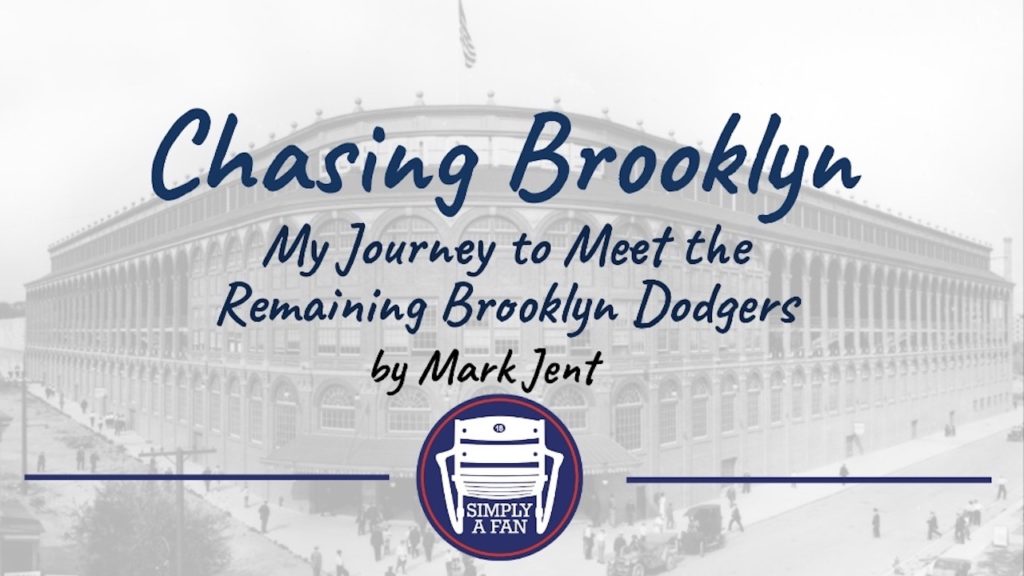 If you've known me for more than five minutes, you know my affection and adoration for the Brooklyn Dodgers. So it's no surprise that my 20 minute session was titled "Chasing Brooklyn: My Journey to Meet the Remaining Brooklyn Dodgers." When I started this quest, I can't say that presenting at a conference was something on my radar. It was fun preparing for and then delivering it as I reflected on each encounter over recent years.
When I really started thinking seriously about it in fall 2016 there was a roster full of 25 men still alive. With the recent deaths of Tommy Lasorda and Wayne Terwillger, today there are only 13. I've met eight men so far who once donned the Brooklyn jersey, three of whom have since passed away. So that leaves 10 of the remaining 13 still on my bucket list. The adventures have taken me from on the field at Dodger Stadium, to a Bob Evans Restaurant in Indiana; from a living room in Pennsylvania, to a church fellowship hall in Oklahoma and more.
Hopefully along the way it has encouraged the men I've met that their baseball legacies matter while preserving their stories for generations to come. Below you will find the names of all the ones I've met along with the dates we met. I have written stories about four of the eight, which you'll find linked below as well.

– Don Newcombe (met June 2009): Meeting Don Newcombe
– Tommy Lasorda (met July 2013): Lunch with Tommy Lasorda
– Carl Erskine (met Feb 2017): Breakfast with Carl Erskine
– Chris Haughey (met Sept 2017)
– Joe Landrum (met Oct 2017)
– Tim Thompson (met Sept 2019): Finding Tim Thompson
– Don Demeter (met Nov 2020)
– Bobby Morgan (met Nov 2020)
A big thanks to Willie Steele for introducing me to NINE and recommending that I submit a proposal. Thanks to him I also have my first published piece of work that came out earlier this month in the NINE Journal. More about it in a separate story. Thanks to Beth Jent for helping me finalize the presentation, cheering me on in the background and always being an advocate of adding more to my list.
The journey continues.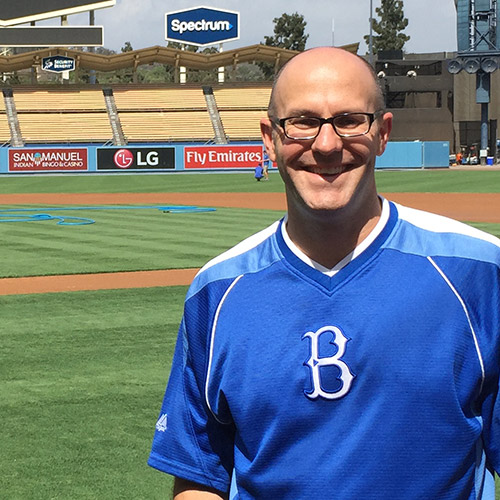 Mark Jent is the chief trip planner and designated storyteller for Simply A Fan. He lives in Nashville with his wife Beth, and their three kids, Brooklyn, Harrison and Zach. He enjoys cheering on his Dodgers, reading baseball history, hiking at Radnor Lake and chasing waterfalls throughout Tennessee with his family. He launched Simply A Fan in July 2018 with the two-fold purpose of taking people on adventures to ballparks across the country and providing fans a platform to share their baseball stories. He is currently on a quest to meet as many of the living Brooklyn Dodgers as possible. 
FEATURED IMAGE:
NINE Conference logo
FOLLOW SIMPLY A FAN
Want to support and follow along Simply A Fan? Click here to subscribe to receive periodic emails full of baseball stories and upcoming adventures. You can unsubscribe any time. You can also follow along on social media – Instagram, Facebook and Twitter.
READ MORE
Click here to read more stories from Simply A Fan.
UPCOMING ADVENTURES
Looking for a fun baseball adventure? Click here to see all of the scheduled upcoming trips or previous trips' photo galleries.