by Mark Jent
It's where the fastballs would come in high and tight knocking him to the dirt because of the color of his skin. When he was dancing off third base getting ready for another one of his electrifying steals, it was his final destination. It is where he would shake hands with a white teammate after rounding the bases to celebrate another of his left field bombs that sailed over the fence. Although it was met by a wrecking ball decades ago, the significance of where home plate stood at Ebbets Field in Brooklyn, New York, is so much greater than a bronzed marker. This exact spot is where history was made.
It's where 42 dug his cleats into the batter's box 73 years ago today for the first time, not knowing that he was forever changing the course of baseball history. As he walked up to home plate for that first time on April 15, 1947 to face Johnny Sain of the Boston Braves, he could not fully know the impact of his courage and determination. His first at bat had more far reaching implications for equality in this nation than just his performance at the plate.
You see Jackie Robinson didn't just break a color barrier, he shattered it into a million pieces. And when he did, he unleashed African-American boys across America to walk back to their Little League ballfields in the days that followed and believe for the first time that they too could one day stand in a big league batter's box. Hank Aaron was one of those boys. Willie Mays was one of those boys. And so many others.
The final game at Ebbets Field was played in 1957. The baseball-designed wrecking ball (literally) came crashing down on the hallowed grounds in 1960. Today this marker for the historic home plate is silently tucked away on a sidewalk going towards the maintenance shop at Ebbets Field Apartments, a low-income housing complex that hundreds of Brooklyn residents call home. Though the roaring crowds of the 50's went silent many years ago, when you stand in front of the home plate marker today, one can't help but think that "if this spot could talk" it could share countless stories about a man whose impact is being felt generations after he took that first pitch.
Back in December we were in New York City for a long weekend getaway with my family. On the final morning of our trip we had spare time and our daughter Brooklyn wanted to visit the location of her namesake. I tapered her expectations by explaining that it is a far cry from its hay day and that what we were going to see would not look as significant as what took place there. So on that snowy morning, we took the subway to Brooklyn to visit the site formerly known as Ebbets Field. Having visited before, I was familiar with the complex. But since my visit in 2016, there had been a bronzed plaque laid down to memorialize the spot of home plate. Though I had researched it beforehand, I could not navigate us to find it. Then we met Daniel, a young man in his 20s who was walking to his apartment. I asked if he would take our family picture and my attire was a dead giveaway why we were visiting. After the picture, I asked him if he knew the history about the place and it was obvious he was knowledgeable. He proceeded to not only point us in the direction of the hidden sidewalk to find home plate, he walked us all the way there to ensure we found it.
Brooklyn was satisfied that we had made the trek. My boys were cold and ready to go back to the subway. Beth was wishing we had gone to Central Park instead. Yet I couldn't help myself but to linger just a little bit longer to imagine what it would have been like to be sitting in the stands for that first game and to look in the direction where Jackie Robinson stood at this very spot for that very first at bat and all the ones that followed. I couldn't help myself but to think about what it would have been like to have been a kid in the 1950's who paid a nickel for his ticket in the grandstand. What would it have been like in the golden era of our nation's past time to spend your summer days at the ballpark then afterwards play stick ball in the streets with your friends until the sunset? I'm unashamedly a nostalgic sentimentalist. If on my own, I could have stood there and walked those grounds for hours.
As the entire world is crippled and quarantined by the COVID-19 pandemic and the entire sports' landscape is shut down, there will be no baseball games today commemorating MLB's annual Jackie Robinson Day, yet we can still celebrate its significance. The doors of Simply A Fan may have been temporarily shuttered from taking trips, but I can still tell you a story. Yes, the trip I had planned to the Mets' Citi Field for the grand ceremony would have been a great adventure, but seeing that it was brushed aside a month ago as the corona virus wreaked havoc, I'll let this story be my small way of celebrating 42 today.
What does your day hold in store? Maybe you can watch one of the many tributes on MLB Network. Maybe you can check out one of the many books to learn more about Jackie's life or maybe you can simply share this post with friends. Whatever you choose to do today while social distancing, I encourage you to take a few minutes to celebrate the historic significance of April 15, 1947. As I think about it, that April 15th isn't much different than this one. Yet instead of a single man walking up to home plate facing so much uncertainty as questions and fears abound within himself, we are collectively sitting at home faced with so much uncertainty as questions and fears abound. Whatever your outlook and whether you're a baseball fan or not, rest assured friends, today is no ordinary day.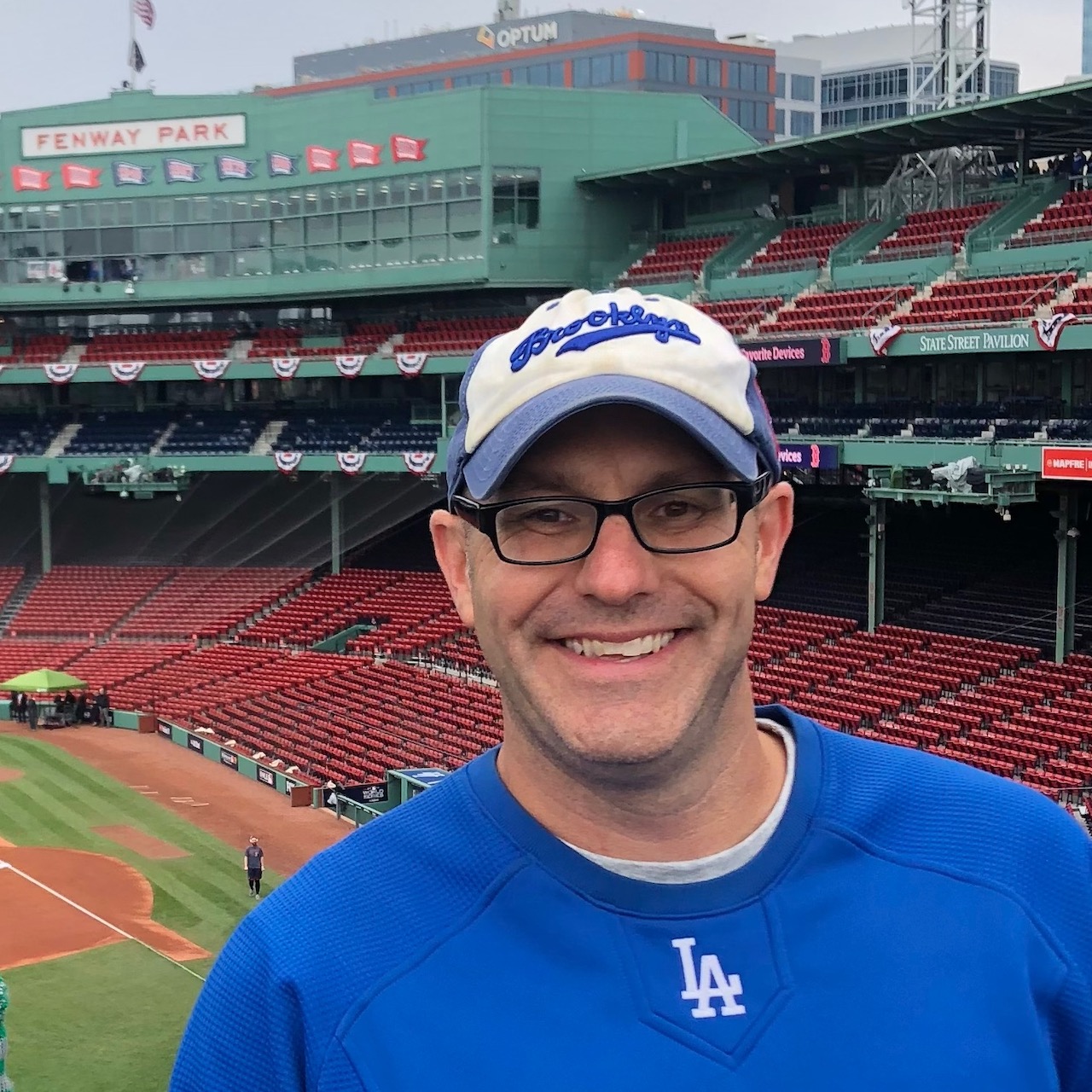 Mark Jent is the chief trip planner and designated storyteller for Simply A Fan. He lives in Nashville with his wife Beth, and their three kids, Brooklyn, Harrison and Zach. He enjoys cheering on his Dodgers, reading baseball history, hiking at Radnor Lake and chasing waterfalls throughout Tennessee with his family. He launched Simply A Fan in July 2018 with the two-fold purpose of taking people on adventures to ballparks across the country and providing fans a platform to share their baseball stories. He is currently on a quest to meet as many of the living Brooklyn Dodgers as possible.
FEATURED IMAGE
Ebbets Field Home Plate
---
FOLLOW SIMPLY A FAN
Want to support and follow along Simply A Fan? Click here to subscribe to receive periodic emails full of baseball stories and upcoming adventures. You can unsubscribe any time. You can also follow along on social media – Instagram, Facebook and Twitter.
READ MORE
Click here to read more stories from Simply A Fan.
UPCOMING ADVENTURES
Looking for a fun baseball adventure? Click here to see all of the scheduled upcoming trips.