by Mark Jent

I've been infatuated with Topps Now cards since their release in 2016. Released on the Topps website the day after a big game, milestone or notable achievement and available to purchase for only 24 hours, Topps Now has given the card collecting community an immediacy that didn't exist during my childhood years of the 80's. I wrote a full story about the series back in 2019 that you can find here – A New Collecting Phenomenon: Topps Now

In the first few years of the series I tried to be disciplined (with the wallet!) and only focused on collecting Topps Now cards from games or events I've attended in person. Thanks to my Simply A Fan adventures I've been fortunate to compile over 90 cards that are reminders of the big moments I've shared with others at ballparks around the country. As the 2020 pandemic-delayed 60 game shortened season got underway that July, I made the decision early on to attempt to get every Dodgers card that year. Although there were 102 less games, with the Dodgers deep postseason run and eventual World Series title, it ended up being a lot of cards! Some of which I'm still chasing. That was a fun project as I'd check my email each day to see what Dodger highlight I'd be buying that day.

Early in the 2021 season I decided I wanted to do something similar, but go for a specific player instead. Looking back maybe I should have decided upon another Dodgers complete run since we won it all in 2020 when I did it! Yet I longed for variety and I'm glad my attention was diverted as the direction I decided to go culminated in one of the most historic seasons in baseball history.

A couple of weeks into the 2021 season, my decision was made – I would go for a complete run of Shohei Ohtani Topps Now cards. His pitching cards, his hitting cards, the cards from games when he both pitched and hit crossing new thresholds seemingly every time he took the mound. Little did I know he would have a season for the ages!

Ohtani played in 155 of the Angels 162 games. He hit 46 homeruns and won 9 games. He led the league with 8 triples while striking out 156 batters. He had an OPS of .965 and an era of 3.18. He was the first player in history to be both an All-Star hitter and pitcher. He won a silver slugger award and was an unanimous selection for the American League MVP. It was a historic season for the ages. It was fun to see the Ohtani highlights warrant so many Topps Now cards and I found myself almost disappointed on days when he didn't get a card!

He had 38 cards in all, starting with his Spring Training Angels team set card all the way through his season-ending awards. They are available each day on the Topps website for $9.99, but like many collectors who just want one-offs, I have found a few eBay sellers who buy in bulk and I buy from them for $5 within the 24 hour window (as they go with a pre-sale format). He was chosen twice for the Topps Now "Card of the Month," which is only available to Topps Now Members who redeem their Topps Rewards. Those were the last two I needed to complete the entire run, each costing $25 and $30 respectfully.

It was so much fun. I had decided before the 2022 season that I would go back to my original Topps Now roots and just purchase cards from games I attend in person (and any Clayton Kershaw cards), only to then decide a few weeks into April that there was this guy named Albert Pujols who had announced it would be his last campaign before retirement! That proved to be a fun decision too that I'll write about later.

Here is the complete run in chronological order of the 2021 Topps Now Ohtani Collection.
March: Angels Road to Opening Day (from team set)
April 4: #30 – Breaks 118 Year Drought
April 12: #68 – Hits 119 mph 2B
April 25: #128 – Hits 440 foot HR
April 26: #137 – 1st Player Since Babe Ruth…
April 30: Card of the Month
May 11: #197 – 3rd Player Ever…
May 12: #203 – Two-way Star Makes…
May 16: #222 – 9th Inning HR…
May 17: #225 – 13th HR Leads MLB
June 4: #311 – 6 innings pitched, 10 strikeouts
June 8: #329 – Hits 470 foot HR
June 19: #379 – 21st HR
June 20: #394 – Hits MLB Leading 23rd HR
June 25: #412 – Hardest Hit Leadoff HR
June 29: #429 – Takes MLB HR Lead
July 2: #444 – June Player of the Month
July 2: #452 – Launches 2 HR
July 5: #457 – Named 1st All-Star DH & Pitcher
July 7: #475 – Ties Matsui with HRs by Japanese player
July 9: #484 – 16 HRs in 21 Games
July 12: #496 – HR Derby Participant
July 13: #508 – 1st Player Ever ASG…
July 26: #556 – 1st Inning strikeout, hit, stolen base, run
July 29: #577 – 37 HRs, 15 SBs…
July 31: Card of the Month (w/ Tatis)
Aug 2: #604 – July Player of the Month (w/ Votto)
Aug 18: #677 – 40th HR with 8 innings pitched and 8 strikeouts
Aug 28: #727 – 40 HRs, 20 SBs
Aug 31: #739 – Steals Home
Sept 21: #841 – with Trout…
Sept 29: #878 – 45 HRs, 25 SBs, 100 Runs
Oct 3: #910 – MLB WAR Leader
Oct 26: #1010 – Historic Achievement Award
Nov 8: #OS17 – AL MVP Finalist
Nov 11: #OS34 – Silver Slugger
Nov 18: #OS40 – 2021 AL MVP
Nov 18: #OS42 – Dual MVP with Bryce Harper

Here are other card collecting stories you can find on the Simply A Fan site:
4/4/2019: A Plastic Tub of Memories
7/31/2019: A New Collecting Phenomenon: Topps Now
9/9/2020: Harrison's Card Shop Adventure
2/27/2022: Missing Jackie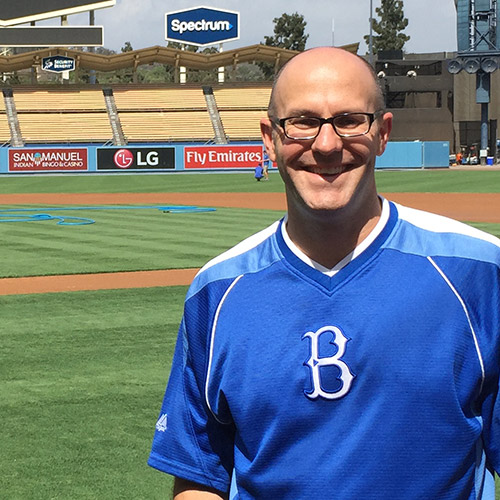 Mark Jent is the chief trip planner and designated storyteller for Simply A Fan. He lives in Nashville with his wife Beth, and their three kids, Brooklyn, Harrison and Zach. He enjoys cheering on his Dodgers, reading baseball history, hiking at Radnor Lake and chasing waterfalls throughout Tennessee with his family. He launched Simply A Fan in July 2018 with the two-fold purpose of taking people on adventures to ballparks across the country and providing fans a platform to share their baseball stories. He is currently on a quest to meet as many of the living Brooklyn Dodgers as possible.