by Mark Jent
It was May 2016 and one of the most remarkable feats in all of sports had just occurred. Not only was this historic for baseball fans, it also caught national headlines as up until this point it seemed unfathomable. New York Mets 42 year old pitcher, Bartolo Colon, hit a home run. At that point in his career, Colon had played for nine MLB teams and was in his 20th year of playing in the major leagues. Having played the majority of his career in the American League with the designated hitter, his plate appearances were few and far between. Colon came into the 2016 season with only 20 career hits spread out over 211 at bats for an eye-popping .094 batting average. At 285 pounds and in his fifth decade of life, it was the last thing any one in Petco Park thought was about to happen. See the remarkable feat here: Bartolo Colon Goes Deep.
Not only did his home run capture headlines, but so did the recently announced baseball card collecting phenomnom. Creating and printing baseball cards on demand the day after a significant moment ushered in a new era. Welcome to Topps Now!
On Opening Day in April 2016 the Topps Company produced its first ever Topps Now card. When Colon's earth-shaking home run cleared the fence, Topps took advantage of the moment and released the "Colon Hits 1st Career HR At Age 42" card the next day. Click here to see it. So why is this a big deal? Collectors only had a 24 hour window to place their order when production of that specific card would forever come to a screeching halt. However many orders were placed at $9.99 per card is exactly how many cards would be printed and delivered to the customer within 5-7 days of the game.
This is when I first learned about Topps Now cards. For a baseball card company that had been around since 1952, this was a new way of collecting baseball cards that fascinated the kid and collector in me. Although I've still got all of my cards from childhood, I have not kept up with the hobby since the early 90's when I turned my collecting attention to Starting Lineup figures and personally obtaining autographs. Much to my regret, I did not purchase the Colon card that day, but my interest was peaked and soon I realized that Topps Now got me hook, line and sinker.
Over the last four seasons Topps has continued to produce cards on demand every day of the MLB season, typically making 3-8 cards available from highlights of the previous day's games. To give perspective on the scarcity of cards that are only printed as many are order, print runs of individual cards usually range between 400-600 of any given day, but have been as low as print run in the 120s and as high as Vladimir Guerrero Jr's MLB Debut earlier this season which peaked at over 19,000 cards.
A few weeks after the Bartolo Colon moment back in 2016, my good friend Patrick Cameron and I were buying every Dodgers Topps Now card the day after they were released. I realized this new hobby was going to add up quickly! I began to refrain and more selectively choosing the special Dodger moments I wanted to add to my new box of cards.
When the 2017 season rolled around I decided that I needed to be more selective in my purchases, so I began only buying Topps Now cards from games that I actually attended. The first of these was from April 12, 2017 when I took a small group to Wrigley Field to see the Cubs receive their World Series rings. I have kept that criteria (for the most part!) since 2017 and have dropped some neat additions into the box – 2017 NLCS when the Dodgers clinched the pennant, 2017 World Series Game One, a few 2018 Braves moments and 2018 World Series Game One cards. And yes…I fell for the "St. Louis Rally Squirrel" card last year just because it was the first Topps Now card that featured an animal.
Having a few friends who "just so happen" to also be baseball fans, it's been really fun to introduce them to this new way of collecting. Drew Bingham of Franklin (TN) is a lifelong Cubs fan and hasn't collected baseball cards in 30 years. He has caught the Topps Now fever in just the last few months. "They are a great way to connect with the games as they happen, especially when it's players on your favorite team," says Bingham. "I haven't collected cards since I was a kid, but buying a Cubs card the day after a big moment is addicting. Being able to get a Javier Baez 'No Look Tag' card or Kyle Schwarber 'Walk-off HR in 1969 Throwback Uniform' card – I am sold every time! You also can't find a better souvenir from a game than a Topps Now card the day after when that daily email hits your inbox with the new releases."
Andrew Buzan of Memphis is famous for possibly being the only Chicago White Sox fan who resides in the state of Tennessee. "I became interested in Topps Now on a recent baseball adventure when I attended 10 games in 10 parks in 11 days," says Buzan. "During the trip it became a way to commemorate significant occurrences from a game that I attended the day before." He also has found a way to wager unreleased Topps Now card into his friendships, "Sometimes I'll text a guy and make a deal that we have to buy any Topps Now cards for each other when our teams are playing each other. It adds a lot of fun and vested interest to watching in the way fantasy sports might, but with far less time commitment. These cards are event-driven as opposed to just containing player bios and stats as I was used to as a kid."
So for some of you reading this, your first memory of collecting Topps dates back to that day in 1952 when you opened a pack and pulled out a Mickey Mantle rookie card that later became an addition to your bike spokes. For others of you like me, it was getting your parents to drive you to the local gas station to buy a pack of those beautiful wood-grained 1987 Topps just hoping that you'd get that Bo Jackson Future Stars rookie. For kids today, they are in a new era of collecting when they can watch a walk-off HR one night and have that moment in their mailbox and their collection the next week.
Thank you Bartolo Colon. Your home run trot was not only a remarkable feat, it also got me back to collecting like a kid again. 
FEATURED IMAGE:
As assortment of Topps Now cards from my collection, all from games I have attended.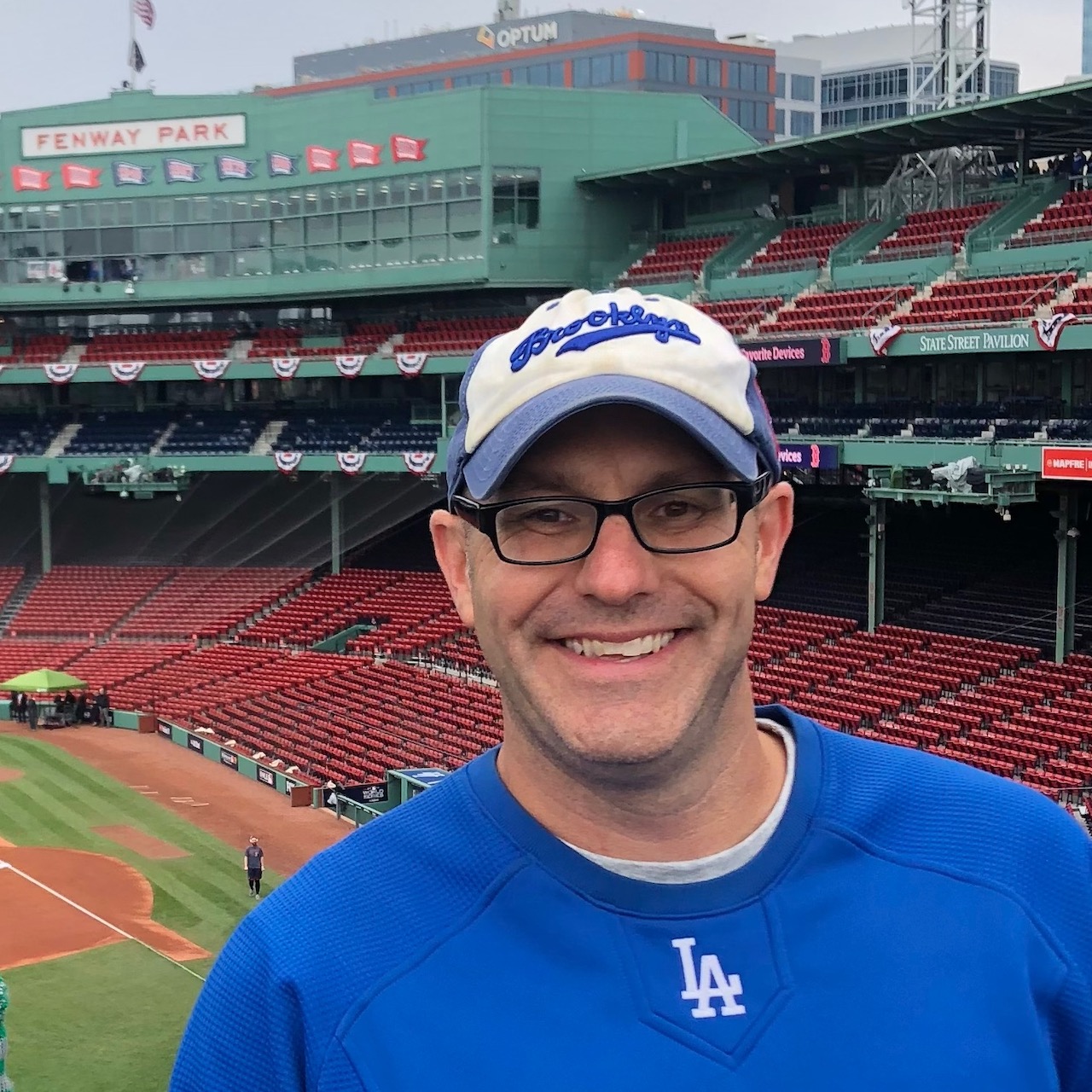 Mark Jent is the chief trip planner and designated storyteller for Simply A Fan. He lives in Nashville with his wife Beth, and their three kids, Brooklyn, Harrison and Zach. He enjoys cheering on his Dodgers, reading baseball history, hiking at Radnor Lake and chasing waterfalls throughout Tennessee with his family. He launched Simply A Fan in July 2018 with the two-fold purpose of taking people on adventures to ballparks across the country and providing fans a platform to share their baseball stories. He is currently on a quest to meet as many of the living Brooklyn Dodgers as possible.
---
READ MORE
Click here to read more stories from Simply A Fan.
UPCOMING ADVENTURES
Looking for a fun baseball adventure? Click here to see all of the scheduled upcoming trips.

FOLLOW SIMPLY A FAN
Want to follow along with the latest stories from Simply A Fan? Click here to subscribe to receive periodic emails full of baseball stories and upcoming adventures. You can unsubscribe any time.
---