by Mark Jent
"When I die I want this on my tombstone – Dodger Stadium was his address, but every ballpark was his home." – Tommy Lasorda
Tommy Lasorda was laid to rest on Wednesday after a fitting memorial service at Dodger Stadium attended by former and current players, family and friends. He passed away of cardiac arrest on January 7th after nearly two months in the hospital ICU. He was 93 years old.
One of the most colorful characters the game has ever known, Tommy had an unquestionable passion for the Dodgers, which was always on display in his boundless enthusiasm for the team he had been part of for over 70 years. He is most widely known as the team's fiery manager, but he was also a player, scout, coach, general manager, advisor and always the team's biggest cheerleader. Tommy coined the phrase and often said, "I bleed Dodger blue," and he certainly did for over seven decades.
Tommy Lasorda was arguably the most identifiable and longest tenured figure who had the longest tenure with a single franchise in American sports history. Sure, plenty of sports figures are more famous than Tommy (Jordan, Mantle, Brady), but they did not have the longevity or dedication to one franchise. Others in coaching or broadcasting have had near equal longevity, yet their passion and personality didn't make them as identifiable to that organization as Tommy's did to his beloved Dodgers.
Always a bit gruff and rough around the edges, he was incredibly gracious with his time and generous with his resources. Since his official retirement in 1996, he did not slow down one bit. He could often be found zigzagging across the country to speak and motivate at charity events. He was a fantastic storyteller and consistently made time for the fans, both young and old alike. I am fortunate to have been a beneficiary of his time as both a kid and grown man.
Tommy's Resume
Thomas Charles Lasorda grew up in Norristown, Pennsylvania. Born to Italian immigrants, he was one of five brothers. A fine ballplayer in his youth, he was signed by the Philadelphia Phillies out of high school in 1945 and then taken in a minor league draft by the Dodgers in 1949. He laced up his cleats as a left-handed pitcher for 14 years in the minor leagues for three organizations (Phillies, Dodgers, Yankees).
Tommy came out of the bullpen in relief to make his major league debut for the Brooklyn Dodgers on August 5, 1954 at Ebbets Field versus the St. Louis Cardinals. Little did anyone know then that on the field that day there were five future hall of fame players in the lineup – Stan Musial, Red Schoendienst, PeeWee Reese, Duke Snider and Jackie Robinson, plus Tommy a future hall of fame manager.
The next season in '55 he made his first major league start and uncorked three wild pitches in one inning, a major league record. The Dodgers would still prevail, but that would be Tommy's only start in the big leagues.
Tommy was sent down to the minors in '55 for an 18 year old rookie southpaw bonus baby named Sandy Koufax. More on that in my personal stories below.
He only played 26 games in the big leagues for the Brooklyn Dodgers (1954-55) and Kansas City Athletics (1956). His final stat line for those 26 games in the majors was 0 wins, 4 losses and a 6.48 ERA over 58 innings.
Tommy returned to the Dodgers farm system in 1957 for three seasons, yet never made it back to the big leagues. Although his playing career in the big leagues did not lead him to Cooperstown, it was his determination and perseverance that drove him to be one of the greatest field generals and best motivators that baseball has ever known. After his playing career was over in 1960, Tommy started off at the lowest rung on the ladder as a regional scout for the Dodgers. But he was grateful for the opportunity.
From there he rose through the ranks as a minor league coach, minor league manager, eventually making his way to Los Angeles as a 3B coach in 1973 on Hall of Fame Manager's Walt Alston's staff. Upon Alston's retirement towards the end of the 1976 season, Tommy was named manager of the Dodgers on September 29, 1976 and said "This is the greatest day in my baseball life."
Tommy was more than a fiery manager, he was also one of the only celebrity manager's the game has ever known. He invited Hollywood to Dodger Stadium and the turnstiles couldn't flip quick enough. Tommy became good friends with Frank Sinatra, among others. Rarely would a home game go by that you wouldn't find a celebrity in his office before the game, something Tommy relished. This was evident by the dozens of photographs with his Hollywood friends that adorned his wood-paneled wall.
His accolades as a manager are numerous – 1,599 wins, two World Series titles, four National League pennants, 65 All-Stars on his Dodger teams and inducted into the Baseball Hall of Fame in 1997. He is one of only five managers in the history of the game to manage 20 or more seasons.
Tommy came out of retirement in 2000 to lead the USA Baseball team to the gold medal in the Summer Olympics in Sydney, Australia. Years later when asked about it Tommy said, "In Sydney, I represented America in the Olympics. That was one of my greatest accomplishments and I was so proud of it." He managed a group of castoff major leaguers and low-level prospects who played far better than their perceived talent. Most people don't realize that when a team sport wins an Olympic medal the coaches who tirelessly pour into their team as volunteers do not receive a medal. When asked about this Tommy said, "I got my medal when I watched them put the medals around my players. I got my medal when they raised the American flag. I got my medial when they played the national anthem."
Before his passing, Tommy was the oldest living Hall of Famer and one of only 15 remaining Brooklyn Dodgers.
Millions of people around the globe love the game of baseball – fans, players, coaches, front office personnel – yet few have ever been as great an ambassador for the sport as Tommy Lasorda.
My Tommy Encounters
I was fortunate to have met Tommy, both as a kid and adult. My first encounter was September 1992 in Atlanta at the team hotel; it was only my second year as a Dodgers fan. I was 15 years old and I ran into him in the hotel lobby. Being Tommy, he was kind enough to take a picture with me and my friend (a 35mm picture that is currently misplaced!). It was 20 years later before I met Tommy again. Between 2012 and 2019 I ran into him at a spaghetti supper, a minor league game where my son got his first autograph, an epic two hour lunch, at Dodger Stadium and more. Here is a snapshot of each of those stories.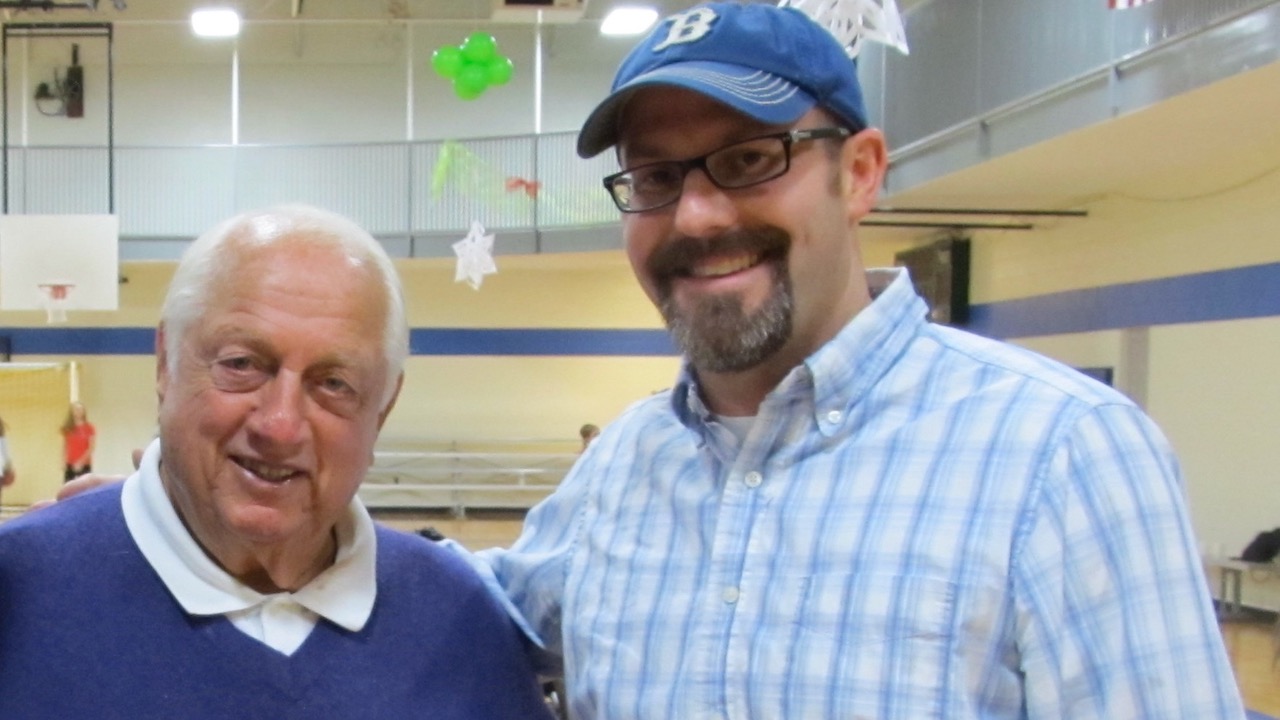 Spaghetti Supper (2012)
The MLB Winter Meetings were taking place in Nashville in December 2012. Tommy got word that the Goodlettsville Little League team, who won the Little League World Series that summer, was raising money to benefit a team in Africa who they faced in Williamsport. Tommy flew into town ahead of the MLB Winter Meetings to lend his support at the team's spaghetti supper fundraiser. My friend Joey Seals, who was a coach of that Little League team, invited me to come. It was great to see Tommy interact with the players who were all dressed up in their uniforms. Although none of them were born when he managed his last game, their admiration and respect was obvious. It was the first time I had interacted with Tommy 20 years.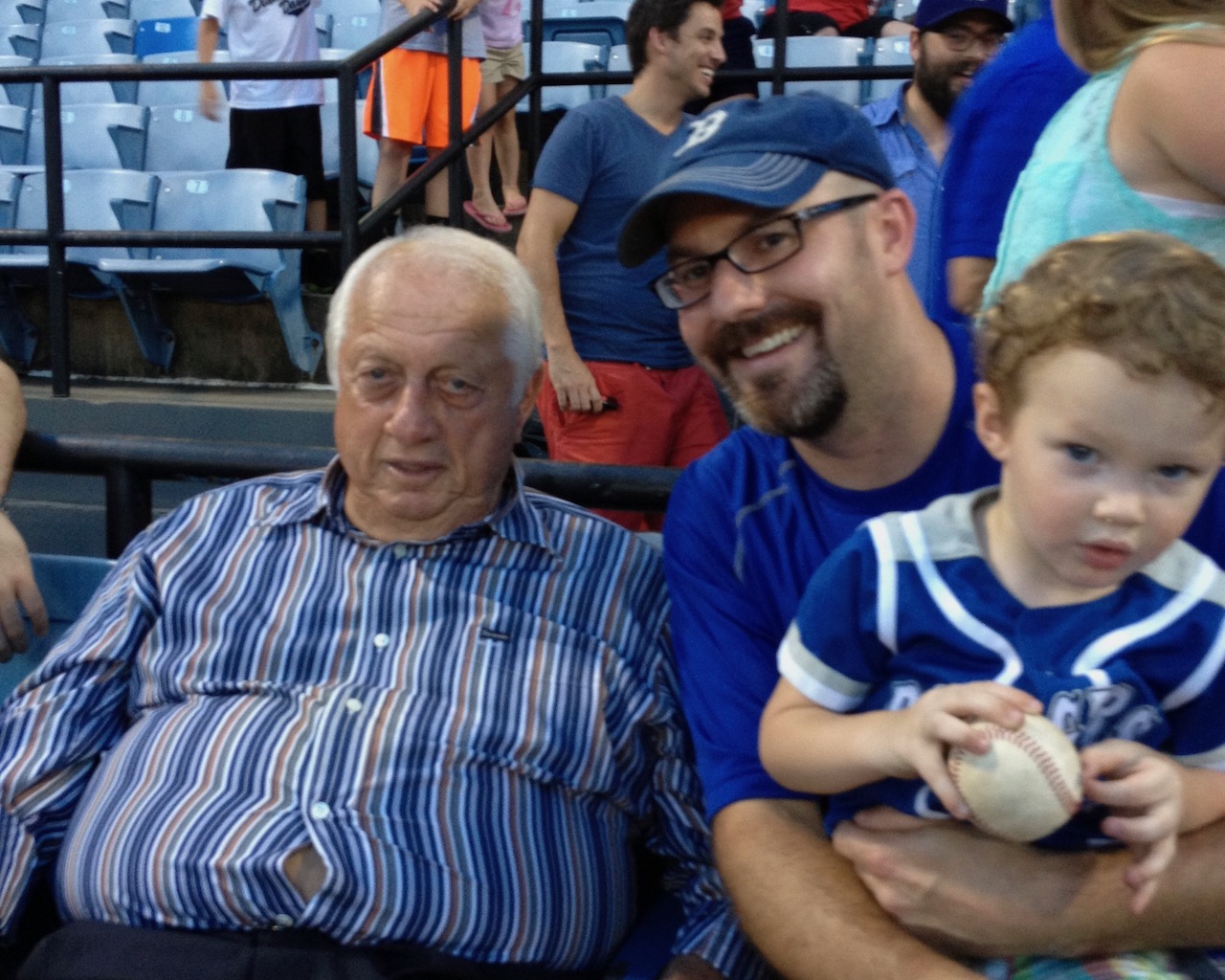 My Son's First Foul Ball and Autograph (2013)
The Dodgers AAA team was in town and I decided to take our two year old son Harrison to his first Nashville Sounds game at the old Greer Stadium. It was a great July summer night at the ballpark and Harrison had quite the first game experience. He got a foul ball, met a Hall of Famer and got his first autograph! As he often would, Tommy sat behind home plate and took pictures and signed autographs inning after inning. I had no idea that in a couple of days I would be having the encounter of a lifetime with Tommy.

An Epic Lunch (2013)
My most memorable encounter was a two hour lunch my brother and I had with Tommy at his favorite local spot in Nashville (John A's Restaurant) in July 2013. I wrote a story about our entire experience that you can read about here: Lunch With Tommy Lasorda.
My favorite story that Tommy shared that day was when he was sent down to the minors by the Dodgers in 1955. With a little decades-old leftover anger in his tone he said "They sent me down for some rookie kid named Sandy Koufax. I still say they made a mistake and went with the wrong left-hander!" Tommy went 0-4 in his career. Sandy Koufax is in the Hall of Fame as arguably the greatest left-handed pitcher of all time. Tommy Lasorda never lacked confidence!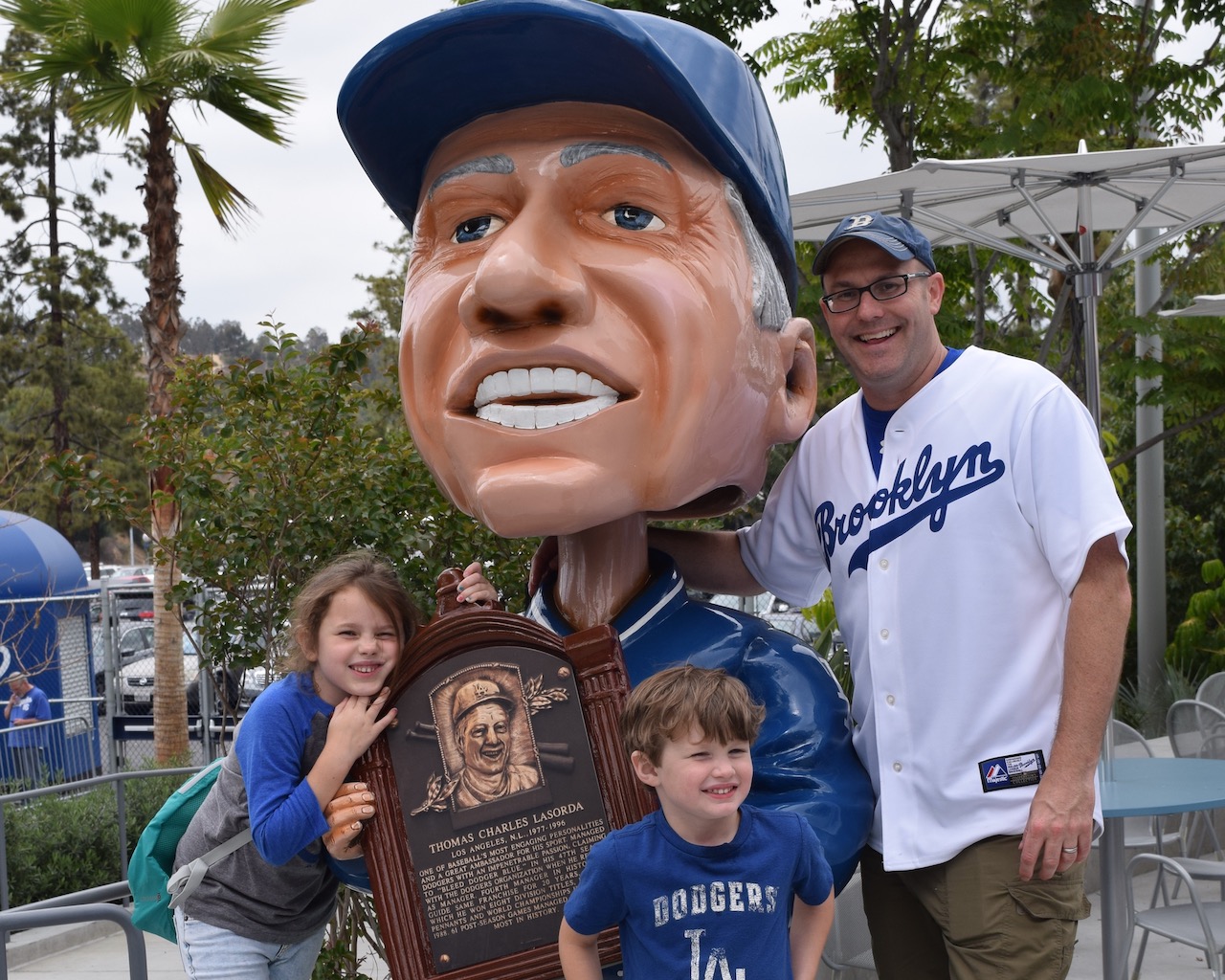 Bobblehead Tommy (2015)
This was not a personal encounter with Tommy, but it was as close as we got for that day's Dodgers game! Our family had gone to LA for a vacation to Disneyland, but we strategically planned it to catch a game – which was the first at Dodger Stadium for our oldest son Harrison.

Dodger Stadium (2017)
I was back in LA at Dodger Stadium for our third stop of Epic West where I organized and led a group to hit four games in four parks in four days (SF, OAK, LA, SD). I briefly ran into Tommy on the concourse that night and just said hello.

His Hometown Birthday (2019)
The last time I saw Tommy was September 2019 outside of Philadelphia at the end of our Epic East trip where we hit three games in three parks in three days (BAL, DC, PHI). It was a meet and greet organized by Mead Chasky Sports that included several former players with Tommy as the headliner. Although I had now met Tommy a few times over the years, I very specifically wanted to meet him on this day to ask him to sign my Ebbets Field photo, a personal treasure keepsake with autographs from all the former Brooklyn players I have met in recent years. It was also neat to tell him where I was headed next – two hours west of Philly to hang out with his former teammate and roommate Charles Thompson, who also played for Brooklyn. He asked us to pass along his regards.
Tommy, "When I die…"
In recent years he was asked what his goals were at this life stage and one of them was to see the Dodgers win another World Series. Although his health was in decline and he would be hospitalized in an ICU in Los Angeles days later, Tommy flew to Arlington, Texas in October for Game Six of the World Series at Globe Life Field. His wish came true; he got to see his Dodgers win one more World Series. No one embodied a spirit and love of the game more than Tommy Lasorda. He will be missed.
"When I die, I want my wife to put the Dodgers home schedule on the tombstone. So that when people are in the cemetery visiting their loved ones, they will say, "Let's go to Lasorda's grave to see if the Dodgers are playing at home." – Tommy Lasorda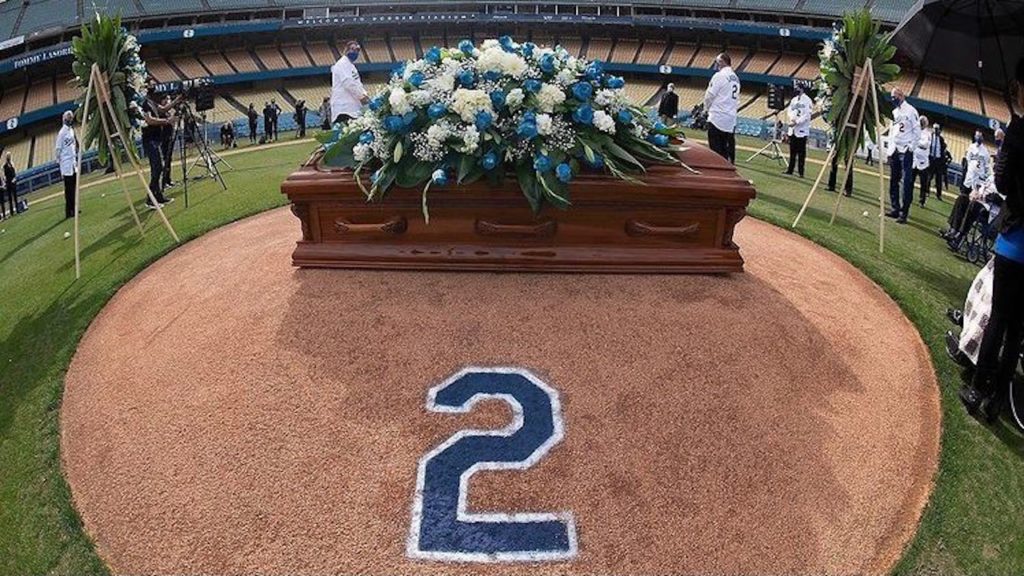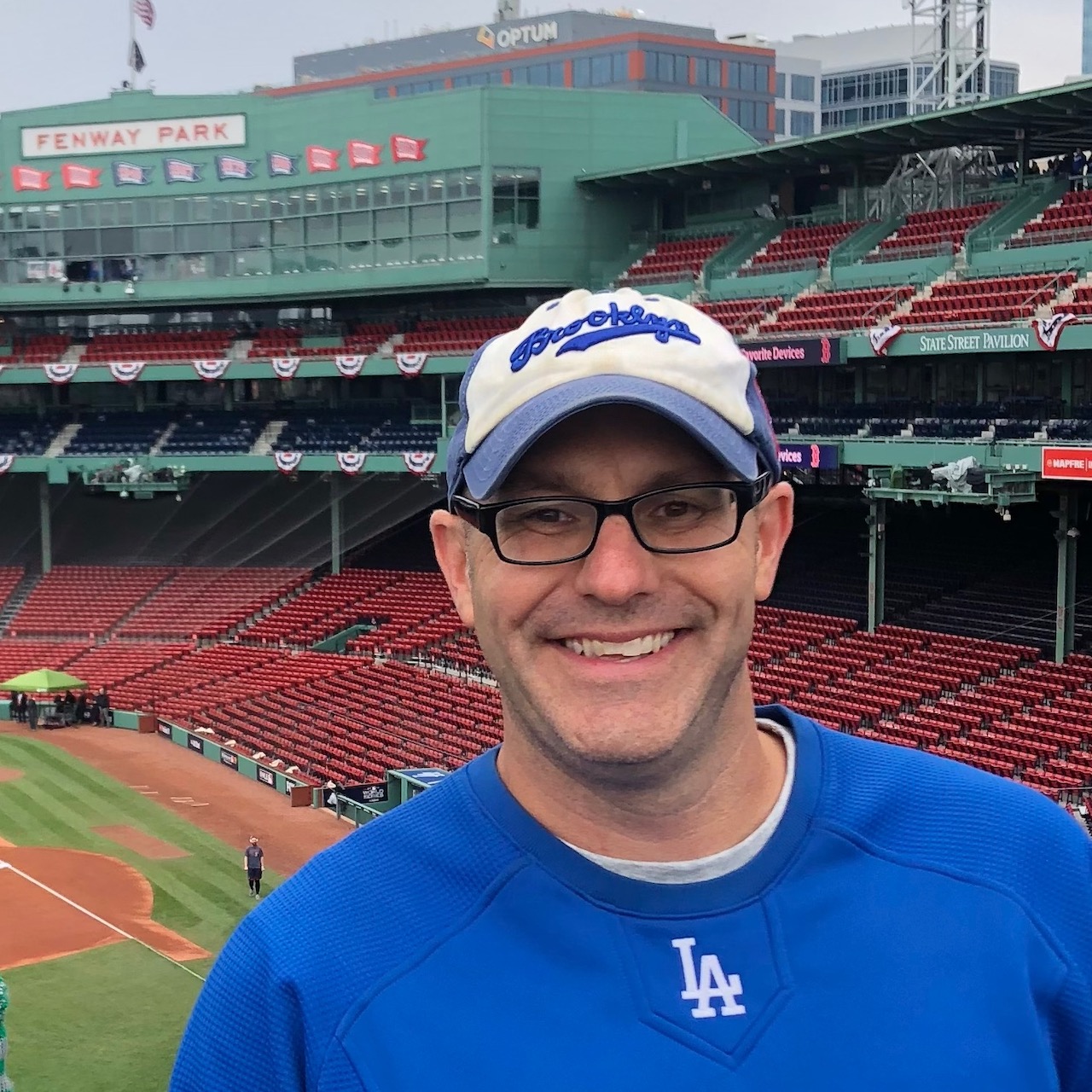 Mark Jent is the chief trip planner and designated storyteller for Simply A Fan. He lives in Nashville with his wife Beth, and their three kids, Brooklyn, Harrison and Zach. He enjoys cheering on his Dodgers, reading baseball history, hiking at Radnor Lake and chasing waterfalls throughout Tennessee with his family. He launched Simply A Fan in July 2018 with the two-fold purpose of taking people on adventures to ballparks across the country and providing fans a platform to share their baseball stories. He is currently on a quest to meet as many of the living Brooklyn Dodgers as possible.
FEATURED IMAGE:
September 5, 2016 – Dodger Stadium. We were in town for Vin Scully Weekend and had just finished our stadium tour when I walked outside the gates and took this picture of Tommy's retired number 2.

FOLLOW SIMPLY A FAN
Want to support and follow along Simply A Fan? Click here to subscribe to receive periodic emails full of baseball stories and upcoming adventures. You can unsubscribe any time. You can also follow along on social media – Instagram, Facebook and Twitter.

READ MORE
Click here to read more stories from Simply A Fan.

UPCOMING ADVENTURES
Looking for a fun baseball adventure? Click here to see all of the scheduled upcoming trips or previous trips' photo galleries.