by Mark Jent

Cooperstown. It is a place synonymous with our national pastime. This quaint and tiny central New York village that is tucked away in the Catskills Mountains may only have 2,000 local residents, but it is the 333 people who have been awarded baseball's immortality who also call it home that given it acclaim. In the eight decades since the National Baseball Hall of Fame's doors opened in 1939 it has become known as the mecca of all sports museums.

I've been to Cooperstown once; it was for the 2018 Induction Ceremony Weekend when Chipper Jones, Jim Thome, Vladimir Guererro, Trevor Hoffman, Alan Trammell and Jack Morris had their plaques installed in the hallowed halls. The Simply A Fan group of six found ourselves entrenched in the memorabilia and artifacts, enjoying the interactive exhibits, getting lost in the eras sections, star-gazing in the plaque gallery and spending more money than we had planned on in the shops on Main Street. On a sweltering Sunday in July, we were joined by over 50,000 of our closest baseball friends sitting in a field full of lawn chairs to witness history as these men were recognized for being the best 1% to ever play the game. If you are a baseball fan and have never been, put it atop your bucket list – it is worth the journey.

With all that said, the 2021 Hall of Fame election season is upon us and I wanted to, once again, give you a chance to cast your ballot for who you think deserves enshrinement in Cooperstown! You may decide to just look at the names and quickly click through your choices. Or you might choose to do a little research with all the resources available to you, some of which I will link to below.
• Baseball Hall of Fame
• MLB.com, by Anthony Castrovince
• Fangraphs, by Jay Jaffe (reknown Cooperstown expert)
• CBS Sports, by Matt Snyder
The Candidates
This year's ballot has 25 candidates on it. It is quite underwhelming for the 11 new candidates, all of whom had solid major league careers, yet their overall body work will certainly leave them all shutout in 2021 and most likely, forever. Of the 14 holdover candidates, you have a myriad of resumes to choose between. Because of the weak first year class, many of these 14 will simply see their vote totals trend up to their advantage, while others will continue to linger until their eligibility is up after 10 years or until they fall below the 5% threshold. As a voter on the Simply A Fan and Friends Hall of Fame, you are left to sort through the issues of steroids, politics, domestic violence and more as you draw your own baseline on the character clause.

BBWAA: The Official Process
The Baseball Writers Association of America (BBWAA) has been tasked with voting on the Baseball Hall of Fame inductees since its inception. Today there are over 700 members of the BBWAA who work for a newspaper or a news outlet that covers major league baseball. A member must pay their dues and be active for 10 consecutive seasons to be eligible to vote. This means that for 2021 only 400 of the 700 journalists will receive a ballot from the Hall of Fame.

The Hall of Fame releases the upcoming ballot each November with votes due from BBWAA members by December 31st. The results will be announced on the MLB Network on Tuesday, January 26th at 5pm CST. In recent years, the lead-up to the election announcement has received significant attention as many voters reveal their ballots on Twitter. Ryan Thibodaux, @NotMrTibbs, has assembled a team to track ballots and compile a real-time ballot tracker. To view the most up-to-date results on his master spreadsheet, click here: The HOF Tracker.

SAFF: Our Election History
This is the fourth edition of the Simply A Fan & Friends (SAFF) Hall of Fame Ballot, albeit some were under the moniker of Mark Jent & Friends before Simply A Fan was launched. As you'll notice below we have been known to have a stingy electorate, but voter turnout has increased dramatically each year – more than doubling each cycle. (*Note that 2020 was an outlier as owner/operate of Simply A Fan did not get his act together in time. Sincerest apologies to Derek Jeter and Larry Walker.)

Here is a breakdown of past elections results.
2017: 11 voters elected two candidates – Pudge Rodriguez and Jeff Bagwell. Tim Raines received BBWAA election, but fell short on the SAFF ballot.

2018: 30 voters elected three candidates – Chipper Jones, Vladimire Guerrero and Trevor Hoffman. Jim Thome received BBWAA election, but fell short on the SAFF ballot.

2019: 76 voters elected a single candidate – Mariano Rivera. In our biggest swing-and-miss to date Roy Halladay, Edgar Martinez and Mike Mussina received BBWAA election, but fell short on the SAFF ballot.

If you would like to review the results and story from the 2019 cycle, click HOF 2019: The Results.

SAFF: Eligibility and Voting Procedures
Pay close attention, the Simply A Fan & Friends' Hall of Fame eligibility and voting procedures are quite a bit different than that of the Baseball Writers Association of America (BBWAA).
• If you are reading this, you are eligible to vote. Whoever you are, you are eligible!
• You must list your name in the form below. You cannot hide behind anonymity.
• You can vote for as many candidates as you wish. There is no "limit of 10" policy.
• You are voting on who are your Hall of Famers. You are not voting on who you think will get elected this year.
• In conjunction with the vagueness provided by the HOF and BBWAA, I too will leave the "character clause" vague and up to the discretion of you, the voter.
• Shoeless Joe Jackson and Pete Rose are both eligible. Like it or live with it. (In 2019 Rose received the second most SAFF votes appearing on 63.2% followed by Jackson's 59% turn-out on the 76 ballots.)
• Up to three write-in votes are allowed for players who no longer appear on the ballot. (i.e. – Don Mattingly, Gil Hodges, etc.) Write-ins are not for future eligibles like David Ortiz, Adrian Beltre, Ichiro, etc.
• You can only vote once. Voting more than once will be considered voter fraud and punishable with tickets in solitary confinement on the last row of the upper deck in centerfield for 81 games at Oakland Coliseum in 2021.
• A candidate must attain 75% for Simply A Fan enshrinement.
• Voting is open until Sunday, January 24th at 5pm.
• The Baseball Hall of Fame results are set to be announced on the MLB Network on Tuesday, January 26th at 5pm CST.
• The Simply A Fan Hall of Fame results will be released shortly thereafter on simplyafan.com and social media, providing a contrast and comparison.
Seeing that this is being posted earlier than ever, nearly four weeks in advance of when ballots are due, my goal is that we can reach and surpass 100 voters for this 2021 cycle!

To check the latest running vote totals, click here.

Now step up to the plate and vote for your 2021 Simply A Fan & Friends Hall of Fame!



---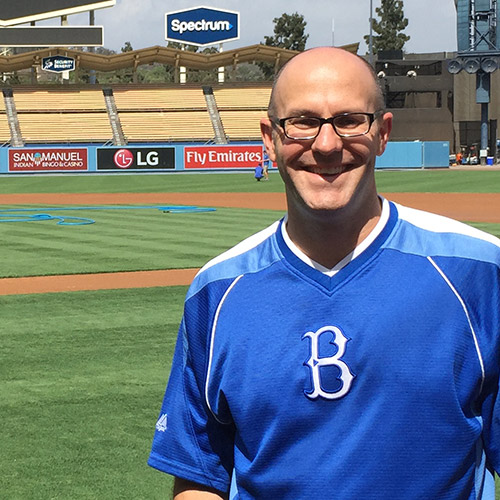 Mark Jent is the chief trip planner and designated storyteller for Simply A Fan. He lives in Nashville with his wife Beth, and their three kids, Brooklyn, Harrison and Zach. He enjoys cheering on his Dodgers, reading baseball history, hiking at Radnor Lake and chasing waterfalls throughout Tennessee with his family. He launched Simply A Fan in July 2018 with the two-fold purpose of taking people on adventures to ballparks across the country and providing fans a platform to share their baseball stories. He is currently on a quest to meet as many of the living Brooklyn Dodgers as possible.