by Mark Jent
The results are in, both for the Baseball Writers Association of America (BBWAA) and most importantly for the Simply A Fan & Friends (SAFF) Hall of Fame Ballot! A record 76 people from across the country cast a ballot, up from just 30 voters in 2018 and 12 voters in 2017…both of which were under the old system of Mark Jent & Friends. Although I fell short of my attempt at reaching 100 voters, I am by no means disappointed at the great turnout as the voting total was over 2.5 times greater than last year in the pre-Simply A Fan days.
Drue Clark, a Red Sox fan, is a long-time dedicated and almost tenured voter for the three year Simply A Fan & Friends Ballot. He is one of only eight people on planet earth who have voted all three years and he knows his place in the game, "It's an honor to be asked to participate in this election process every January. I know the Hall of Fame doesn't flippantly choose who they will allow to cast votes, so I'm glad to I've gotten to be a voice from the beginning," says Clark. "Our early years of voting back in 2017 really shaped the Hall of Fame we currently have, and have set a precedent for who we will elect in the years to come."
DRUM ROLL PLEASE…
In it's third year in some form, the Simply A Fan & Friends electorate is proving to be stingy in awarding it's Hall of Fame membership and has elected one member into the Baseball Hall of Fame. I envision this next sentence is about as riveting for him to read as it was for him to receive the phone call, Mariano Rivera – Welcome to Cooperstown!
A historic election that saw Rivera become the first person in history to gain election with 100% of the BBWAA ballot, is the only inductee among the 36 common candidates between the two organizations. The SAFF ballot includes a total of 38 with the inclusions of Pete Rose and Joe Jackson. Rivera, the greatest closer of all-time, received 63 of a possible 76 votes for a solid 82.9%. It was apparent with this year's voters that not everyone is a believer that closers are Cooperstown worthy. Caroline Gallagher who didn't check the box next to Rivera's name said, "I scrolled through the list and his name didn't look familiar, so I didn't vote for him." Truth by told,  Gallagher is also a die-hard Braves fan and although she was young back then, she's still holding on to a small grudge for when Rivera got the final out of the '98 World Series against her Braves.
Others inducted by the BBWAA were the late Roy Halladay, Edgar Martinez and Mike Mussina. Halladay, a first-year candidate, received 85.4% BBWAA, but dropped to a mind-boggling 57% of the SAFF vote. Although his 10 year peak put him as the best pitcher in baseball from 2002-2011, many SAFF voters just didn't think it was enough to warrant election in 2019.
Martinez, in his tenth and final year on the ballot, finally gained his long overdue election with 85% BBWAA vote, but ran in to some heavy hitters on the SAFF ballot ending at 58%. Although Martinez is arguably the greatest DH of all-time on top of the fact that he and Ken Griffey, Jr. practically saved baseball in Seattle back in 1995, his totals didn't add up to some hard-line SAFF voters.
And finally, Mike Mussina who won 270 games, played his entire 19 year career in the tough AL East during the steroid era and started 60% of his games at Camden Yards, Yankee Stadium and Fenway Park will be enshrined this summer alongside his teammate Mariano Rivera. Mussina obtained 77% of the BBWAA ballot, while only garnering 49% of the SAFF vote.
So there is your contract and comparison to the four actual inductees. Now on to what I call, more interesting analysis.
THE HIT KING & SHOELESS JOE
They have never appeared on a BBWAA ballot, but Pete Rose and Shoeless Joe Jackson both had a strong showing in the SAFF vote. Rose, who has been suspended since 1989 for gambling on baseball and the man who has more hits in the history of baseball than anyone else, was the second-leading vote getter in the SAFF vote with 48 of 76 votes, 63.2%. The ghost of Shoeless Joe Jackson lives on. Jackson was suspended from baseball in 1921 for life as he was accused of playing a part in throwing the 1919 World Series. Despite only a handful of voters being born before he passed away in 1951, the legend of Jackson's lifetime .356 batting average helped him obtain 59% of the SAFF vote. Twitter-verse is exploding with predictions that with this strong of a showing, it's only a matter of time until Simply A Fan & Friends Ballot helps usher them into the hallowed halls of Cooperstown.
"My voting history tends to reflect my personal beliefs within the game and the Hall of Fame. We should be recognizing those who have achieved the highest level of performance within the game. Shoeless Joe Jackson and Pete Rose have done exactly that," says Clark" Surely this will raise questions about my voting preferences towards the steroids era, and I will refrain from answering those questions at this time." Since all ballots are made public upon submission, Clark doesn't need to answer any further questions regarding his stance on the steroids era seeing that he checked boxes next to Bonds, Clemens and Sosa.
Candidates who's percentages were in the same ballpark on both ballots include:
• Curt Schilling – 60.9% BBWAA; 57.9% SAFF
• Roger Clemens – 59.2% BBWAA, 59.2% SAFF
• Fred McGriff – 39.8% BBWAA; 43.4% SAFF
• Jeff Kent – 18.1% BBWAA; 18.4% SAFF
• Scott Rolen – 17.2% BBWAA; 17.1% SAFF
THE BIGGEST DIFFERENCE
The biggest difference between the BBWAA guidelines and that of Simply A Fan is the removal of the "Limit of 10" policy, which limits the writers to only voting for 10 candidates. Inevitably this leaves many BBWAA voters wrestling with their ballots for weeks leading up to the deadline, with many saying they would have voted for 12-15 if allowed. For Simply A Fan voters, this is a mute point as the unlimited vote total gives SAFF voters true discretion to check Yes or No on their ballot.
Eric Gardner of Franklin (TN) is a two-time SAFF voter and this year he checked a record 19 boxes! Obviously a big hall guy, Gardner says, "In my book, you are either a Hall of Famer or you're not. I think the limitation of voting for only 10 players causes the voters to make strategic decisions that aren't necessarily good for the process. I appreciate Simply A Fan's willingness to allow the voters to make their decision without those limitations." Gardner might have led the way, but 23 of the 76 voters checked boxes for 11+ candidates.
A BIG THANKS
A big thanks to the last minute spike in votes on Monday evening as the community over at the Kenner Starting Lineup (SLU) Facebook group stepped up in the final two hours and cast the final 25 ballots. Long-time SLU collecting extraordinaire Joe Curcio wasn't at all surprised that when called upon the SLU group stepped up to the plate, "It's a group with many passionate sports fans, and the players are from a time when Starting Lineup was thriving, so the memories of these guys are still pretty fresh," says Curcio. "I remember when the figures of these, now Hall of Fame players came out. It really feels like yesterday, and now, these players are all retired, for at least 5 years and in the Hall of Fame." Starting Lineups are sports figures that were produced from 1988-2001 and today nearly two decades after their demise, there is still an ever-growing collecting community. Curcio went on to say, "When you think of Cooperstown, you think of names like Mantle, Ruth, Cobb, Ted Williams, old baseball players. But at one time, they were as young as Mussina, Mo and Martinez. As a side note, these now Hall of Fame players didn't have many Starting Lineups."
OTHER INTERESTING TID-BITS
With zero experience necessary in order to vote on the Simply A Fan & Friends Ballot, much less any knowledge of the past 30 years of the sport itself, we had a very wide array of voters and ballots alike. Some items of notes:
• Our youngest voter was Hunter High, age 16
• Our most eldest voter was my mom, Pat Jent, age not disclosed.
• Daniel George voted for only one person who's been dead for 67 years – Joe Jackson.
• Two people only voted for two people.
• Five people only voted for three people.
• Six people voted on-the-spot and at my request Sunday night while our families were watching the AFC Championship Game. Included in this half-dozen was Tim Lavender, an actuary by trade, and did he obviously did take career WAR into consideration by casting ballots for Barry Bonds and Roger Clemens.
• Someone who I have no clue who they are, actually casted one vote for Darren Oliver and his 4.51 ERA. If he had been elected, which he fell 56 votes shy of, this would be far and away the highest ERA in the Hall of Fame, topping Jack Morris' 3.90 ERA.
• In 2018 the BBWAA elected Chipper Jones, Vlad Guerrero, Trevor Hoffman and Jim Thome while SAFF and its 30 voters elected Jones, Vlad and Hoffman.
• In 2017 the BBWAA elected Pudge Rodriguez, Tim Raines and Jeff Bagwell while SAFF and its inaugural year of 12 voters elected Pudge and Bagwell.
SIMPLY A FAN & FRIENDS BALLOT BREAKDOWN
Below is a breakdown of the Simply A Fan & Friends Hall of Fame Ballot with percentage given first followed by vote totals in parenthesis. To access the BBWAA final voting totals, click here.
• Mariano Rivera 82.9% (63 votes)
• Pete Rose 63.2% (48)
• Roger Clemens 59.2% (45)
• Joe Jackson 59.2% (45)
• Edgar Martinez 57.9% (44)
• Curt Schilling 57.9% (44)
• Roy Halladay 56.6% (43)
• Barry Bonds 52.6% (40)
• Mike Mussina 48.7% (37)
• Fred McGriff 43.4% (33)
• Todd Helton 42.1% (32)
• Manny Ramirez 31.6% (24)
• Larry Walker 28.9% (22)
• Andy Pettite 26.3% (20)
• Omar Vizquel 25.0% (19)
• Sammy Sosa 21.1% (16)
• Billy Wagner 21.1% (16)
• Jeff Kent 18.4% (14)
• Scott Rolen 17.1% (13)
• Gary Sheffield 15.8% (12)
• Andruw Jones 9.2% (7)
• Roy Oswalt 6.6% (5)
• Rick Ankiel 3.9% (3)
• Lance Berkman 3.9% (3)
• Kevin Youkilis 3.9% (3)
• Miguel Tejada 2.6% (2)
• Darren Oliver 1.3% (1)
• Placido Polanco 1.3% (1)
Below are a list of players who were on the ballot, but they received 0 votes from SAFF for induction to the Baseball Hall of Fame include:
• Jason Bay and his really bad $66 million contract with the Mets
• Freddy Garcia who was named the 2018 Comeback Player of the Year in the Venezuelan Winter League, yet that was obviously not taken into consideration by the electorate.
• former one-time Dodger and 2005 White Sox WS Champion Jon Garland
• former Dodger and 2x All-Star Ted Lilly
• former Dodger and 2004 Red Sox WS Champion Derek Lowe,
• former Dodger Juan Pierre and his 614 stolen bases
• Travis Hafner who once had a candy car made in his honor
• and finally Vernon Wells and his really bad $126 million contract with the Blue Jays.
DEFINING MOMENTS
As I reflected on each of the four player's induction, here are single moments from each of their careers that stood out to me. Click on each link to view the moment.
• Mariano Rivera – his final game as he was taken out of the game by teammates Derek Jeter and Andy Pettite.
• Edgar Martinez – the double in the 1995 AL Division Series that saved baseball in Seattle.
• Roy Halladay – his no-hitter in the 2010 post-season which was his first career playoff game.
• Mike Mussina – him yelling at Joe Torre to stay in the dugout so he can get a complete game
MY BALLOT
Barry Bonds, Roger Clemens, Roy Halladay, Todd Helton, Joe Jackson, Jeff Kent, Edgar Martinez, Fred McGriff, Mike Mussina, Mariano Rivera, Pete Rose, Curt Schilling, Gary Sheffield, Sammy Sosa, Omar Vizquel. 

Thank you for whatever small part you played in this endeavour, whether that was voting, sharing or just reading along. Join us next year as we do our part to get Derek Jeter some necessary recognition to make sure his Hall of Fame candidacy does not go undetected by the writers.
If you would like to join Simply A Fan on it's upcoming trip to the Hall of Fame May 24-27 for the Hall of Fame Classic Weekend, check out details on the 2019 Trip Schedule where you can register and pay your deposit! It is sure to be an epic Memorial Day Weekend trip where we will watch the annual Hall of Fame Classic, enjoy the Night at the Museum event with Hall of Famers, spend three days touring the Hall of Fame, walking the streets of Cooperstown and more.
Featured image:
the front doors to the National Baseball Hall of Fame as seen by me taken on my iPhone in July 2018 during my first visit to Cooperstown, New York.
---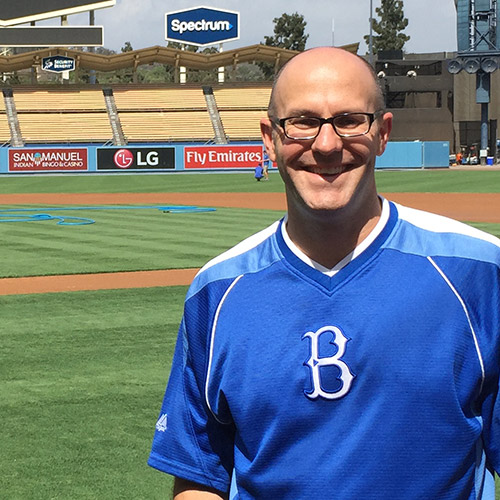 Mark Jent is the chief trip planner and designated storyteller for Simply A Fan. He lives in Nashville with his wife Beth, and their three kids, Brooklyn, Harrison and Zach. He enjoys cheering on his Dodgers, reading baseball history, hiking at Radnor Lake and chasing waterfalls throughout Tennessee with his family. He launched Simply A Fan in July 2018 with the two-fold purpose of taking people on adventures to ballparks across the country and providing fans a platform to share their baseball stories. He is currently on a quest to meet as many of the living Brooklyn Dodgers as possible.