by Mark Jent

Wow. Unbelievable. Incredible. Amazing. Awesome.

It is hard to adequately describe what took place in Nashville this weekend at First Horizon Park as the Savannah Bananas packed the park Friday and Saturday nights with sold out crowds in excess of 10,000 fans. Those words above are about all I got when it comes to the experience itself. Unless you were there in person or have experienced a Bananas game yourself, it is hard to fathom exactly what it's all about, yet I will give it my best shot!

It is a Broadway production combined with the Barnum & Bailey Circus at a Family Reunion with a World Series atmosphere in a minor league ballpark. Folks who attended, did I get anywhere close?

Thank you to the 436 of you who joined Simply A Fan at our largest adventure since we launched in 2018!!! I wanted to drop this potassium filled email out to all of you with highlights from the evening. However long it ends up being, I could have easily doubled it and still had content left over!

Opening Act: The Parade
From the outset the atmosphere was electric. The gates didn't open up until 5:30, but fans were lining up by 4:00 if not earlier. With the lower bowl 100% general admission, Banana fans wanted to get the best seat possible. The entertainment starts at 5:15 as the Banana Band marches to the front entrance behind home plate where an estimated 3,000 fans were waiting for their favorite fruit to arrive. Following the Banana Band is the team's joy-filled creative owner Jesse Cole in his traditional yellow tuxedo along with the famous Savannah Bananas themselves. Then the pep rally began before the gates opened for fans to rush into BananaLand.


Jesse Cole: The Great Showman
How many team owners do you ever see outside the ballpark before AND after the game greeting fans, welcoming them in the gate, taking pictures, signing autographs and with a megaphone leading the pep band?

Only one. His name is Jesse Cole.

His story is encouraging and inspiring to any one who has ever dared to dream. The Savannah Bananas did not happen over night, but have been in the works (in his mind) for nearly two decades since he became a 23 year old General Manager of the college wood bat league team, the Gastonia Grizzlies. The first night they barely had 150 fans in the stands and he knew he didn't need more baseball, he needed more entertainment.

He launched the Savannah Bananas in 2016 and it's been a wild ride ever since. When it comes to his baseball team, his motto has been "What is normal, do the opposite." He is full of energy, creativity and is unlike any other executive in American sports. He's written three books – Find Your Yellow Tux (2017), Fans First (2022) and Banana Land (just released). Click here to purchase any or all on Amazon. 


John Luke's 10th Birthday
Most 10 year olds want a big party, go to a bounce house, have a swim party, take their friends to the zoo, etc…but John Luke wanted to come see the Savannah Bananas with his family and friends! So he made a poster to announce he was hitting double digits! Afterwards he told his mom Mandi, "This was the best birthday I've ever had!"

John Luke's potassium level exploded on Saturday night.


Club Suite 6
Many months ago I purchased the only available club suite left from the Sounds with no clue who would be sitting in it on Saturday night. A big thanks to my long-time friend Brian Ryman and my new friend Davey Hackett for organizing and hosting. Brian and Davey looked at date and crosschecked it with their friend's Thomas Rhett's summer tour schedule and decided to reserve it to make it a special night for Thomas, Lauren and their friend group.
Thomas is in the midst of a 40 city summer tour and plays 10 of the next 11 weekends, so the timing was perfect for him and Lauren to have a kid-free date night. A big shout out to Brian and Davey for having the foresight to look ahead and do something special for a friend, who is often the entertainer but on Saturday night he got to sit back and be entertained himself! There was a lot of Lipscomb Bison pride in Club Suite 6.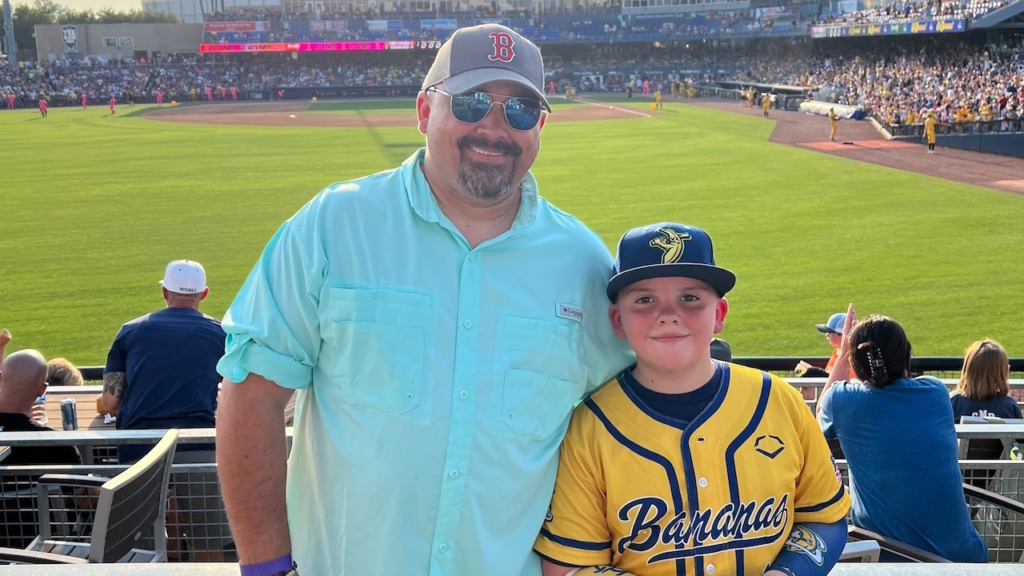 Corporate Outing: Fidé Trust
As the word began to trickle out about Simply A Fan's adventure for this outing, I was contacted by my friends Chris and Emily Gannon. Emily is CEO & Partner of Fidé, a staffing agency based out of Nashville, and she wanted to treat a 100 of her employees and families to a night at the ballpark to watch the Bananas. Thanks to my contact Sierra with the Sounds, we matched their large group with the LF Picnic Hospitality Deck at First Horizon Park where an all-you-can-eat buffet was waiting upon their arrival. The Gannons and Fidé became Simply A Fan's first corporate outing! Pictured above is Chris and their son JD.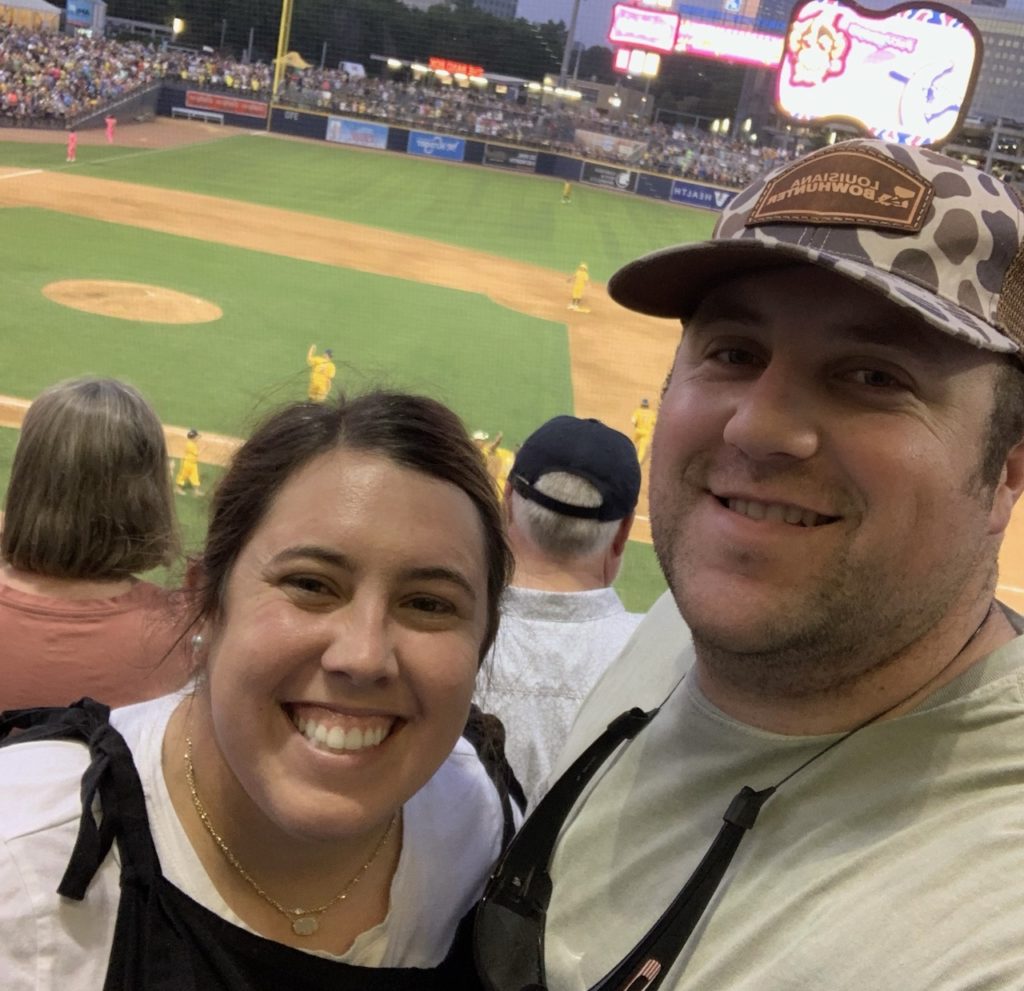 Drove From Baton Rouge
I love to hear how people find out about Simply A Fan, whether you're my neighbor or whether you found us on the world wide web. Shortly after tickets went on sale I was contacted by Rennen from Baton Rouge, Louisiana. She somehow came across the website via something called a "Google search" and wanted to join us for our Bananas game, but we were SOLD OUT! So she joined the waitlist.

A few weeks later some tickets opened up and I found myself Calling Baton Rouge! (100% pun intended; thanks Garth Brooks) They didn't just come for the game, but made a weekend getaway out of it. She text me afterwards, "We had the best time! We are already talking about coming back to Nashville."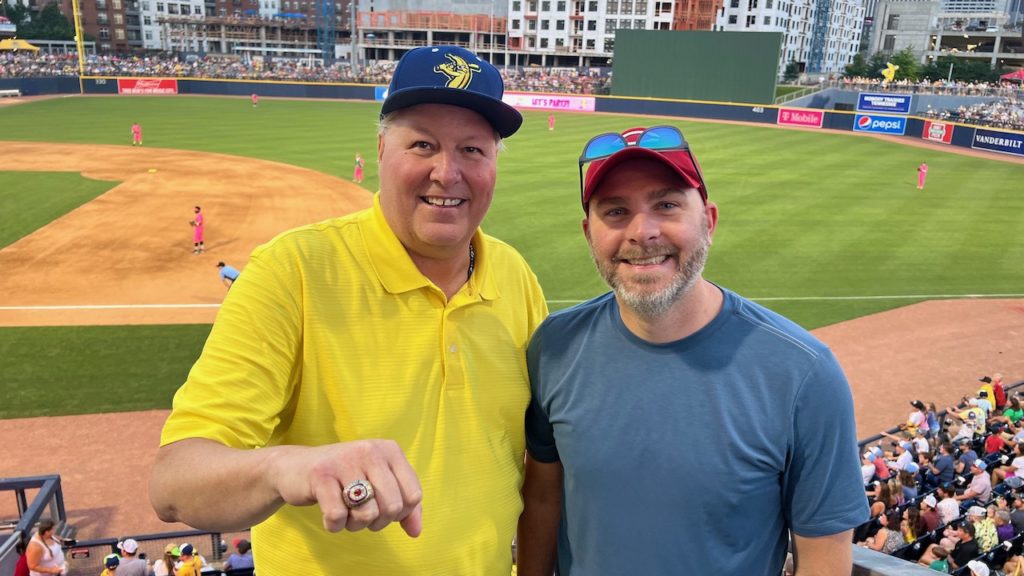 Reds Fan Meets 1990 World Series Champ
Paul Stevens and I used to work together at our alma mater, Lipscomb University, for many years. He is one of the most die-hard long-suffering Cincinnati Reds fans I know. But growing up in Ohio he vividly recalls their glory days. When I told him that he would be sitting in front of long-time Nashville-native Keith Brown I knew an introduction was in store. When I introduced them Keith surprised us both by discreetly raising his fist with his 1990 World Series Championship ring! Keith was a pitcher and played 4 seasons for the Reds between 1988-92.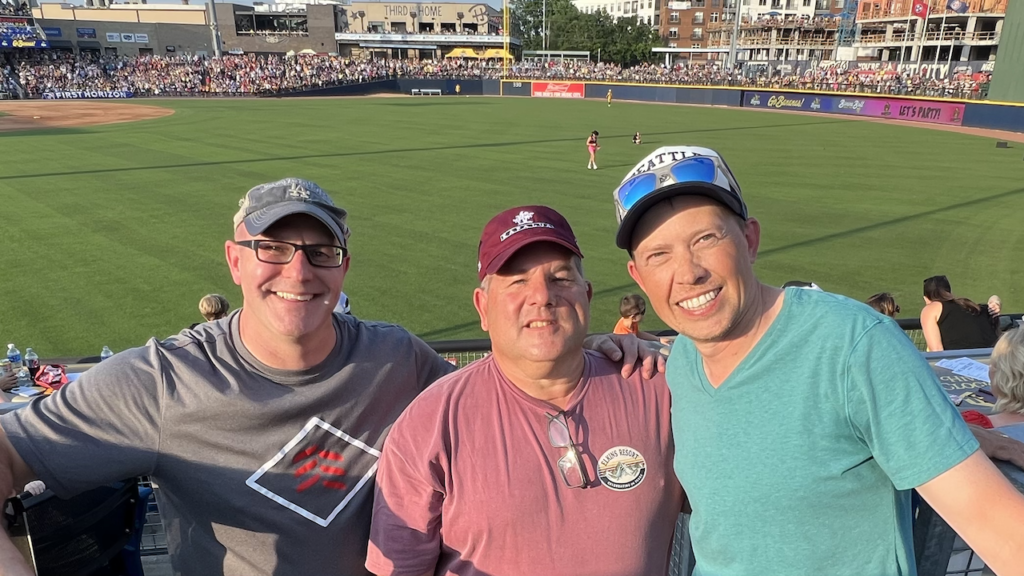 Long Distance Award: 2,111 Miles
If Rennen and her boyfriend deserve the long-distance driving award, then Ziggy's Lumber company out of Spokane, Washington get the platinum award for farthest distance traveled!

A few months I got a call from an unknown number, which I occasionally enjoy answering to just see who it is. His name is Scott Bean and he told me that his company was bringing their leadership team to Nashville for a week and was searching the internet for "things to do." He said he was looking at the Grand Ole Opry and other venues to visit and somehow came across the Simply A Fan website?!?! That's a first – I have no clue how that happened. We must have more powerful SEO than I thought. He wanted to make sure I was legitimate first, rightfully so, as it seemed a bit surreal that I had 28 tickets available to an event that he knew was sold out nationwide. Within minutes he had paid an invoice and had his tickets secured. Everybody across the country is crazy about the Savannah Bananas!

When I build my next house in the Pacific Northwest, I'll be buying my lumber from Ziggy's! Here I am pictured with Mr. Zigler (middle) and Scott (right).


Potassium Level: 436
We had our 436 fans spread throughout First Horizon Park – club level seats, lower level seats, the club suite, two hospitality areas in LF and RF. The trip planner in me knew that I'd never get all 400+ of us together for a large group photograph, but I gladly settled for this group shot of sections 215 and 216. Thanks to the nearly 100 of you who wonderfully appeased me after the final out for this money shot!

One of my favorite aspects of the adventure was seeing the excitement of the kids throughout the evening along with families having fun, best friends just enjoying a game, couples on a date night, grandparents maxing out their credit cards at the concession stand for their grandkids, college friends reminiscing and more.

We hope the Bananas come back to Nashville in 2024, but my new Bananas best friend Kurt has told me we should bring a group to see them in Savannah!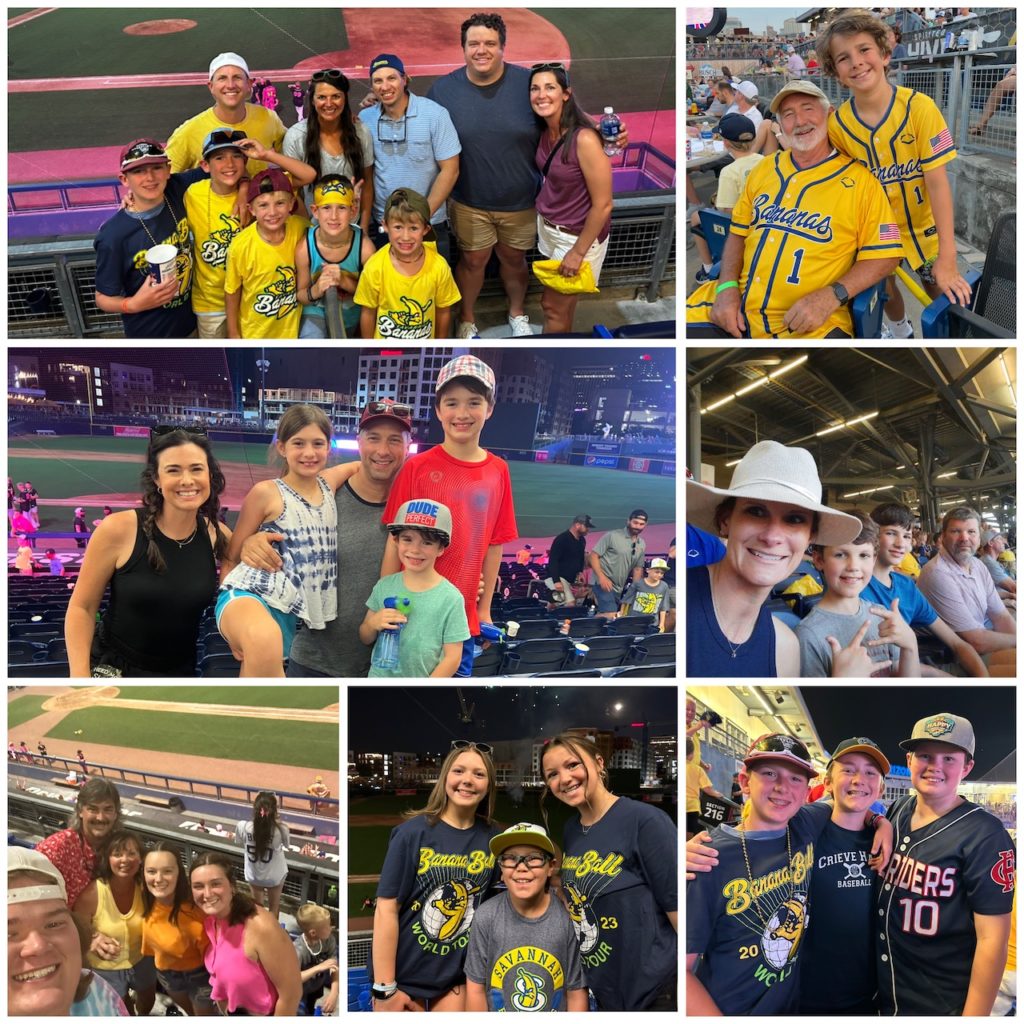 ---
To check out other stories on the website click here: Stories From The Stands.
To check out upcoming adventures click here: Upcoming Adventures.
You can also follow Simply A Fan on Instagram, YouTube, Facebook and Twitter.

And finally, to stay up to date with all things Simply A Fan, click here to sign up for the newsletter. By doing so, you'll be the first to receive opportunities to purchase tickets and reservations on upcoming adventures and stay connected with new stories!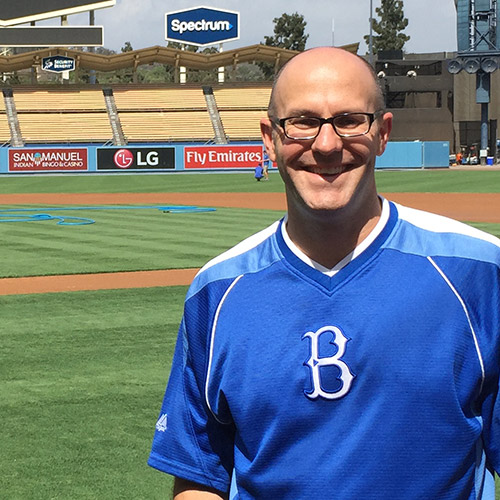 Mark Jent is the chief trip planner and designated storyteller for Simply A Fan. He lives in Nashville with his wife Beth, and their three kids, Brooklyn, Harrison and Zach. He enjoys cheering on his Dodgers, reading baseball history, hiking at Radnor Lake and chasing waterfalls throughout Tennessee with his family. He launched Simply A Fan in July 2018 with the two-fold purpose of taking people on adventures to ballparks across the country and providing fans a platform to share their baseball stories. He is currently on a quest to meet as many of the living Brooklyn Dodgers as possible.