by Lee Perryman

Growing up in a small town in southern middle Tennessee, I grew up watching the Braves with my grandparents. My husband Adam was also introduced to baseball by his grandparents and his Uncle Frank, watching as many games as possible on TBS.

We played softball and baseball growing up, so we loved the game from an early age. My first Braves' game was at the old Fulton County Stadium when I was just a little girl. My love of the game only grew from there. I was a Jeff Blauser fan, as well as the starting rotation that included Greg Maddux, Tom Glavine, John Smoltz, and my heartthrob, Steve Avery! While playing softball in middle school, I wore my pants at my knees with a #10 on my back in honor of Chipper. Years later I also had the pleasure of meeting one of my current favorite players, Freddie Freeman, during his rookie season!

In August 2019 Adam suddenly became sick with a horrible headache. After weeks and weeks of tests we found that it was his body's way of telling us he was extremely sick. Shortly after he was diagnosed with stage 4 Renal Cell Carcinoma. The tumor was bigger than his kidney and had metastasized to his lymph nodes, adrenal glands, and his lungs were covered up in tumors. Our world was shattered, but we were determined to start the fight of our lives.

When Adam started treatments, he encountered some serious side effects and our doctor in Tennessee was out of options. After nearly two years of treatments and searching for answers, I decided this past October that it was time to contact MD Anderson Hospital in Houston as it is known as one of the greatest cancer centers in the world. We were grateful they could see Adam so quickly and set his appointment for Tuesday, November 2nd.

While waiting on our trip to Houston, we continued to live our lives as normal as possible, which included watching the Braves march through the October playoffs. During the NLCS versus the Dodgers we started checking the calendar and realized if Atlanta and Houston both won their series, then Houston would be hosting Game 6 of the World Series the same day as Adam's appointment! As soon as tickets were available, we took the chance and purchased them with the hopes that the stars would align. We were (hopefully) going to the World Series – what a dream come true it would be!

We watched each World Series game with great anticipation, simultaneously hoping the Braves would win it all at home in Game 5 and hoping they would lose so that we could be in attendance for Game 6. After taking an early lead, craziness ensued and the Braves lost a heartbreaker 9-5 to send it back to Houston. In our house, it was almost like we were meant to be there.

On Tuesday morning, November 2nd we drove to the Nashville airport and boarded our flight bound for Houston. Our appointment at MD Anderson was at 2:30. We knew we would be cutting it close to make the first pitch at 7:15, especially since we didn't know what to expect with the doctor – which was of primary importance. We met with one of the best kidney cancer doctors in the country and he gave us the hope we had been praying for. (We had to do some tests the next day and go do labs and blood work that afternoon, but we were thrilled with the news that there was a plan.)

We finished with the doctor an hour before the game, but first had to go to our hotel to get our Braves apparel, as we didn't want to risk the chance of our doctor being an Astros fan! Our Uber ride was nothing short of an adrenaline rush. Once again, things fell into place and we made it to the ballpark minutes before the first pitch. We had barely sat in our seats before we were asked to be on tv by a FOX cameraman because of our poster board sign! (see in the featured image of the story) We had the time of our lives and enjoyed our 15 seconds of fame as family and friends at home watched the game on national television.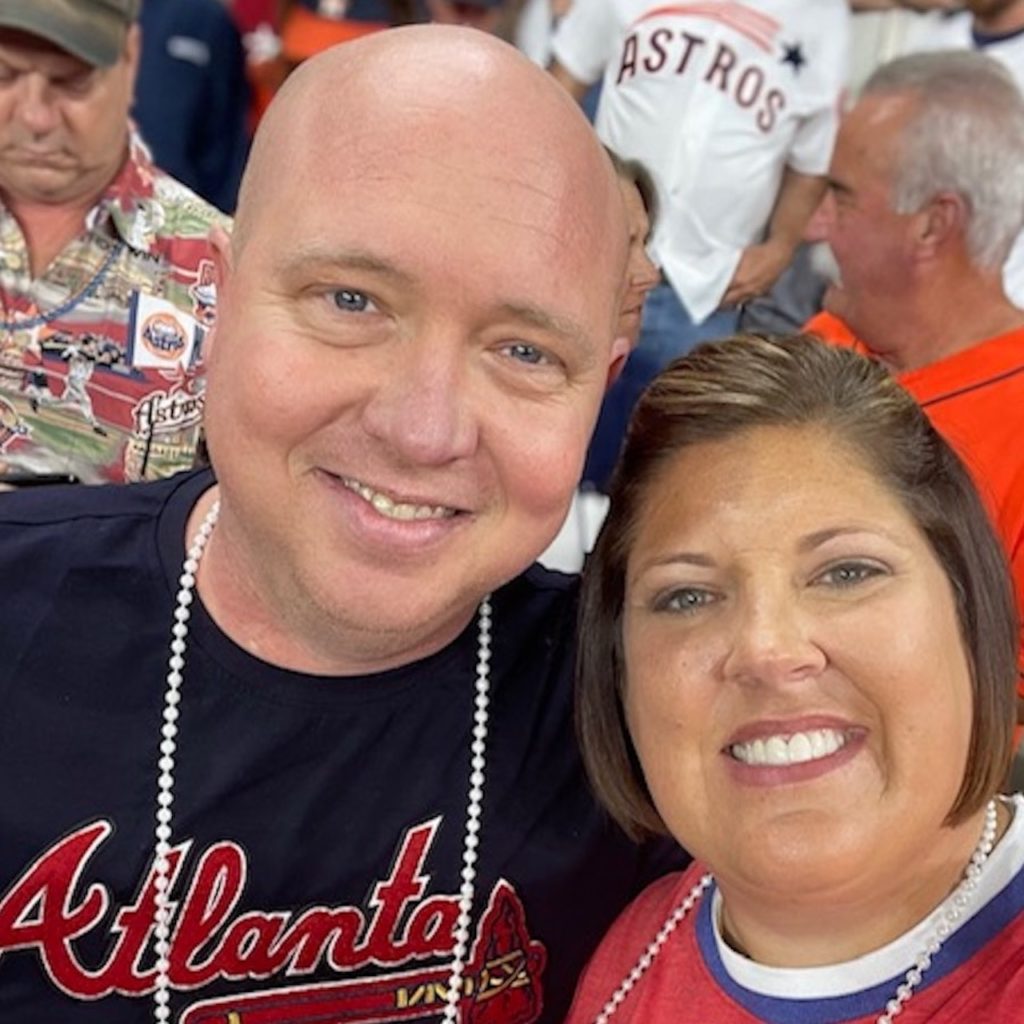 Once the game was underway, we were able to catch our breath and enjoy the moment. It was a surreal experience to simply be there. All the Houston fans around us were nothing but friendly the entire game. They ended up hugging us in the bottom of the 9th inning after Dansby threw the ball across the field to Freddie for the final out. It was pure magic – our Braves had won the World Series! We were exactly where we were supposed to be at the exact perfect time. 

We knew that making plans to go to a game that coincided with our appointment was a gamble. We had no idea what the doctor was going to tell us, good or bad, but we knew that if all the stars aligned, the experience of going to see our Braves play in the World Series was a bucket list item we were thrilled to check off. We left Houston with not one, but TWO wins.

Adam had a radical nephrectomy last month and is healing nicely. We know the cancer may not be gone forever, but we have hopefully gained a few extra years to continue to mark things off our bucket list. Perhaps, just maybe, this trip to Houston gave us two championships on the same day!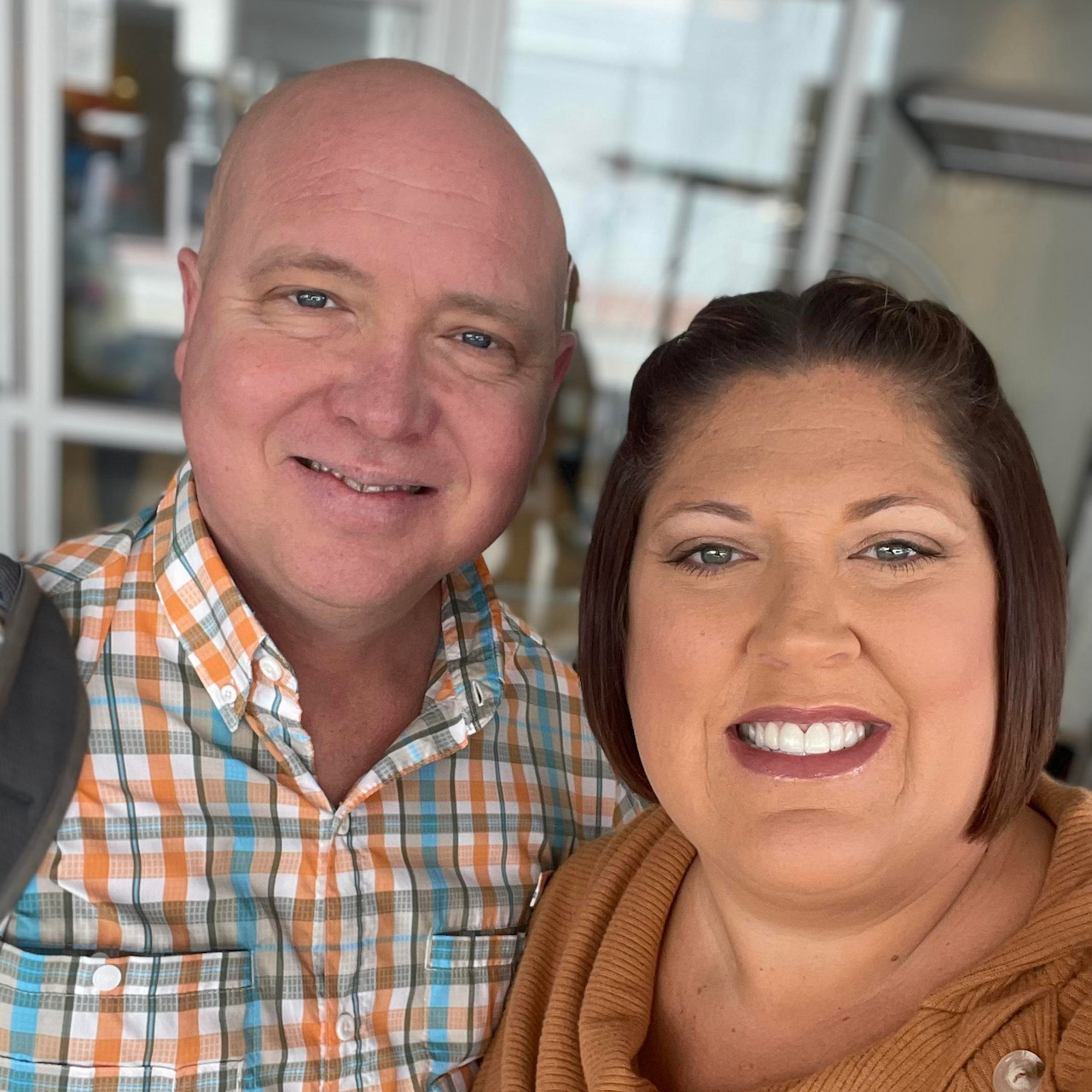 Lee is a middle school math teacher in Marshall County (TN) where she grew up. She enjoyed playing softball all the way through college. She coached her alma mater to the softball state championship in 2005. She loves the game of baseball on a beautiful spring day more than just about anything in the world. She loves to travel and spend time with family and friends. In addition to being a Braves fan, she enjoys living in a split fanbase household. She and her youngest daughter are Tennessee Vols,  Adam is a die hard Alabama fan, and her oldest daughter attends Mississippi State University. This makes Saturdays at their house very interesting and depressing to everyone but Adam!
---
If you would like to follow Simply A Fan's stories and upcoming adventures more closely and you're not already subscribed to the newsletter, please do so by clicking here: Subscribe to Simply A Fan.

---