by Tyler Harvey

When I woke up on the morning of October 30th, 2021, I had no idea that I'd be standing inside the gates of Truist Park for Game 4 of the World Series less than 12 hours later.

There was only one game in Atlanta that I'd be able to attend – Saturday's Game 4 and of course it was the game that everyone in Atlanta wanted to go to. I woke up early on the day that tickets went on sale, but was not successful in being able to break in the Ticketmaster queue. I knew that I wouldn't be able to afford a ticket on the secondary market, so I had already given up on being able to see the field in person. But ticket or not, I knew that I had to be within the vicinity of the stadium when the game was happening.

Before leaving Nashville for Atlanta that Saturday morning of Game 4, I met my family at Chick-fil-A. While eating breakfast, my aunt informed me that she had gotten me a ticket to the game! After fighting through tears of joy, I was able to compose myself. I hugged all my family members and got on the road for Atlanta. I found it very hard to hold in my emotions on the four hour road trip. I couldn't stop thinking about all the memories that I've shared with the Braves.


I was born in March 1998, which was half-way through the Braves streak of 14 straight division titles dominated by Maddux, Glavine, Smoltz and company. Whereas I appreciate what the team accomplished in the years prior to my being born, I wasn't able to take in and relish the magical '95 World Series run.

With that said, some of the best moments of my childhood involved the Braves. My grandpa and I were in the stands at Turner Field when the Braves came back from a 7-3 deficit to score 5 runs in the ninth inning, ultimately ending with my favorite player of all time, Chipper Jones hitting a two-out walk-off home run. I still get chills when I see the video of it.

I remember being in awe when I saw Hank Aaron for the first time in person. Aaron was at Turner Field celebrating the 40th anniversary of the night that he hit his 715th home run. When I wasn't watching the Braves, I was in my grandparent's backyard imitating Chipper Jones' batting stance while my grandpa threw me pitch after pitch.


I also thought about all the heartbreaks I endured as a Braves fan. Before the 2020 season, the Braves had not even won a playoff series since 2001. I remembered crying the red and blue face paint off my face when I watched the best Braves manager of all time, Bobby Cox, manage his last game in 2010. Cox lost to the eventual World Series Champion Giants.

I cried again two years later when I watched Chipper Jones play his last game in the first-ever win-or-go home N.L. Wild Card Game. The Braves lost on a questionable infield fly call that I'm still not over!

Then I finally thought about all the seemingly inevitable memories that I was about to make at my first World Series game that night. It was overwhelming.

I got to the ballpark about five hours before the gates opened. I wanted to make sure that I soaked up every second that I could. The atmosphere outside the stadium was unlike anything I had ever experienced at a baseball game – thousands of people everywhere, big LED screens at every corner, media members all over the place getting shots of the crowd, and random celebrities walking around. While walking around I saw former Cy Young Award winner and legendary knuckleball pitcher R.A. Dickey, spotted several ESPN broadcasters, and ran into eventual World Series hero Jorge Soler walking into the ballpark.

After counting down the minutes until the gates opened, I finally got my ticket scanned and rushed to get as close to the field as I could. It was a rainy cloudy day, so batting practice had been canceled, but the entire field was littered with media interviewing coaches and players. I took in the moment, still not believing that I was going to witness the Braves play in the World Series in person.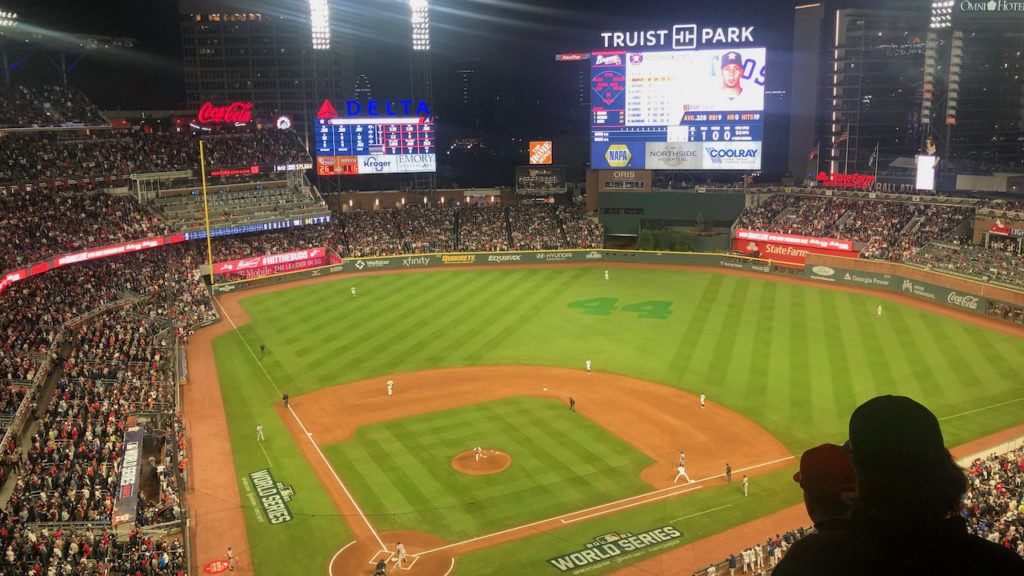 Next, I went to the game store where I gladly paid for my overpriced Joc Pederson replica pearls and a World Series program. For my pregame meal, I wanted to go as classic baseball as I could, so I got a hotdog and peanuts. After taking my seat in section 424, my anticipation just began to grow.

The game itself didn't quite start that great for the Braves. Rookie starting pitcher Dylan Lee was making his first-ever MLB start. It was the first time in MLB history that a rookie made his first career start in a World Series game. Unfortunately, Lee was pulled after surrendering one run and only recording one out.

The tension in the stadium grew as the Brave's offense struggled to take their first lead of the game. That lasted until the seventh inning when Dansby Swanson and Jorge Soler hit back-to-back solo home runs to give the Braves a 3-2 lead!!! I had never heard a baseball stadium so loud as the stands shook when Soler's home run went over the left-field wall. When I watch the highlight now of the back-to-back home runs, I get the same feeling that I get every time I re-watch Chipper Jones's walk-off home run that I attended as a boy. Of course, the Braves went on to win Game 4 and take a commanding 3-1 lead in the series.

My adrenaline never wore off the whole way home to Nashville; my Atlanta Braves were one win away from a World Series Championship!
I watched Game 5 from home. An early lead for the Braves ended up leading to a disappointing loss for the home team. With Game 6 going back to Houston, I had heard that there was going to be a watch party back in Atlanta inside Truist Park. There was no question, I had to go back!
This time I was able to share the memory with the person that loved baseball as much as me, my grandpa. We watched the whole game from the club level on the big screen at Truist Park with thousands of other Braves fans. We hugged each other as fireworks went off when Soler hit a moonshot to give the Braves a 3-0 lead.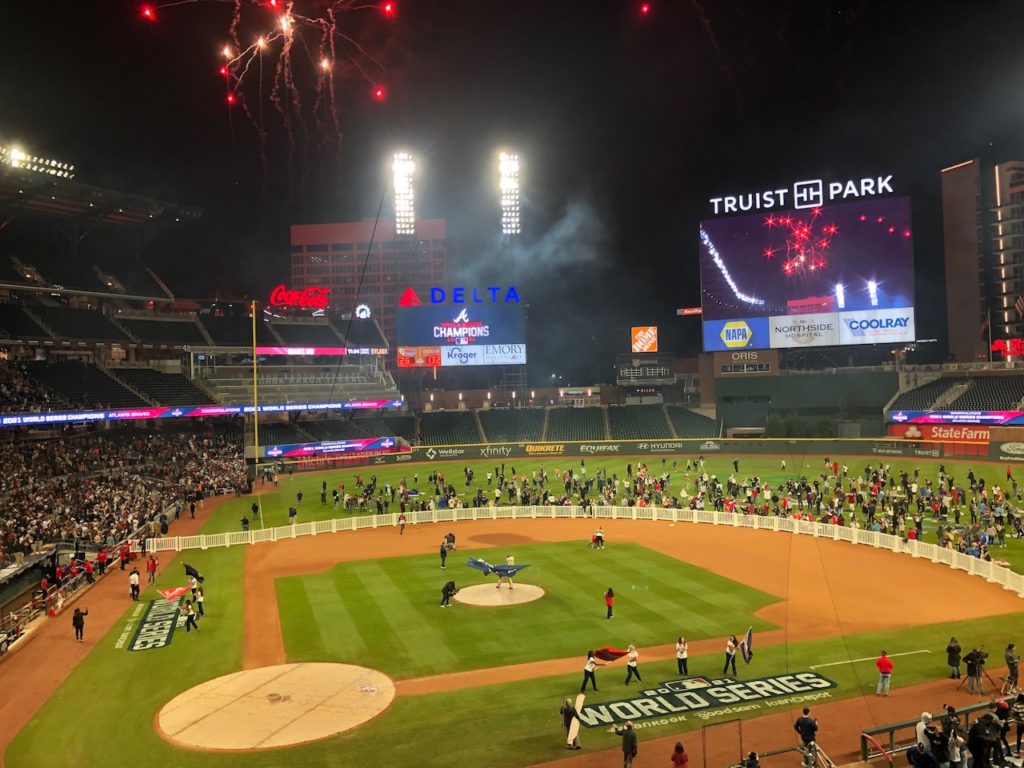 Then in the bottom of the 9th, it happened – the moment a lot of baseball fans wait their whole life for – the Braves All-Star, face-of-the-franchise 1B Freddie Freeman caught the final out of the World Series. It felt like the entire city of Atlanta was at Truist Park was with us as we were screaming our heads off. The Atlanta Braves were the 2021 World Series Champions! The tears of joy flowed again as I hugged my grandpa in the aftermath.

Two days later, I made my third trek in less than a week to Truist Park, but this adventure was not to watch a game – it was for the Braves' championship parade. Although it was a packed house, I intentionally chose to sit in the upper deck, section 424, in the same seat I sat in for Game 4. It was yet another surreal experience as I watched Freddie Freeman lift the World Series trophy high above his head.

The entire experience made for a week I will never forget! Every time I get on the interstate heading towards Atlanta or walk into Truist Park from now on, the memories of walking into the stadium for Game 4, hugging my grandpa at the watch party, and seeing my team lift the trophy at the celebration will run through my mind. I'm already planning on heading back to Truist Park for the ring ceremony in 2022!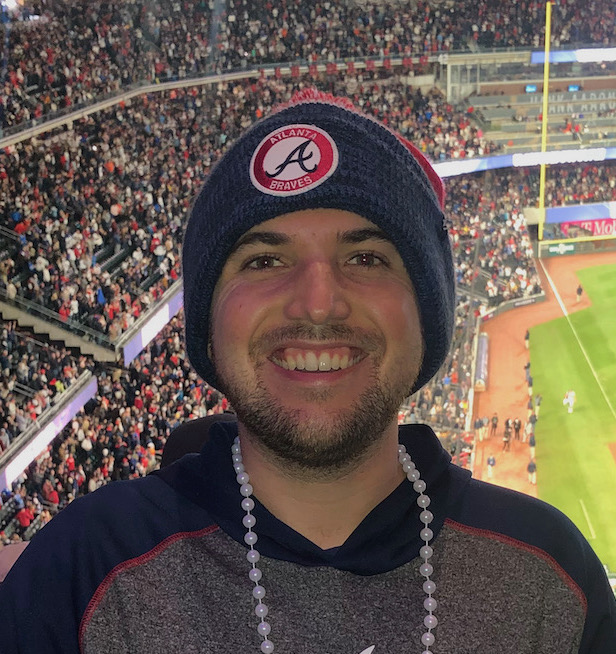 Tyler Harvey is a lifelong Atlanta Braves fan originally from north Georgia. He loves collecting baseball cards, traveling to different MLB ballparks, and watching or doing anything that has to do with Baseball. He is currently a videographer and lives in Mt. Juliet, TN. 
---
If you would like to follow Simply A Fan's stories and upcoming adventures more closely and you're not already subscribed to the newsletter, please do so by clicking here: Subscribe to Simply A Fan.
---