by Mark Jent

We were seven months into the pandemic. The sports world as we once knew it was a skeleton of itself with seasons cancelled, postponed or shortened. Baseball had just completed a bizarre 60 game season with no fans in the stands in any of the 30 ballparks. Cardboard cutouts had become the COVID fad. Teams had COVID-19 outbreaks and had to be quarantined for days at a time, forcing MLB to reshuffle their deck with 7 inning doubleheaders seemingly every other day around the league. At one point there were serious questions as to whether they could complete the regular season or if there would even be a postseason. But at last, October arrived and there was playoff baseball, albeit very different than we'd ever seen before. Included was an additional round of games, neutral site series and, eventually, reduced capacity that allowed fans back in the stands for the first time since players walked off their spring training ballfields in March.

MLB announced in September that the National League Championship Series would be held in Arlington at the Rangers' brand new Globe Life Field with a max capacity of 11,500. My interest level peaked for lots of reasons, but of course my Dodgers had to make it through the Wild Card Series versus the Brewers and the Division Series versus the Padres in order for me to give it serious consideration. If I've learned anything in the past few years since launching Simply A Fan, it's that planning for a playoff trip must be executed quickly when it comes to selling spots, buying airline tickets last minute, securing game tickets, getting hotel rooms and a rental car. With that said, I had never planned one in the midst of a world-wide pandemic. When the Dodgers punched their ticket I was in South Carolina on our family vacation. My friends who wanted to go were in Tennessee. The game was going to be played in Texas. The Dodgers won their series, the Braves won their series and the NLCS matchup was set. Game one was less than 72 hours away. Fortunately all the stars had aligned. 

Game One of the 2020 NLCS was a year ago today, October 12th. Beth had graciously blessed the request for me to take the adventure as "Mark, it's your birthday, go celebrate and watch your Dodgers. I know what this means to you." She knew the significance of the moment in that it wasn't that I was just going for the Dodgers, but I was longing to be there for the historical aspect as well. It would be the first MLB game all year with fans in the stands, plus it was the first game at Globe Life Field with fans in the stands – a double first! I had never been to the grand opening of a new ballpark, so that's a triple first. Seeing that I had been to Globe Life Park before, it would also be keeping my ballpark checklist at 19. It also went down in the history books as the first MLB playoff game ever to be played at a neutral site.  

As I think back on it a year later it was both awesome and odd. The last time I was at a baseball game was in February when I had taken a group to Arizona to watch Vanderbilt in their season opening series. Little did I know that we were mere weeks away from the world shutting down.  It was my first time on a plane since the pandemic hit. Seeing that our church hadn't even opened its doors yet, I hadn't been around more than a few people at a time since March, much less in the same building as nearly 12,000 strangers. It was so bizarre, yet it also felt like a return to near normalcy could be on the horizon.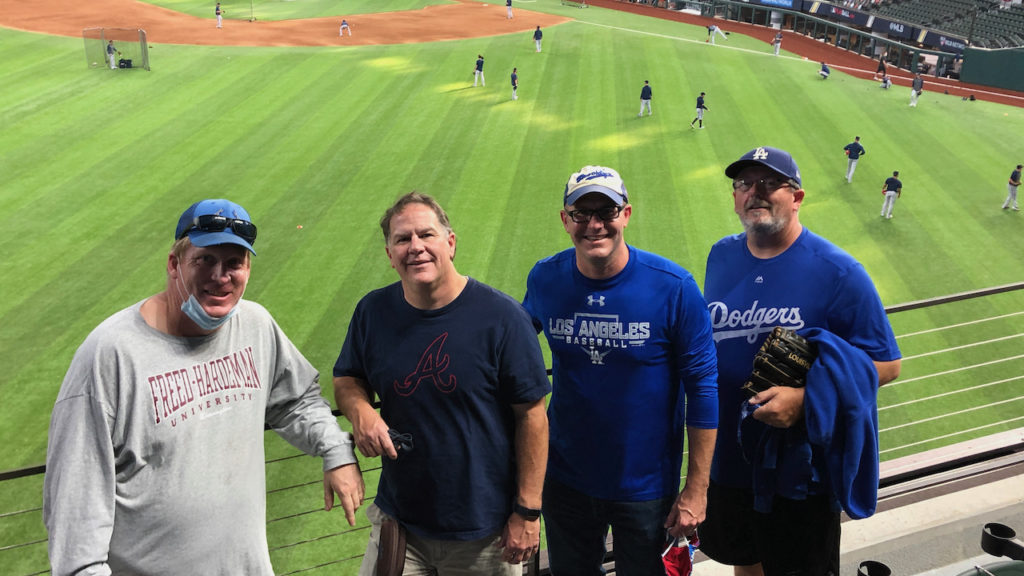 There were only four of us in our small group – myself, my brother Jason, Rob Huey and Mike Jones. We had all traveled together before on baseball adventures across the country, but, of course, we had never experienced anything like this – mandatory masks, seating in pods of four, three foot black zip ties on the seats around you, cashless transactions, not-so-good pre-packaged ballpark food, etc…but there was no complaining as we were watching live baseball in person and had a feeling of being let out of a cage of sorts. It was my Dodgers versus my brother's Braves. My friend Andrew Buzan flew in from Memphis and surprised me.

We arrived at the park hours before the first pitch. We got our picture by the Nolan Ryan statue, had some Texas bbq brisket and walked around the exterior of the park. I made sure that we were in line plenty early so we could be some of the first in the stadium. How often can you say that you were inside a new ballpark within the first 10 minutes of it opening?!?! As we had our digital tickets scanned and walked in, it was one of many moments throughout the night that reminded me how lucky we were to be there to celebrate being the first fans in the stands of any major league baseball game all season.

Honestly, Globe Life Field itself was nothing special. With the old ballpark and it's great-looking brick facade still standing right across the street, the most attractive thing about the new one was the very reason that they built it – the retractable roof to make the Texas hot summer nights more bearable. Yet I digress, I wasn't there to grade the park, I was there to watch my Dodgers and be part of history. 

I've seen a lot of batting practice in my life, but I'm not sure I've ever been as excited as I was after we entered through the gates to hear the crack of the bat and see the expansive field of green as we walked up from left center field. We took our obligatory group picture, my brother got a BP ball thrown to him and we settled in our seats by right field in section 124. Another great oddity is that, despite the fact that we were 1,421 miles from Los Angeles, because it was considered a Dodgers' home game the PA announcer took me off guard when he said, "Taking the field is YOUR Los Angeles Dodgers!"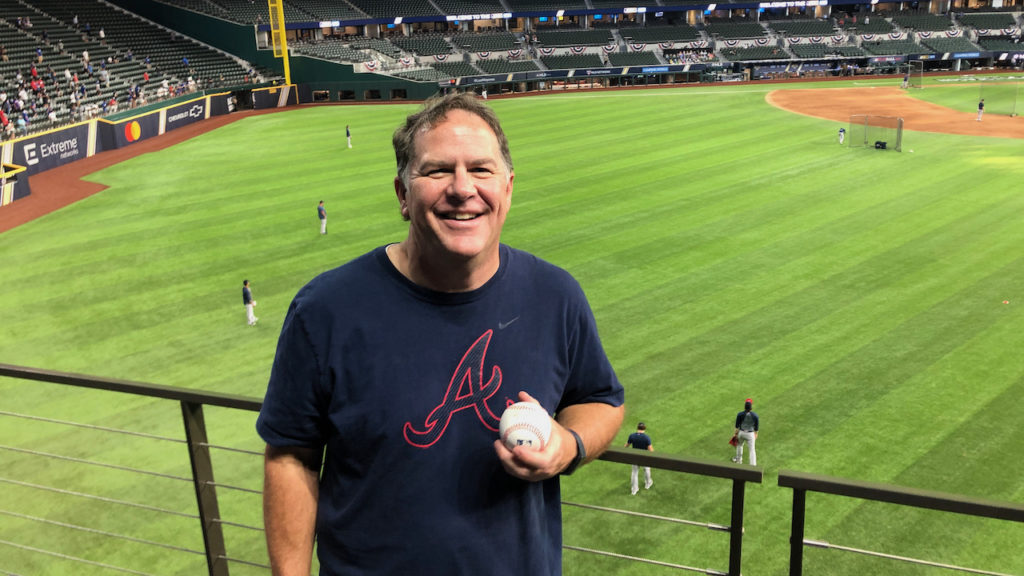 Both teams were stacked with star-studded lineups – Acuna, Albies, Freeman and Swanson for the Braves; Betts, Seager, Bellinger and Buehler for the Dodgers. With it being a COVID capacity game you had a better chance at foul balls, you could hear fans yelling three sections over and the ball popped the mitt louder. 

As the game wore on, it continued to be a surreal experience as I looked around the ballpark which was only at 28% capacity. It felt like I was in a time warp back at the Braves' old Fulton County Stadium back in the late 80's. 

My friend and fellow Dodger fan Mike Jones said, "Going to the game that day in Arlington was amazing. It was awesome to think that we were going to be some of the first fans let into a MLB game all year long. Not to mention the fact that this was a brand new stadium that had set empty for the entire shortened season and our Dodgers were the home team." 

After a great pitcher's duae and a tie game 1-1 after 8 innings, the Braves struck in the 9th scoring four runs and putting the game out of reach. I was disappointed in the defeat, but not by the adventure. I've been really fortunate to have a lot of great baseball trips over the years and this COVID Game One was unlike any other. Seeing that a world wide pandemic only comes around every 100 years or so, as I reflect back a year later, I realize what an incredibly unique opportunity it was to be there to witness history.

Two weeks later I found myself back in the same park with another group of my 11,500 closest friends for Game 6 of the World Series. You can read all about that adventure here: Finally, The Wait Is Over.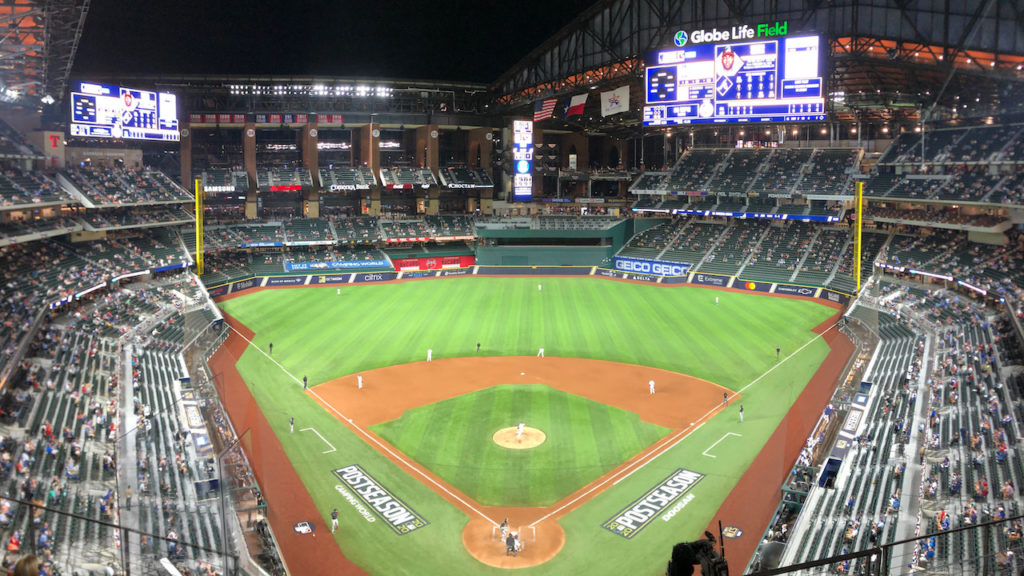 Featured Image:
October 12, 2020 outside Globe Life Field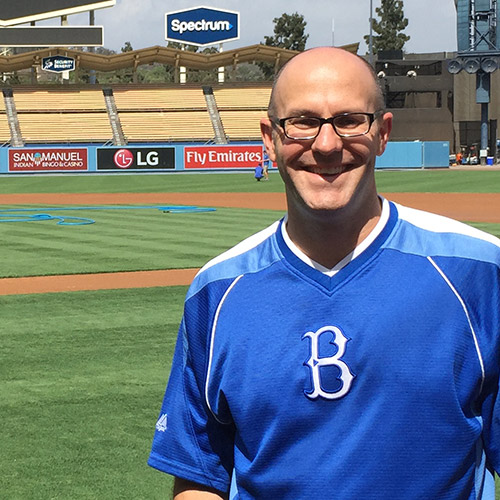 Mark Jent is the chief trip planner and designated storyteller for Simply A Fan. He lives in Nashville with his wife Beth, and their three kids, Brooklyn, Harrison and Zach. He enjoys cheering on his Dodgers, reading baseball history, hiking at Radnor Lake and chasing waterfalls throughout Tennessee with his family. He launched Simply A Fan in July 2018 with the two-fold purpose of taking people on adventures to ballparks across the country and providing fans a platform to share their baseball stories. He is currently on a quest to meet as many of the living Brooklyn Dodgers as possible.