by Mark Jent

Godly. Humble. Caring. Gentle. Friendly. Kind. Supportive. Positive Loyal. Inquisitive. Joyful. Peaceful. Generous. Encourager. Mentor. Leader. Friend. Wonderful Grandad. Proud Dad.

This is the legacy of Farrell Owens. He was a man who loved all people – family, friends and strangers alike.

Farrell passed away on Friday at the age of 76. He leaves behind a legacy that was deeply rooted in the Nashville baseball community, but leaves an even richer legacy with those who were fortunate to be family or call him a friend.

I met Farrell about a decade ago when our paths started crossing on a regular basis at Lipscomb University. I was on staff and he lived nearby and would walk to campus every morning. On the days I got motivated to get out of bed early enough to get a workout in before going to the office, without fail, I would drive by this older gentleman walking down Shackleford or up Belmont Boulevard from his house on his way to the gym in the Student Activity Center (SAC). We started running into each other in the SAC on the track above the basketball courts. After seeing each other several times, we finally introduced ourselves, made some common connections, then the topic of baseball came up and, as one might guess, our friendship took off.

As the weeks went by, I quickly learned that coming to the gym was not an occasional routine for Farrell but a daily ritual. He put my couple of times a week to shame! And I eventually quit trying to walk as fast as he did around the track to keep up with him and just settled for the elliptical.
There are plenty of people who knew Farrell far better than I did, but over the past few weeks as I've followed the updates of his recent heart attack, my mind kept flashing back to all of our encounters over the past 10 years.
We would talk Bison baseball, the Sounds, and the Old Timers Association. He would let me dive deep with him into my passion for the history of the Brooklyn Dodgers, and he always had a story to tell. I still remember the day on the sidewalk between the SAC and Ezell Center when I told him that Patrick Cameron and I were driving to Anderson, Indiana that weekend to have breakfast with Brooklyn great Carl Erskine. "Oisk!" said Farrell, as he then proceeded to tell me a story that he remembered from Erskine's career in the 50's.
Farrell would be my "inside scoop" every year on the guest speaker for the upcoming Old Timer's Banquet (OTB) held in January. Around August each year I always looked forward to when he would start name-dropping the possibilities of which legend was being discussed – Bobby Richardson, Dale Murphy, Fergie Jenkins, Gaylord Perry, etc… Then the night of the banquet each year seemed like Christmas morning for Farrell. He was grinning ear to ear and couldn't move six inches without running into somebody wanting to catch up with him. It might have been called the Nashville Old Timers Banquet, but it might as well have been Farrell's Annual Baseball Family Reunion!
When I left my job at Lipscomb in the fall of 2017, I shared with Farrell my vision for an idea I had to take people on baseball adventures and share baseball stories on a website. He was giddy. Over the past 2.5 years since I launched Simply A Fan, Farrell has been one of my greatest encouragers as he always asked about the latest trip or, as a subscriber to the mailing list, he would let me know he read the latest stories. I'll never forget in March 2019 when the Texas Rangers came to town for an exhibition game versus the Sounds. I ran into Farrell on the concourse overlooking the field. He knew that I had nearly 100 people through Simply A Fan attending the game and he just shook his head with a big smile on his face and said, "Mark, I am so excited for you." Encourager. That was Farrell.

The last time I saw Farrell was back in January at Judson Baptist Church for the Belmont Baseball Banquet. Dodgers' infielder and Belmont alum Matt Beaty was the featured guest speaker. We didn't know the other was going to be in attendance, but when I walked in the door he told me he knew I'd be there since there was a Dodger in the room! We talked shop, shared a laugh and he asked me "Where in the world is Patrick Cameron? I can't believe he's not here!" (PC is my primary baseball road trip partner and huge Dodger fan) I went by myself that night and seeing that it was a Bruin gathering not a Bison event, so I really didn't know many people in the room. Being Farrell, he invited me to sit at his table, which of course was front and center. This was about six weeks before the COVID shutdown. Little did I know it would be the last time we'd see each other.

I will forever be grateful to have crossed paths with Farrell and to have called him a friend. I am thankful for those early morning encounters on the track in the SAC when he would always get my day off to a good start. My life is better because I knew Farrell Owens. I am saddened by his passing. I am sad that we didn't get to have one more story-swapping chat. I am sad that he didn't get to tell me who the upcoming featured speaker will be for the OTB in January. Yet, despite my selfish sadness…I am also excited. I am excited because I know that Farrell was a Godly man of faith, that he loved the Lord and that he went sliding headfirst into home yesterday morning when it was his time.
As I pondered how best to pen this story over the past 24 hours, I not only wanted to share a bit about my relationship with Farrell, but I also wanted to give a platform for others to share their stories. Below is a collection of memories from some of Farrell's friends.
---
Farrell has an exhaustive baseball resume as a high school legend at Cohn, a collegiate great at Lipscomb and being the first General Manager in the history of the Nashville Sounds. The Tennessean's Mike Organ did a great job today recapping Farrell's career and more. I'd encourage you to check out his story – Click Here.
Skip Nipper was not only a great friend of Farrell's, but is also the single most knowledgeable historian on all things Nashville baseball. Prior to Farrell's heart attack, Skip penned a piece on his good friend that I'd encourage you to read as well – Click Here.
---
Skip Nipper – Nashville Old Timers Association
Today we lost a good friend, a teammate, somebody who loved his family more than the things that we love about him, which was his love of baseball. I think he had a sense of belief and he had the ability to take guided actions based on his belief. His belief was in God and that Jesus Christ was his Savior and we all know that the Holy Spirit walked with him. And with those things he had a standard of conduct that was hard to match and if you're like me we tried to emulate that. Because Farrell always adhered to what he knew was right.
Who do know who with more eager enjoyment than Farrell Owens? He had eager enjoyment, eager interests and he had eager approval about the things that he loved.
To Paige and David and Charlotte and Ashley and Drew and Foster, you are what he talked about. You are the things that were most important to him. He was not going to let any ballgame or any Old Timers meeting or any Cohn Alumni meeting get in the way of time with his family.
A few years ago he felt like the Nashville Old Timers needed a creed, and he was right. So he wrote one, we approved it and we still use it to this day. It says "To enjoy fellowship with baseball enthusiasts and to honor and support the great game of baseball at all levels." And he did. And he loved everybody at all levels.
*Skip's comments are used with his permission from a video tribute he posted on Facebook on Friday. Click here to watch the four minute video. 

MLB Music City, December Newsletter (as told by Skip Nipper)
There was something special about Farrell Owens. His life impacted players and friends where his counsel guided and molded lives, not only as an authority on Nashville's baseball history but in his ability to express a personal passion for baseball. Whether talking about his family, faith, or baseball, he told stories uniquely conveying his experiences. His honesty, demeanor, drawl, and smile drew listeners to him.

I heard his narratives at Nashville Sounds and other Minor League games, at spring training in Florida and Arizona. His accounts of playing and coaching were treasures.

When we met for lunch, we had two meeting spots where one would park and the other drive: First Horizon Park or Shelby Park Diamond #1, where he played many high school and Tri-State League games. There was something in his blood about being near a ballpark, even if to park. I once asked him just what was it about baseball that he would love it so much?

He told me, "I have learned there is a romantic aspect to teaching and talking about baseball. Everyone lends an ear to it."

I am glad he let me listen.

*Farrell was serving as an Advisor for MLB Music City when he passed away.

Philip Hutcheson – Lipscomb University, Athletic Director
I feel safe in saying that you could count on one hand, and probably wouldn't need every finger, the number of people who were as big a fan of Lipscomb sports, baseball or sports in Nashville as Farrell Owens. More importantly, there are so many of us who felt like he was a fan of each of us, individually, based on his warm and supportive nature. His presence and encouragement will certainly be missed!
*Hutch's comments are used with his permission from his Facebook post on Friday.
George Plaster – WNSR 560 AM / 95.9 FM (Sports Talk Radio)
I met Farrell back in 1980 when I was a junior political science major at Vanderbilt. The Nashville Sounds owner Larry Schmittou hired me as an intern on the Sounds Radio Network, and Farrell was the team's General Manager. It was the team's third year in Nashville and it was a really big deal in the city. To watch Farrell and Larry operate was simply amazing. I still look back and think about what they pulled off was nothing short of a miracle in bringing a minor league baseball team to Nashville back then.
I really love baseball, but Farrell Owens was one of the few people I know that loves the game more than I do. If there was a baseball game of any significance in Nashville to go to, you could bet that Farrell was going to be there.
Any time I was at Greer Stadium over the years, I would always look up in the back corner and if Farrell was sitting in his seat, it meant I was headed up there and with his storytelling, it was going to be a good time. I would have loved to have had the opportunity to tell Farrell what he meant to me on any of those random summer nights while we sat there watching minor league baseball. He was a great man and I will miss him.
Kim Chaudoin – Lipscomb University, Public Relations
It's interesting because I cannot recall when I first met Farrell. I just feel as though I have always known him as long as I've been around Lipscomb as an employee which is 29 years now. He is so much a part of the Lipscomb community that to me he has just always been there!
Farrell was such a kind man who always made me feel like I was such an important person and that means the world. To me he was just part of the fabric of Lipscomb and I could count on seeing him nearly every day on the sidewalk coming or going to exercise or to a game. And I always enjoyed seeing him!
One of my favorite memories was about six years ago when Andy Lane, Farrell and I (pictured above) went together to a Bison basketball game together at Vanderbilt and went to Browns Diner before. It was such a fun evening of laughing, storytelling and cheering for our team.
Every time I saw Farrell after my son was born he ALWAYS always asked about him by name. That was nearly 22 years ago! He remembered details like that about people which makes people feel so valued and important.
I will always remember where his seat is at Dugan Field. He was always in the section to our right at the top and I was fortunate that I got to see him every game!
Brian Ryman – Lipscomb Athletics, Director of Operations
"FO" as I call him is one of the first guys I met from Lipscomb 17 years ago in the summer sandlot league. He ran the website and stats. Later when I started working at Lipscomb he was one of our biggest alumni supporters and was a voice to other Bison Baseball alumni.
FO taught me so much about baseball in Nashville and about our program. We had a unique friendship and I could always count on good advice from him. There is no one who has had their hands on the Nashville baseball scene more than he has the last 40 years at each level of the game.
Farrell always enjoyed keeping up with the former Bisons who made it to the big leagues. He liked going to their games to cheer them on. One of my favorite Farrell stories is from when former Bison Josh Smith got called up for the MLB debut with the Reds. Farrell called me that morning and was so excited as he wanted to go to the game that night in Cincinnati. I called Josh to let him know Farrell and Andy Lane were coming and Josh said he would leave them tickets at Will Call. Farrell and Andy got in their car and took off for the trip to Cincy. About three hours I got a call from Josh and he said, "Hey, Farrell knows that we are playing in Oakland tonight doesn't he?" I died laughing! A few minutes later my phone rings again and it's Andy Lane and while laughing hysterically he says, "He is walking toward the river. He might not stop. He might walk straight into it! He is so mad at himself right now." Farrell walked up to the Reds ticket window to ask for their two tickets only to learn there was no home game that day since the team was playing in Oakland!
Needless to say he missed Josh Smith's MLB debut by about 2,300 miles.
John Mitchell – former MLB player (1986-90), Old Timers Association board member
I don't recall the first time I met Farrell Owens, but if you're in the local baseball community Farrell always knew you first. I really got to know him when I joined the board at Nashville Old Timers Baseball Association (OTBA). Farrell was easy to talk to. He made you feel important.
When I was coaching a travel team we would have to call in after games to report our scores to Farrell as he would then post them on the Sandlotter website. He wanted those scores posted ASAP! I'd forget to call it in and it would never fail that my phone would ring and it would be Farrell. He knew I wasn't going to give him a straight answer the first time, so most of the time I'd tell him, "We swept Corseys BBQ in a doubleheader tonight." That was who Farrell played for back in his playing days in the 60s. He would say "Why don't you get one of your parents to call in the score as soon as the game is over so we don't have to go through this routine?" I loved the back and forth, just like I would do with one of my brothers!
I could always call him and get a baseball ruling on a game I was coaching where I felt like the umpire got it wrong. He knew the rule book better than the umps. Just last month I called him about a ruling from a game I was watching at Smyrna fall league game.
I will always remember each time I would see him, just how he would enthusiastically say, "Hey big right-hander." Yesterday it hit me how much the Nashville Sounds have been a part of so many lives in this city and still are today because of the two main visionaries, Larry Schmittou and Farrell.
The last time I saw Farrell was at the OTBA golf tournament in September. He was driving around in a golf cart greeting all the golfers. When he made it around to our group towards the end of the day he spoke to all of us. As we where driving off I noticed Farrell was wearing a knee brace and I said to him, "How's your knee?" I could hear him hollering as we drove off, "It's a shame with them long arms and that body that you never became a pitcher."
Farrell had the gift of making everyone feel special. I did get to talk to him on the phone when he was in the hospital about 3 weeks ago. He will be greatly missed for sure.
Patrick Cameron, Lipscomb Alum & long-time Bison fan
I met Farrell through a mutual friend Andy Lane at Lipscomb baseball games. I have known him for close to 30 years. Farrell was truly a great man. He loved his family, baseball, politics, and people. He loved to help others, specifically anyone associated with Lipscomb baseball, the Cohn Alumni Association and the Nashville Old Timers Association.
Some of my favorite Farrell memories include:
We were in New York City last year to watch the Bisons play in the NIT. Farrell called up former Bison Steve Liddle (then bench coach for the Detroit Tigers) and got us pregame field passes at Yankee Stadium.
Our road trip with Andy Lane to Texas to see the Bisons beat TCU and SMU.
Our numerous road trips to Bowling Green to watch the Single-A Hot Rods play. After the game, we'd always stop by Dairy Queen and get a Blizzard!
Our trip to the Rickwood Classic (Double-A) in my hometown of Birmingham where we stopped by to see my parents before we went to the game. I'll never forget the time he introduced me to legendary announcers Pete Weber and Eli Gold. Our road trip conversations always involved baseball, politics and more.
And finally, this summer with everything shutdown due to COVID, Farrell organized a weekly socially-distanced gathering at Lipscomb's Dugan Field. Regular attendees were Andy Lane, Mark French, Bob Mason, Bobby Ogdin, Jay Gore and myself. Farrell always brought drinks and Moon Pies. We always had a good time and it was good for us to see one another. I really appreciated his organizing that for us.

He had a great ability to build relationships with people and to connect others. He had a way of putting people together with others to meet their needs.
Randy Bostic, Nashville Old Timers Association board member
I got to know Farrell when I played high school baseball at David Lipscomb High School. He then became a friend when I coached at Lipscomb University with Coach Dugan.
Farrell did the right thing all the time. Many people talk about doing what was right but Farrell did it. It was not always easy, but he tried to do the right things even when it was hard. He was an example of what I imagine God would want us to do when faced with hard things. Farrell also did the little things. Nobody will ever know how much he did behind the scenes and never sought the spotlight. He was a great example of humble servant leadership.
Farrell was always up for a baseball trip. He travelled hours to see local players play ball in summer league or professional baseball. I remember one of our players coming back to school and telling me "Coach Bostic you will not believe it but I was pitching one night this summer and I hear Mr. Farrell yelling at me. He drove up just to see me pitch!" That was Farrell. One of the things I will always remember about him is that he remembered peoples names and made them feel special.
My son has attended Lipscomb University games since he was 18 days old. Every game we went to over the past 11 years Farrel would say hello to Reid and made him feel special. When I told Reid on Friday that Mr. Farrell had passed away he said "Dad I will miss him at games. It will not be the same."
Farrell brought people together. I can't tell you how many times he introduced me to somebody I "wanted" to know. I will miss that immensely. Farrell and I served on the Old Timers Baseball board together for many years together. In a group like ours with many Type A personalities who are competitive I can not tell you how many times Farrell was the peacemaker who kept us on task.
I will miss Farrell when I walk through the gates at Dugan Field or at First Tennessee Park. I am grateful he allowed me to be one of his many friends and showed me how to be good and love people.
---
In Closing
Thank you to everyone who contributed to this story on our friend. A special thanks to Doug Scopel for his permission to use the featured image of Farrell at Greer Stadium.

If you are family or a friend of Farrell Owens, I extend my sincere sympathy and deepest condolences over the loss of a great man. My hope is that over the days to come as we all mourn his loss, we will also take time to celebrate his life. As you can tell my reading all of these reflections, it was a life that was well-lived and impacted many people.
Sometime this weekend or coming week of Thanksgiving make it your goal to go do something good for somebody in honor of Farrell. Whether it's a simple hello and smile to a stranger in the grocery aisle, a handshake or hug (or COVID fist bump!) when you see a good friend or maye do a good deed where you go out of your way to serve someone whether a friend, neighbor or stranger. Or you can just call up a friend, invite them over to your backyard, grab a ball and glove and have a catch while in fellowship and conversation in honor of Farrell. He would be embarrassed if he knew you were doing it in his honor, but do it anyway – he would like that.

Below are a few iconic photographs of Farrell with his celebrity friends from the early days of the Sounds. I found them on Friday while scouring Twitter for Farrell stories and pictures. He had texted them to a journalist at the Nashville Scene in May 2019 when a story was being written about the demolition of Greer Stadium. Be blessed.
Thanks for reading this Simply A Fan story about our good friend Farrell. To follow along and always get the latest on new stories and the upcoming adventures, click here to subscribe for the e-blast that goes out periodically. You can also follow on all social media outlets, scroll to the bottom and click for Facebook, Instagram and Twitter.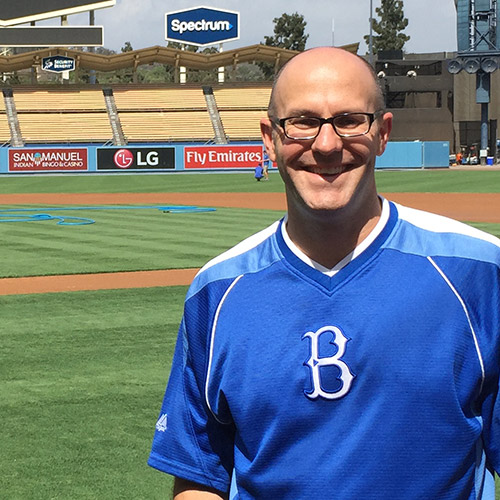 Mark Jent is the chief trip planner and designated storyteller for Simply A Fan. He lives in Nashville with his wife Beth, and their three kids, Brooklyn, Harrison and Zach. He enjoys cheering on his Dodgers, reading baseball history, hiking at Radnor Lake and chasing waterfalls throughout Tennessee with his family. He launched Simply A Fan in July 2018 with the two-fold purpose of taking people on adventures to ballparks across the country and providing fans a platform to share their baseball stories. He is currently on a quest to meet as many of the living Brooklyn Dodgers as possible.