by Jim Bonds

I certainly felt fortunate as our 1955 Buick weaved its way over the two-lane highways that June night in 1966. My Dad, my good friend and I formed a trio on our way to Atlanta to see the Braves and MY Los Angeles Dodgers. It was the Braves first year in Georgia.

The trip and that series in Atlanta were amazing and are forever etched in my memory. A day-night doubleheader on Saturday. Remember those? It was Don Sutton's rookie year and regrettably, Sandy Koufax's last year. It featured seven future Hall of Famers: Koufax, Sutton, Don Drysdale, Walter Alston, Hank Aaron, Eddie Mathews and Joe Torre. Little did I know that through my professional career as a member of the media, I would later meet four of those seven Hall of Famers.

I was a fortunate son.

But how does a kid from North Mississippi, where every radio station carried Cardinals games, become a fan of a team on the west coast 2,000 miles away? I have no idea, but it didn't bother me to be the lone Dodger fan in our small town of 7,000.

My earliest Dodger memory is October 1963 when I was 11 years old. I raced home from the school bus to the black and white TV set in our den to catch the last couple outs of the World Series opener. There are family ties that aren't as strong as one's childhood memories of special moments such as the Dodgers dominating the Yankees in October of '63. Led by our rotation comprised of Sandy Koufax, Don Drysdale and Johnny Podres, the Dodgers held the mighty Yankees to four runs in four games for a series sweep!

Koufax Bids Farewell
Although it's been 54 years, I remember where I was at 14 years old and certainly my reaction when I heard of the news of Sandy Koufax being forced into retirement after that '66 season due to his injured golden left arm. His last five seasons (1962-66) are still the most dominant stretch by any left-hander. Yes, I've had this Dodger Blue thing for a while now.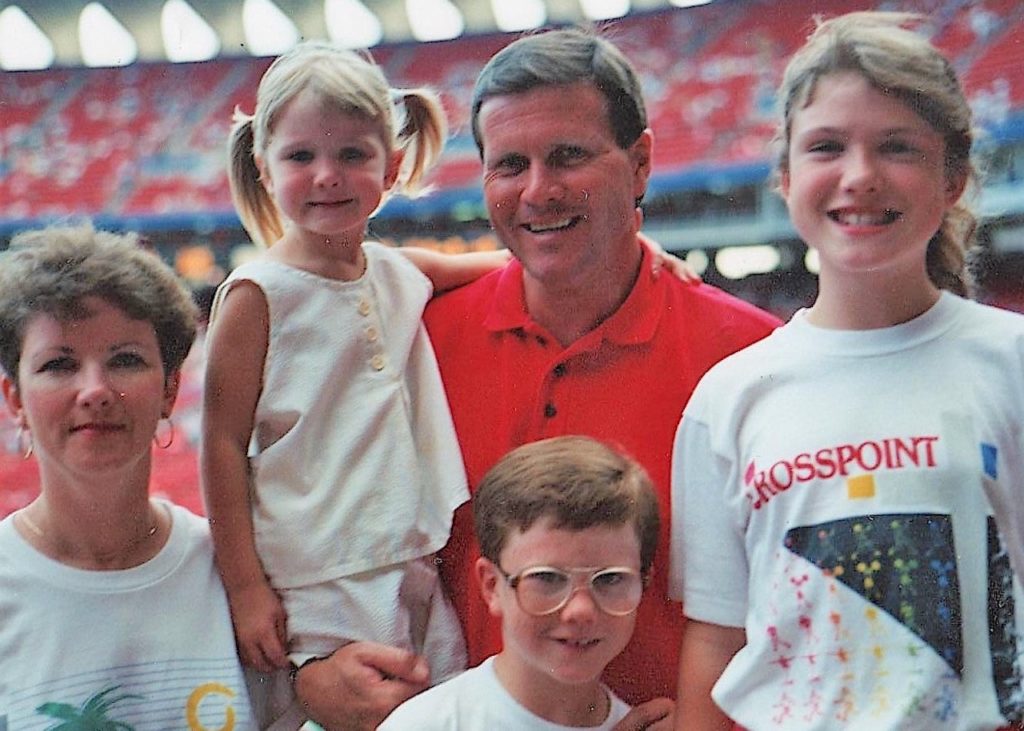 My Ballpark Checklist
Perhaps it's a generational perspective, but just as there's something very special about a father and son sharing a day at the baseball ballpark explaining the nuances of the sport, the stadiums themselves have unique personalities that survive generations, contributing to the sport's unique appeal.

I've been fortunate to attend games at 15 of the current MLB stadiums and 11 former MLB ballparks! Examples of the latter group include Comiskey Park, Tiger Stadium, old Busch Stadium, old Yankee Stadium, County Stadium in Milwaukee, Jack Murphy Stadium in San Diego, the Astrodome, the Kingdome and the two former Atlanta parks, Fulton-County Stadium and Turner Field. Everyone has his/her favorite list, but it's fun to discuss.
My personal top 5 are:
1. Dodger Stadium, Los Angeles. No surprise here! It's the 3rd oldest ballpark behind Fenway and Wrigley, yet is still splendid!
2. PNC Park, Pittsburgh. My pick among the newer ballparks. It has unmatched site lines.
3a. Petco Park, San Diego. A perfect blend of old school and modern; a great park, a great city.
3b. Oracle Park, San Francisco. It has an awesome view and superb design. Just be sure to take a jacket!
5. Kaufman Stadium, Kansas City. Biased? Maybe, but the "waterfall stadium" remains a top draw.

With that said, if you have never been to Fenway and Wrigley you've got to go! Beg, borrow, mortgage, whatever. If you are a baseball fan, find a way to get there. You won't be disappointed.

---
Like what you're reading? Be sure to subscribe to the Simply A Fan mailing list, click here!
---
From An Early Age
Some of us were fortunate to discover what we wanted to do professionally from an early age, such as being around and talking about sports. That was me. Post college, my TV work allowed me to meet many of the athletes I grew up watching. Of course, there's that professional detachment required. You can't be a fan and a reporter both. But, deep inside, it was sort of like a kid in a candy store. It was always fun going to work, especially on those days when I had the fortunate opportunity to interview the likes of Mickey Mantle, George Brett, Eddie Matthews, Walter Alston, Jim Gilliam and more.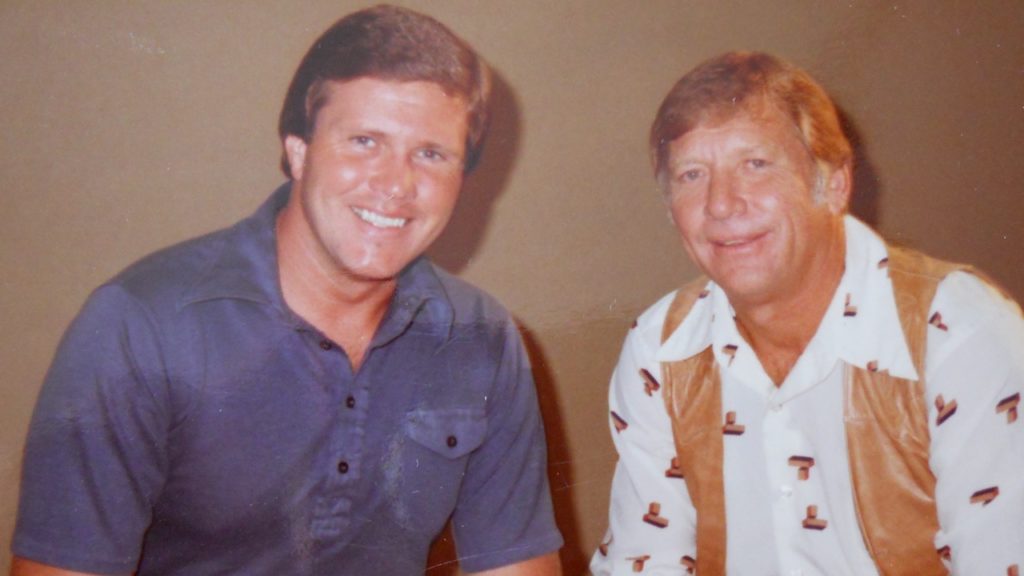 Meeting Mick
In June 1981 while I was working for WREG-TV in Memphis, I was sent to cover the Danny Thomas Golf Classic, a charity tournament to raise money for St. Jude's. As a baseball fan, I was most excited to see that the great Mickey Mantle was a celebrity guest. The MLB strike had just begun so most of our conversation centered around that topic, but we also touched on his relationship with Roger Maris who I had met two years prior. It's an interview I'll always remember due to its friendly, comfortable dialogue. Looking back now nearly forty years later, what I remember most in that conversation with Mick was our exchange about his health, family and how much he was enjoying this period of his life. As he reflected on his career, he told me about how he wished he had taken better care of himself – something that he publicly regretted until his passing in 1995.

Special Moments: As a Fan:
My first game at Dodger Stadium with my wife in 1988. Unbelievable!

Returning to Dodger Stadium with my 12-year old son about 5 years later. We started the weekend at a Padres game in San Diego. Sunday afternoon we were in Anaheim to see the A's and Mark McGwire face the Angels. Then Monday night at Chavez Ravine.

My bucket list was shortened in 2015 when I met Vin Scully, the Dodgers broadcasting legend. I scheduled this in connection with a story I was voluntarily working on featuring Nashville native and Dodger great Jim Gilliam as the street outside the new Nashville Sounds ballpark named in his honor. Scully agreed to spend some time discussing his memories of Gilliam. It was an honor to meet Vin. He retired following the next season after 67 years in the booth.
Special Moments: As a Broadcaster:
Covering George Brett's daily chase of Ted Williams in 1980. Brett was still batting .400 as late as Sept. 18th before finishing the season at .390. He was one of the very best hitters and toughest competitors in any sport I ever covered.

My first game at Yankee Stadium in 1980 when Kansas City won its first American League Championship and their subsequent World Series matchup against the Phillies.

The baseball giants with whom I had been blessed to cross paths: Hank Aaron, Mickey Mantle, Pete Rose, Willie Stargell, Bob Gibson, Reggie Jackson, Roger Maris, Nolan Ryan, Carl Yazstremzki, Rod Carew, et al.
In Closing
Following the Vin Scully interview five years ago, the Dodgers provided me with a press box seat for the game afterwards. Obviously, sitting on media row was commonplace for me a couple of decades earlier. Yet this was extra special, this was Dodger Stadium.

As I watched that afternoon's Dodgers-Giants game, my mind went into rewind to all those journalists who had occupied the same seat with the same view since the Dodgers opened there in 1962. This is where Don Drysdale beat Jim Bouton 1-0 in Game 3 of the '63 World Series. This is where Sandy Koufax bested Whitey Ford the next night to close it out and is still the only time the Dodgers have won the World Series on their home field. And when that moment occurred that October evening over 50 years year ago, two thousand miles away an 11-year old boy in Mississippi was watching his team win it all on a snowy black and white TV set. My baseball life had come full circle.

Around the 4th inning, I forced myself to get up and walk around the press box. I was almost afraid that I might wake up and find all of this had just been a dream.

It was in that moment that I was reminded that I've indeed been a fortunate son and fan of the game.

PHOTO GALLERY
Click on thumbnails below to scroll through photo gallery.
FEATURED IMAGE
Jim with Vin Scully, June 2015 at Dodger Stadium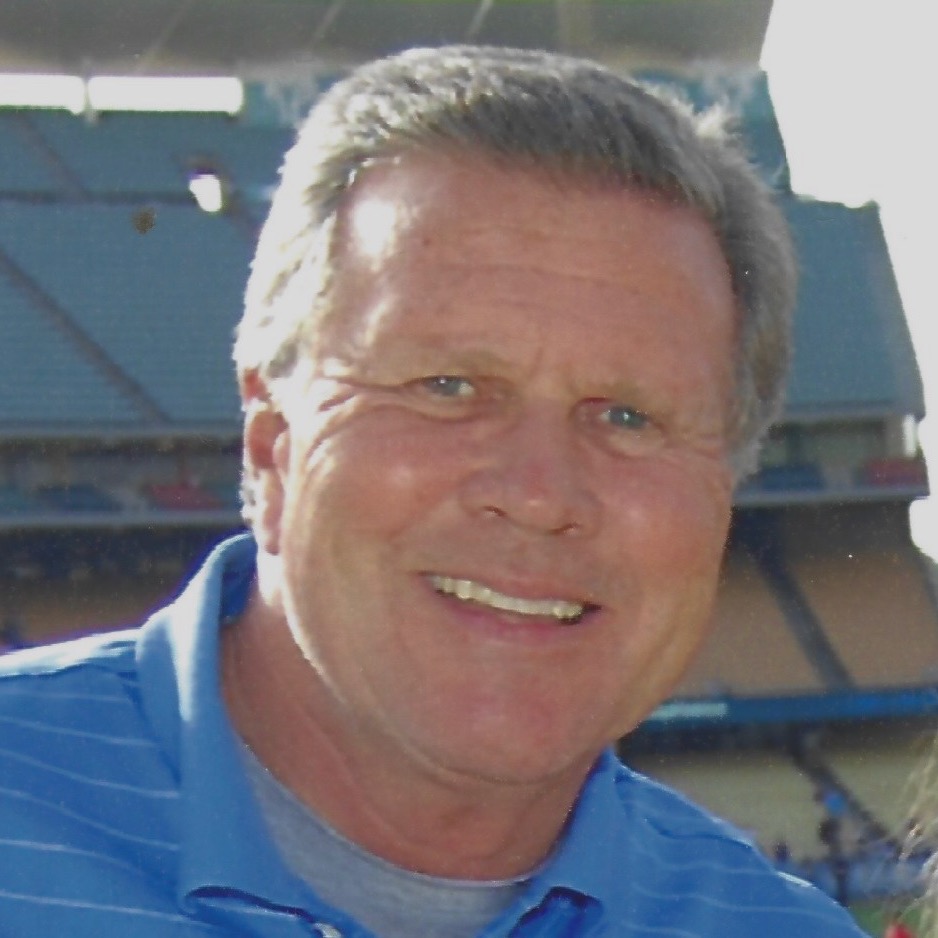 Jim Bonds is a graduate of The University of Mississippi (B.A. Broadcast Journalism). He worked as sports reporter/anchor at local TV stations in Huntsville, Kansas City, Memphis and Nashville.
Along the way, Jim also produced special programming on the Royals and Kansas City Kings, two Super Bowls, a World Series, and a Big 10 Conference football Game of the Week. His accomplishments include "Alabama Sportscaster of the Year", and "Best Sportscast, Tennessee." He hosted football and basketball coaches shows at the University of Kansas and Vanderbilt University.  He also did play by play for both schools. Bonds produced and hosted "Southern Football Saturday," a regional college football preview telecast airing on multiple regional sports networks for four years.
Jim and his family have called the Nashville area home for 39 years. His wife Nancy was a teacher in the Williamson County schools and their three adult children graduated from Brentwood High. All live in the Brentwood/Franklin area.
Jim retired from his non-broadcast sales career in media and healthcare in 2017.