by Travis Byrd
Baseball has always been just part of my life. I actually started playing when I was four years old. Every year my parents would ask me and my brother if we wanted to play, even though they always knew my answer. I continued to play all the way through high school. I love the game. I've always said if my baseball skills were as strong as my love of the game that I would be in the Hall of Fame! I really cannot remember a time without baseball in my life.
Before you read any further, you should know that I am a die-hard Atlanta Braves fan. Most families watch movies or tv shows together. Not my family. We watched the Braves every single night. I grew up in the best era of Braves history. I was born in 1992 when the Braves run of 14 straight Division titles and 5 trips to the fall classic were well under way. I wish I could say I remember what it felt like when Sid Bream slid into home in '92 or when the team of the decade finally brought home a World Series title in '95, but trust me, I have seen the replays many times! I fell in love with the Braves during those playoff runs of the '90's, but my fandom really took off when this guy named Chipper Jones busted on to the scene. I honestly didn't know the Braves without Chipper until he retired after the 2012 season.

---
Like what you're reading? Be sure to subscribe to the Simply A Fan mailing list, click here!

---
One of my favorite memories is Chipper's last home run. The Braves were in the middle of a playoff push and were facing the Phillies at home. They entered the bottom of the 9th inning down 7-3. One lesson I have learned as a fan is to always keep watching even when it appears there is no chance as you never know what you might witness! The Braves made a big rally and cut the lead to two. Runners are now at second and third with two outs. "Crazy Train" drops and Chipper steps up to the plate. I look over at my dad and say, "If Chipper connects I'm jumping on top of you." Sure enough, Larry Wayne Jones hit a walk-off home run and I jumped on top of my Dad as we rejoiced. Not bad for your last home run.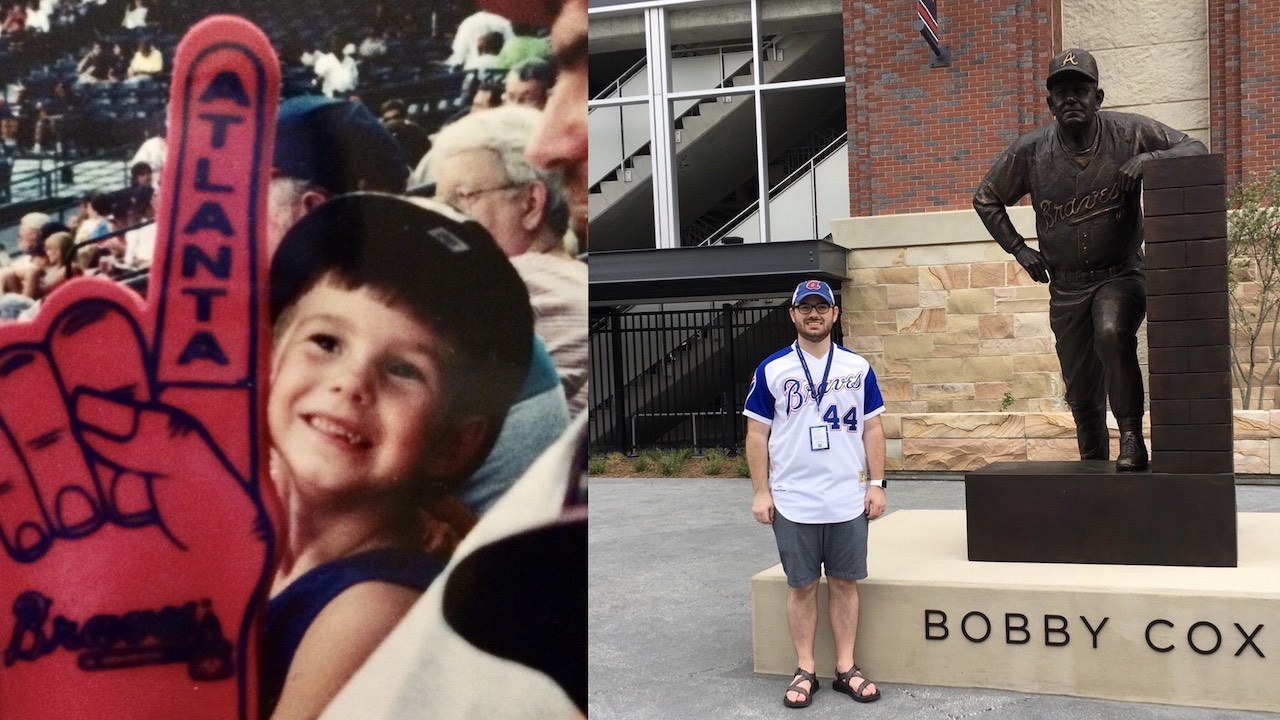 There are too many moments for me to talk about each one. From Furcal's walk-off in the 2004 NLDS, to Jason Heyward's home run in his very first at bat as a rookie in 2010 to Acuna's grand slam in the 2018 NLDS against the Dodgers' Walker Buehler. Those moments are what keep me coming back. Like any baseball fan, I have also experienced some lows. I was there when Brooks Conrad set the NLDS record for errors that led to an early playoff exit. All those missed opportunities in the 90's to claim more World Series rings, led to what is in my opinion, the biggest "what if" for the Braves franchise. If they had one or two more championships they would be in the conversation as the best dynasty in sports. Another low was this past season when we gave up 10 runs in the first inning of NLDS Game 5 versus the Cardinals! Ouch, that one stung. Baseball can really hurt sometimes. The good times and even the bad times are what make baseball the best.
Oakland Athletic's general manager Billy Beane in Moneyball states it best when he says, "How can you not be romantic about baseball?" Baseball brings people together – my father and I bonded over it more than anything else. Baseball reminds us that it is always better to have the joy of a kid. I am 10 years old again every time I watch a game – screaming when a home run is hit and running around the house after big plays. Every time I walk into the ballpark I am reminded of countless great memories from following the Braves for 27 years. Even the bad memories make me smile, sometimes to keep me from crying. Baseball has and always will be something I enjoy. Not only for the enjoyment of the game, but because of the memories of being with people I love the most. I can't wait for this shortened bizarre 60 game season to get started. Let's Go Braves!

Travis Byrd is a youth minister in McMinnville, TN and is married to his best friend, Karley. The Atlanta Braves are his favorite team. He also strongly believes that the infield fly should only apply to the infield and that umpire Sam Holbrook should get his eyes checked. 
FEATURED IMAGE
Travis at the Braves' Turner Field
---
FOLLOW SIMPLY A FAN
Want to support and follow along Simply A Fan? Click here to subscribe to receive periodic emails full of baseball stories and upcoming adventures. You can unsubscribe any time. You can also follow along on social media – Instagram, Facebook and Twitter.
READ MORE
Click here to read more stories from Simply A Fan.
UPCOMING ADVENTURES
Looking for a fun baseball adventure? Click here to see all of the scheduled upcoming trips.