by Deb Holloway
Baseball entered my life in a rather unusual way. My dad grew up in Indiana loving basketball, and my Mom knew nothing about sports. So my love for the grand 'ole game started from cheering on my neighbor, Dale, at lots of his Little League games and watching the odd game on TV. It seemed that two of the teams most aired on TV then were the San Francisco Giants and the Baltimore Orioles, so my favorite players as a kid were Willie Mays and Boog Powell.
When my college years rolled around, who had time to watch television? I went those four years not even thinking about baseball. A couple of years into my marriage, I came home from work one day and found my husband, Gary, watching a baseball game on television, and I asked. "You like baseball?" My Atlanta-born husband responded, "Of course I do! I was ten years old when the Braves moved to Atlanta from Milwaukee, and I used to listen to games all the time on my radio as I did my homework." From that time on, I've cheered for the Braves. Gary's favorite Brave is Eddie Mathews, followed closely by Hank Aaron and Phil Niekro. We spent most the 1980's working in Atlanta, so we went to lots of Braves games and my new-found favorite player became Dale Murphy.
We moved to Austin, Texas in 1990 and the Braves were scheduled to play in Houston against the Astros in August at the old Astrodome. We made the nearly three hour drive Houston cheer on Dale Murphy and our Braves. As we found our seats, the news started to spread throughout the stands that Dale Murphy had been traded to the Phillies! No Murph! I was crushed and so disheartened, I don't even remember who won that game.

Some time during our Austin years, we discovered Jay Buckley Baseball Tours, a company that tous baseball stadiums by charter bus as we watch games. Over the years, we've traveled with this company five times. On our first tour, I learned how to keep score, which I still do when watching a game in person. We set our goal to see every ballpark across the nation. Because of Buckley Tours, we saw games at stadiums that are no longer around – Olympic Stadium in Montreal, Tiger Stadium in Detroit, Comiskey Park in Chicago, and Three Rivers Stadium in Pittsburgh. Always a highlight, we have visited the Baseball Hall of Fame in Cooperstown on four separate occasions, the last time being in 2014, the year Braves Bobby Cox, Greg Maddux, and Tom Glavine were all inducted.
If you were to ask me my favorite ballparks I have visited, the baseball purist in me answers Fenway in Boston, nudging out Wrigley in Chicago by a whisker. But the prettiest parks to me are the Pittsburgh Pirates' PNC park and the Colorado Rockies' Coors Field. If we go to San Francisco this year as planned, I hear Oracle Park may move to the top of the list!
Sometimes we go to ballparks just the two of us and sometimes with friends. We've seen games in most of the stadiums and are down to our last six. Of course the number changes every time a new stadium replaces an old one, like in Texas and their new Globe Life Field. We are hoping to visit two or three new parks this summer, but with no Opening Day in sight who knows if or when that will happen!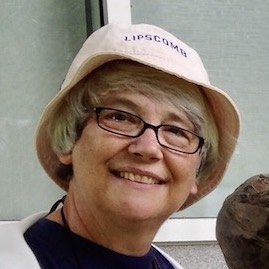 Deb Holloway has been a baseball fan since she was nine years old. She became a Braves fan after marrying an Atlantan, Gary Holloway. A retired Theatre and English teacher from Lipscomb University, she loves traveling with Gary to baseball games, especially at parks they have not previously visited.
FEATURED IMAGE
Cooperstown, Baseball Hall of Fame 2014
---
FOLLOW SIMPLY A FAN
Want to support and follow along Simply A Fan? Click here to subscribe to receive periodic emails full of baseball stories and upcoming adventures. You can unsubscribe any time. You can also follow along on social media – Instagram, Facebook and Twitter.
READ MORE
Click here to read more stories from Simply A Fan.
UPCOMING ADVENTURES
Looking for a fun baseball adventure? Click here to see all of the scheduled upcoming trips.