by Mark Jent
Ballparks will be silent today. Ballparks across America that are normally buzzing with parades, ceremonies and eternal optimists on Opening Day will be understandably empty as our country takes each day as it comes with the unknowns that COVID-19 brings. Today will forever be known as the Opening Day that got indefinitely delayed by a faceless virus that is wreaking havoc across the globe. Sure, baseball is undeniably of secondary importance right now, but that doesn't mean we can't long for the normalcy that it provides.
Opening Day is usually the conclusion of a countdown calendar that began in October as it signals the end of winter and beginning of spring. It is normally an unofficial holiday where kids skip school and grown ups miss work. It is about the chalk lines getting marked for the first time. It is about the entire team being introduced, not just the starting nine. It is about patriotic national anthems followed by loud flyovers or bald eagles swooping down from the upper deck.
Opening Day is about traditions. To some it is the annual Findlay Market Parade in Cincinnati, to others the grand entrance of the Budweiser Clydesdales in St. Louis. And to those 50,000 gazing out at the San Gabriel Mountains at Chavez Ravine, it's another Clayton Kershaw first pitch. Opening Day is baseball's rite of passage that no other sport can claim.
Opening Day is about family. When the gates open and the turnstiles roll over for the first time, fans are permitted to not only enter the ballpark, they are entitled to believe their team will win the Fall Classic. When the pre-game ceremonies begin and that family of four settles in their seats high above the perfectly manicured green field below, their anticipation of what's to come is unlike any of the other 161 games. And when all of the hot dogs, Cracker Jacks and overpriced soft serve ice cream in a helmet have been consumed, the adventure of having just attended an Opening Day as a family far outweighs the final score.
Opening Day is different for everyone. Rookies are filled with butterflies for their major league debuts. Veterans who've been here before still have a nervous anticipation about game number one. Managers agonize in filling out their best lineups for the start of the six month marathon. Ushers are greeting friends they haven't seen in months. Broadcasters are loosening up their vocal cords for the grind of the upcoming season. Journalists are bracing for the next story that's never been penned.
Yet today, March 26th, on what was supposed to be Opening Day to kickoff the 2020 season – the ballparks will be silent. The silence of these ballparks will be deafening to those who have the privilege of walking the corridors on the way to their team clubhouse or administrative office. There will be no turnstiles, no flyovers, no first pitches. There will be no fathers and sons walking hand in hand, no foul balls falling two rows behind you and no radio broadcasters who are the soundtracks to your summer. There will be no leadoff home runs, seventh inning stretches or walk-off hits. Today these cathedrals known as ballparks have been silenced by a global pandemic.
Yet rest assured, baseball will eventually return and when it does so will the pomp, circumstance and grandeur that goes along with this great pastime. Long after the CDC has lifted it's ban of large gatherings, long after people aren't working remotely from home and long after the grocery store aisles are filled back up with toilet paper packs, baseball will return. When that first pitch will occur, no one knows. But when it does, there will be a newly scheduled Opening Day that will be welcomed with sausage races in Milwaukee, Sweet Caroline sung by 38,000 in the 8th inning at Fenway, an iconic red jacket ceremony under the shadows of the Arch and a championship banner will be unfurled in the nation's capital.
Until then the ballparks will be empty and silent. But when it is time, the fans will be ready to return – to grab their glove, to walk through the gates, to sit in their seats and to find the normalcy of what once was and will be once again.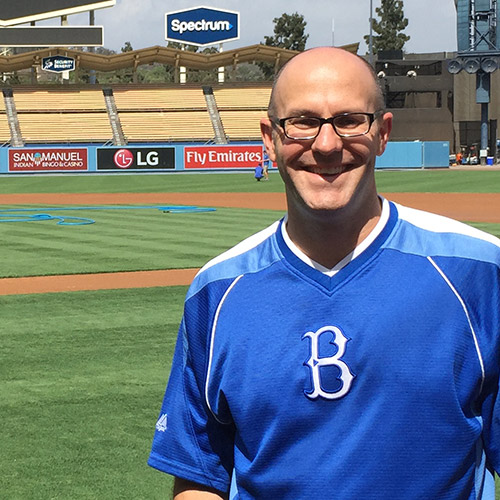 Mark Jent is the chief trip planner and designated storyteller for Simply A Fan. He lives in Nashville with his wife Beth, and their three kids, Brooklyn, Harrison and Zach. He enjoys cheering on his Dodgers, reading baseball history, hiking at Radnor Lake and chasing waterfalls throughout Tennessee with his family. He launched Simply A Fan in July 2018 with the two-fold purpose of taking people on adventures to ballparks across the country and providing fans a platform to share their baseball stories. He is currently on a quest to meet as many of the living Brooklyn Dodgers as possible. 
FEATURED IMAGE
Dodger Stadium, September 2016
Ballpark Tour prior to Vin Scully Weekend
---
FOLLOW SIMPLY A FAN
Want to support and follow along Simply A Fan? Click here to subscribe to receive periodic emails full of baseball stories and upcoming adventures. You can unsubscribe any time. You can also follow along on social media – Instagram, Facebook and Twitter.
READ MORE
Click here to read more stories from Simply A Fan.
UPCOMING ADVENTURES
Looking for a fun baseball adventure? Click here to see all of the scheduled upcoming trips.