by Brian Ryman
Yogi Berra said, "Love is the most important thing in the world, but baseball is pretty good, too." That is so true! I grew up in a baseball family in a small east Tennessee town with my dad; the assistant high school coach and later pro scout. My brother, the All-Star pitcher and me the average role player who loved the game, his teammates and had a passion for using the game to go places and meet people I never would have IMAGINED.
So how did I become a fan of this crazy game? I think it's the people and the relationships that come through the years and the raw emotions it has. I'm more about relationships than I am the moments. When the game is over, the game is over. I don't get starstruck very much with pro baseball players. I would get more star struck if Kenny Chesney walked in than Chris Sale or Mookie Betts because those guys got to walk the same path I did; they just gotta walk it a little further and make a little more money. I don't remember games, I remember experiences. I remember going out to eat with Pete Rose Jr. and the next morning him talking about eating so much meat that he "sh** a calf". Those are the things that stick with me. Talking to him about his dad who wasn't there for him and didn't give him the leadership he needed. I know Pete and I know his heart. I know he's made stupid mistakes, but he has a good heart. It's those moments that you just can't make up. He always told me he was going to buy a Sonic franchise. He loved Sonic hamburgers and they didn't have them in Cincinnati at the time and he was like "I ate two triple cheeseburgers on my way over here" and he said it was alright because he was going to work it off.
Coach Forehand has a story about R.A. Dickey working out with Phil Niekro, the greatest knuckleball pitcher of all time and Phil kept calling him A.R. He couldn't remember his name. He even signed a ball for him that says "Good luck A.R." because he couldn't get the two letters in the right order, but was one of the best knuckleball pitchers of all time. It's moments like those that just stick with me.
My life could be one of the all-time greatest baseball movies! There is a little of Field of Dreams, a little Bull Durham, a little Trouble with the Curve. You see, my mom passed away when I was five years old so baseball became the glue to the family.  My dad coached and later became a scout with the Pirates, Marlins, and Cubs. We must have gone to 10-15 games a week and met thousands of people along the way. I would not have wanted it any other way. It has prepared me for what I do today and the benefits of the "baseball family" will continue to grow.
I didn't want to follow in my dad's footsteps for a while whether it was pressure or whatever. For the longest time, I wanted to be a chef. My grandfather owned restaurants for his whole adult life. Even to this day, I'm crazy obsessed about cooking. It got to the point that I knew deep inside that I wasn't going to be a professional baseball player. The best way I knew how to get out of it was to be a chef. I started exploring schools that had culinary arts degrees and baseball and there weren't many.  Coach (Rod)Delmonico from University of Tennessee said, "You need to play as long as you can possibly play" and I tell that to our guys who are playing pro ball now because you don't want to have any regrets. Delmonico said "You can go back to be a chef, but you can't go back to college and play baseball," and I thought that was good advice. Still, to this day, I can go be a chef but I can't go back and play baseball.
On my 21st birthday, I had driven to Knoxville to have lunch with my dad and, on my way back, I fell asleep at the wheel and I flipped seven times on a back road in Monroe County, Tennessee on my way back to Hiawassee Junior College. How I survived and got out of that truck was only by the grace of God. I just remember coming to and someone saying, "He's dead, He's dead" and I was like "No, I'm NOT". They had to cut the seat belt off of me, I had to climb through a glass window, I broke my AC joints, my shoulder. At that point, it was the end of my playing career. It was going to be another whole year before I could play again. I called Coach Delmonico and said I might want to give this coaching thing a try. I liked the coach I had at Hiawassee and the impact he had on me and some of the other players and thought "Hey, that might be something I want to do." It was the grace of Coach Delmonico for giving me a chance to start my coaching career.
Being a baseball coach cannot be about the money. Learn from as many people as possible. You better want to impact somebody else because there's a lot of people who think they want to coach just because they think they know a lot about the x's and o's of baseball. Your "why" has to be more important than your x's and o's. There's ten times the amount of people that are better than me in the x and o part but the relationship part and things that I can control with you as a player and helping you as a player, I feel like I'm never gonna get beat at that part.
With baseball being a game entrenched in history, we all, no doubt, have moments that we won't soon forget. Whether it's a walk-off home run from your favorite team, a pitching performance by the ace of your staff or a great call from the best announcers the game has to offer, everyone will take something with them throughout their lives. Much of what makes the sport great is the history that's not only remembered, but passed down for generations.
The play that made me the Braves fan I am today is from Game 7 of the 1992 National League Championship Series between the Pittsburgh Pirates and Braves.  It will be forever defined by its final pitch, a two-out fastball from Pittsburgh's Stan Belinda that Atlanta pinch-hitter Francisco Cabrera lashed into left field to plate two runs and send the Braves to the World Series. By the time Sid Bream had just beat Barry Bonds' throw to the plate to score the winning run, the Pirates and Braves had already played a dramatic 8 2/3 innings that included other big moments.  However, none that had changed my love for baseball and the Braves like that play. I can't wait to see more of these as my son, Porter, builds his memory bank. I loved seeing every game with my dad, and I know I will with Porter.
I don't like to talk baseball outside of here. I can talk pro baseball but I don't like to talk college baseball especially when I get home and I have to check my wife Kristin on this all the time. She'll replay the game and "I'm like I know. I was there. I watched your team play all seven innings." I know she would want to hash it out but I would rather talk about Tiger Woods or something different.
I love the trade deadline, it fascinates me because we can't do it in college. I can't call up Vanderbilt and say hey, "I'll send you our catcher for your third baseman." It intrigues me how those pieces fit our puzzle to make us win. I listen to Buster Olney talk about how a guy like Reds pitcher Trevor Bauer, a social media influencer, how does he treat his teammates, how does he treat the laundry guy, how does he treat the security guy?
There's just something about ballparks. When I was a little boy, I thought about owning my own team. If I was the team owner, what would our stadium look like and what would our food be? So, when I go, I try different food whether it's good or not, look at the souvenirs, look at the things that make people happy. I even think about it from the city standpoint; does it make the city better or worse.
Nothing will ever replace Wrigley and Fenway. It's different and special to watch a game there with the history. Petco Park is unbelievable in San Diego. The weather, the food, the accessibility to the stadium is just something else, it blew me away. PNC Park in Pittsburgh may be a small park, but they did everything right.
The worst? That's an easy one. Arizona. It's terrible. From seat size to the field not being in great playing shape. The food wasn't very good. I consider Oakland a football stadium with a baseball team playing in it so it's not their fault. I don't feel like the A's have a full deck of cards and the Diamondbacks do.
The game of baseball has been very good to me. Whether it's being a fan, supporting Kristin and Lipscomb Softball, or having the opportunity to coach alongside Coach Forehand, I'm just trying to give back to the game. I want to instill and pass down that same love and passion that I was blessed to receive.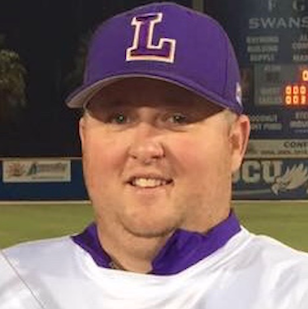 Brian is the Director of Baseball Operation and recruiting coordinator for Lipscomb University Athletics/Baseball, a certified MLB scout and owner of the Music City Classic. His father Keith was a long time coach and MLB scout. He attended the University of TN and went the CWS in 2005. Brian's wife is the head softball coach at Lipscomb University. They reside in Nashville with their son Porter.
---
FOLLOW SIMPLY A FAN
Want to support and follow along Simply A Fan? Click here to subscribe to receive periodic emails full of baseball stories and upcoming adventures. You can unsubscribe any time. You can also follow along on social media – Instagram, Facebook and Twitter.
READ MORE
Click here to read more stories from Simply A Fan.
UPCOMING ADVENTURES
Looking for a fun baseball adventure? Click here to see all of the scheduled upcoming trips.