December 1, 2019
MLB Opening Day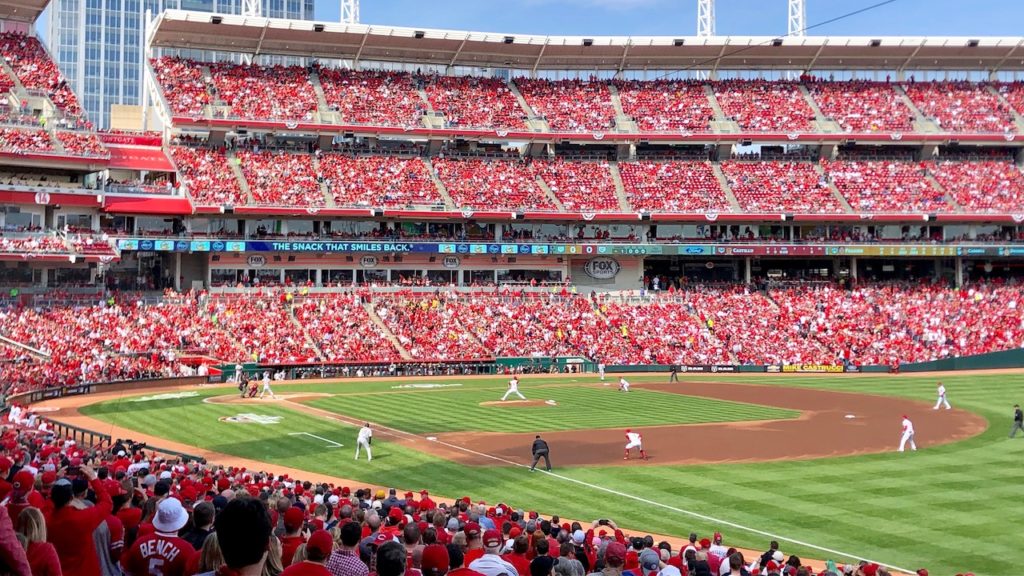 WHEN
March 25-26, 2020
WHERE
Great American Ballpark
Cincinnati, Ohio
WHAT
Join Simply A Fan for MLB Opening Day in the Queen City as the Reds take on the visiting Cardinals. Cincinnati is the only team in the league that is granted a home game on Opening Day and they pull out all the pomp and circumstance to make it a special occasion for the tens of thousands of people who attend the festivities. In what will be our third straight MLB Opening Day (2018 ATL, 2019 CIN) it will be a road trip that is full of great fellowship on this overnight baseball adventure!
TRIP SUMMARY
This two day, overnight trip will include a stop by the Reds Hall of Fame & Museum on Wednesday afternoon, the historic Findlay Market Parade on Thursday morning and the Reds – Cardinals game on Thursday afternoon. We will stay at the Hampton Inn & Suites across the river in Wilder, Kentucky, a mere 10 minute drive from the ballpark.
Adventures with Simply A Fan are more than just a ballgame, but are designed to take all of the hassle of logistics off you the fan, creating opportunities for you to enjoy your trip in fellowship and community with others. Simply A Fan acts as the travel agent and tour guide, from all of the pre-trip logistics (hotel, ground transportation, game tickets, trip add-ons, daily itinerary) to execution of the trip itself.
TRIP SCHEDULE
Wednesday, March 25th
8:00 a.m. CST – Depart Nashville
12:00 p.m. EST – Lunch Louisville
2:30 p.m. – Arrive Reds Hall of Fame & Museum
5:00 – Dinner Cincinnati
Thursday, March 26th
10 a.m. – 101st Annual Findlay Market Parade
2:10 p.m. – Gates Open, Great American Ballpark
4:10 p.m. – First Pitch, Cardinals at Reds
Will return to Nashville after the game
ACCOMMODATIONS
Hampton Inn & Suites – Wilder, KY
• Trip Advisor 4.5 stars (743 reviews)
PACKAGE COST & DETAILS
Full package price range: $445 per person and includes the following:
• 1 nights hotel at the Hampton Inn & Suites (Wilder, KY) at a double occupancy rate.
• passenger van ground transportation throughout the trip (rental+gas+parking)
• admission into the Reds Hall of Fame & Museum
• game ticket to Opening Day (exact location TBD as of 12/2019; inquire within for specifics)
• a tour guide for your detailed trip itinerary
• Simply A Fan lanyard
• an unforgettable baseball adventure!

BUDGET VARIABLES
Game Tickets. As of late December the Reds have not put single game tickets on sale for Opening Day. The budget above is based on a conservative guesstimate based on our 2019 Cincinnati Opening Day adventure. If tickets exceed that allocated cost, the budget will be updated accordingly and communicated to those who have registered.
Hotel Occupancy. Price is based on double occupancy. If you wish to have a single, triple or quadruple occupancy
Group Size. A minimum of 8 people are needed for this adventure to confirm. The goal is to reach that number by March 1st. If the group size is less than 8, the trip can still mobilize, but the trip cost adjusted slightly.
Deposits & Payments. Deposits are refundable if the trip minimum is not met and trip is not confirmed. Deposits and final payments are non-refundable if the trip is confirmed and you choose not to go. Since airline tickets are not involved for this adventure, deposits and payments are transferrable if you get someone to take your place.
SECURE YOUR SPOT
To secure your spot you need to complete two steps.
(1) Register. Click on the red "Register" button at the top or bottom of this page to complete your trip registration.
(2) Deposit. On your registration you will be prompted to pay a $50 deposit by card or to be invoiced.
You will be invoiced your balance once the trip is confirmed and final payment will be due March 1st. If you have questions, please email Simply A Fan's chief trip planner, Mark Jent, at markjent@simplyafan.com.
SPECIAL NOTE
Simply A Fan, LLC is a family-owned, Nashville-based company and is neither affiliated, nor endorsed by, the Cincinnati Reds, the St. Louis Cardinals, Great American Ballpark or Major League Baseball.
---
FREQUENTLY ASKED QUESTIONS
What is Simply A Fan?
Simply A Fan is a Nashville-based, family-owned sports travel and adventure company that organizes sporting trips to ballparks, stadiums and arenas across the country. We act as both the travel agent and the tour guide! In 2018 and 2019 Simply A Fan organized and mobilized over 20 baseball and football trips there were comprised of over 500 people.
Do I have to live in the Nashville area to take part in this adventure?
You do not have to live in Nashville or Middle Tennessee to join us on this trip or any adventure! You can either meet us in Nashville or meet us in Cincinnati and we will adjust your trip cost accordingly subtracting ground transportation.
How can I support and follow Simply A Fan?
There are tangible ways you can simply get aboard this grand adventure.
(1) Subscribe to the mailing list where you will receive periodic emails full of baseball stories and upcoming trips. To subscribe, click here. If our baseball spam ever becomes too much, you can always unsubscribe!
(2) Follow Simply A Fan on social media – Facebook, Instagram, Twitter.
When will we know if the trip is confirmed?
You will be updated along throughout the process on confirmations. As soon as we hit the minimum eight people, the trip will be confirmed and you will be informed and invoiced accordingly.
Are meals included in this package?
No meals are included in the package options above.
If I have hotel points / rewards for the hotel we are staying at, can I save money and my trip cost be adjusted?
Yes, we will gladly accommodate if able. You will be responsible for booking your own reward travel. If staying at our accommodations, that would be great, but if staying elsewhere, you will likely be for your own ground transportation to and from events. Inquire within for specifics budget adjustment.
What other trips does Simply A Fan have coming up?
Click on the following link to see all of the upcoming adventures – Trips.
What else does Simply A Fan offer in addition to organizing trips?
We tell and share baseball stories! Click this link to find all sorts of stories from the stands – Stories
---

FEATURED IMAGE
March 2019 – Cincinnati, Great American Ballpark
The First Pitch – MLB Opening Day