December 1, 2019
Jackie Robinson Day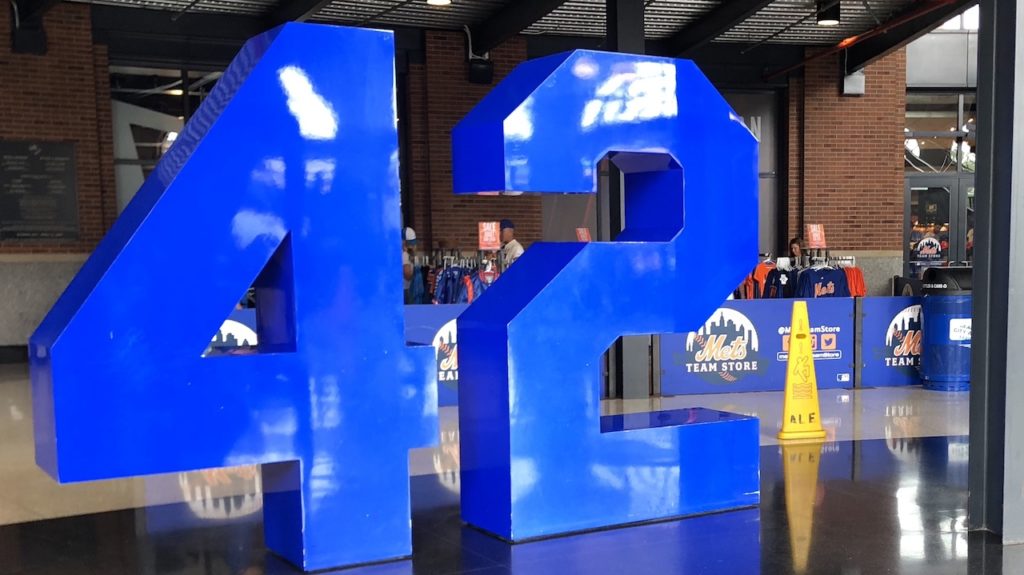 WHEN
April 14-16, 2020
WHERE
Mets' Citi Field
Brooklyn
New York City
GAMES
Atlanta Braves at New York Mets
TRIP SUMMARY
Join Simply A Fan for Jackie Robinson Day at Citi Field, a mere 10 miles from the hallowed grounds of Ebbets Field where #42 first stepped foot between the white lines for the first time on April 15, 1947. As Major League Baseball stops to celebrate Jackie Robinson breaking barriers, Simply A Fan wants to provide people an adventure where they can be at Citi Field on Jackie Robinson Day. In addition to two games between the Braves and Mets, on April 15th Simply A Fan will lead a "Tour of Brooklyn" taking fans to significant sites that were meaningful to Jackie and the Boys of Summer in the 1940's and 50's including the Ebbets Field Apartments, the Jackie Robinson Playground, the Jackie Robinson Middle School, the Brooklyn Cyclones ballpark where a ten foot statue of Jackie & PeeWee Reese resides, the house where Jackie & Rachel lives during the 1947-48 seasons, the home of Gil Hodges, TD Ameritrade Building which is the site where Branch Rickey signed Jackie in 1945, Junior's Cheesecake that was a place of celebration after ballgames, the Barclays Center where the Ebbets Field flagpole stands, Cypress Hills Cemetary where Jackie Robinson is buried and more. The Tour of Brooklyn is included in the trip cost.
Other trip add-ons include a pregame behind-the-scenes ballpark tour of Citi Field, the 911 Museum, Statue of Liberty and Ellis Island and other New York City sightseeing attractions.
Adventures with Simply A Fan are more than just a ballgame, but are designed to take all of the hassle of logistics off you the fan, creating opportunities for you to enjoy your trip in fellowship and community with others. Simply A Fan acts as the travel agent and tour guide, from all of the pre-trip logistics (airfare, hotel, ground transportation, game tickets, trip add-ons, daily itinerary) to execution of the trip itself.
TRIP SCHEDULE
Tuesday, April 14th
• Arrive New York City (LGA or JFK)
• Multiple NYC sightseeing options as group or individually
3:30 p.m. – Citi Field Ballpark Tour (optional, not included)
5:10 p.m. – Gates Open, Citi Field
7:10 p.m. – First Pitch, Braves at Mets
Wednesday, April 15th
8 a.m. – Tour of Brooklyn, stops include, but not limited to
– Ebbets Field Apartments
– Jackie Robinson Playground
– Jackie Robinson Middle School
– Jackie & Rachel Robinson's house, 1947-48 seasons
– Gil Hodges house
– Brooklyn Cyclone's ballpark, statue of Jackie & PeeWee Reese
– TD Ameritrade, site where Branch Rickey signed Jackie
– Barclays Center, site of Ebbets Field flagpole
– Cypress Hills Cemetary, site of Jackie Robinson's grave
– the Brooklyn Bridge
5:10 p.m. – Gates Open, Citi Field
6:30 p.m. – Jackie Robinson Day Festivities
7:10 p.m. – First Pitch, Braves at Mets
Thursday, April 16th
• More NYC sightseeing planned by Simply A Fan (optional), but include
– the 911 Memorial & Museum
– the Statue of Liberty & Ellis Island
– Empire State Building observation deck
– Central Park
– Wall Street, the bull statue
• Flights arranged to depart at time of your choice
• Simply A Fan flights to Nashville will be
5:15 p.m. – Depart LaGuardia
6:25 p.m. – Arrive Nashville
ACCOMMODATIONS
Hampton Inn & Suites – East Elmhurst, NY
• Trip Advisor #1 of 10 hotels (1,393 reviews)
• 0.4 miles from LaGuardia Airport
• 1.9 miles from Citi Field
• 10.5 miles from Times Square
• 14 miles from Ebbets Field Apartments
PACKAGE COST & DETAILS
Full package price range: $1,010 (pay by check) or $1,040 (pay by card) per person and includes the following:
• roundtrip airfare from city of your choice into LGA or JFK
• 2 nights hotel at the Hampton Inn & Suites (East Elmhurst) at a double occupancy rate.
• ground transportation for Tour of Brooklyn (rental+gas+parking fees)
• Braves vs. Mets game tickets to April 14th (300's level) and Jackie Robinson Day on April 15th (100's level)
• a tour guide for your detailed trip itinerary including all the above plus NYC sightseeing add-ons
• Simply A Fan lanyard
• an unforgettable baseball adventure!

BUDGET VARIABLES
Partial Package. If you do not need the full package and need to a la carte portions, that is perfectly fine! We want as many people as possible for this adventure! So we can subtract your airfare, your hotel, etc…you name it, we will adjust the trip cost accordingly and gladly have you officially be part of our group!
Airfare. As of late December the Reds have not put single game tickets on sale for Opening Day. The budget above is based on a conservative guesstimate based on our 2019 Cincinnati Opening Day adventure. If tickets exceed that allocated cost, the budget will be updated accordingly and communicated to those who have registered.
Hotel Occupancy. Price is based on double occupancy. If you wish to have a single, triple or quadruple occupancy, please inquire within.
Group Size. A minimum of 5 people are needed for this adventure to confirm. The goal is to reach that number by March 1st. If the group size is less than 5, the trip can still mobilize, but the trip cost adjusted slightly.
Deposits & Payments. Deposits are refundable if the trip minimum is not met and trip is not confirmed. Deposits and final payments are non-refundable if the trip is confirmed and you choose not to go. Deposits and payments are transferrable, aside from airline restrictions on name changes.
SECURE YOUR SPOT
To secure your spot you need to complete two steps.
(1) Register. Click on the red "Register" button at the top or bottom of this page to complete your trip registration.
(2) Deposit. On your registration you will be prompted to pay a $100 deposit by card or to be invoiced.
You will be invoiced your balance once the trip is confirmed and final payment will be due March 1st. If you have questions, please email Simply A Fan's chief trip planner, Mark Jent, at markjent@simplyafan.com.
SPECIAL NOTE
Simply A Fan, LLC is a family-owned, Nashville-based company and is neither affiliated, nor endorsed by the New York Mets, Citi Field, the Jackie Robinson Foundation, the Atlanta Braves or Major League Baseball.
---
FREQUENTLY ASKED QUESTIONS
What is Simply A Fan?
Simply A Fan is a Nashville-based, family-owned sports travel and adventure company that organizes sporting trips to ballparks, stadiums and arenas across the country. We act as both the travel agent and the tour guide! In 2018 and 2019 Simply A Fan organized and mobilized over 20 baseball and football trips there were comprised of over 500 people.
Do I have to live in the Nashville area to take part in this adventure?
You do not have to live in Nashville or Middle Tennessee to join us on this trip or any adventure! You can either meet us in Nashville or meet us in Cincinnati and we will adjust your trip cost accordingly subtracting ground transportation.
How can I support and follow Simply A Fan?
There are tangible ways you can simply get aboard this grand adventure.
(1) Subscribe to the mailing list where you will receive periodic emails full of baseball stories and upcoming trips. To subscribe, click here. If our baseball spam ever becomes too much, you can always unsubscribe!
(2) Follow Simply A Fan on social media – Facebook, Instagram, Twitter.
When will we know if the trip is confirmed?
You will be updated along throughout the process on confirmations. As soon as we hit the minimum eight people, the trip will be confirmed and you will be informed and invoiced accordingly.
Are meals included in this package?
No meals are included in the package options above.
If I have airline or hotel points / rewards for the hotel we are staying at, can I save money and my trip cost be adjusted?
Yes, we will gladly accommodate if able. You will be responsible for booking your own reward travel. If staying at our accommodations, that would be great, but if staying elsewhere, you will likely be for your own ground transportation to and from events. Inquire within for specifics budget adjustment.
What other trips does Simply A Fan have coming up?
Click on the following link to see all of the upcoming adventures – Trips.
What else does Simply A Fan offer in addition to organizing trips?
We tell and share baseball stories! Click this link to find all sorts of stories from the stands – Stories
---

FEATURED IMAGE
July 2018 – Citi Field
The Jackie Robinson Rotunda