December 1, 2019
Field of Dreams Adventure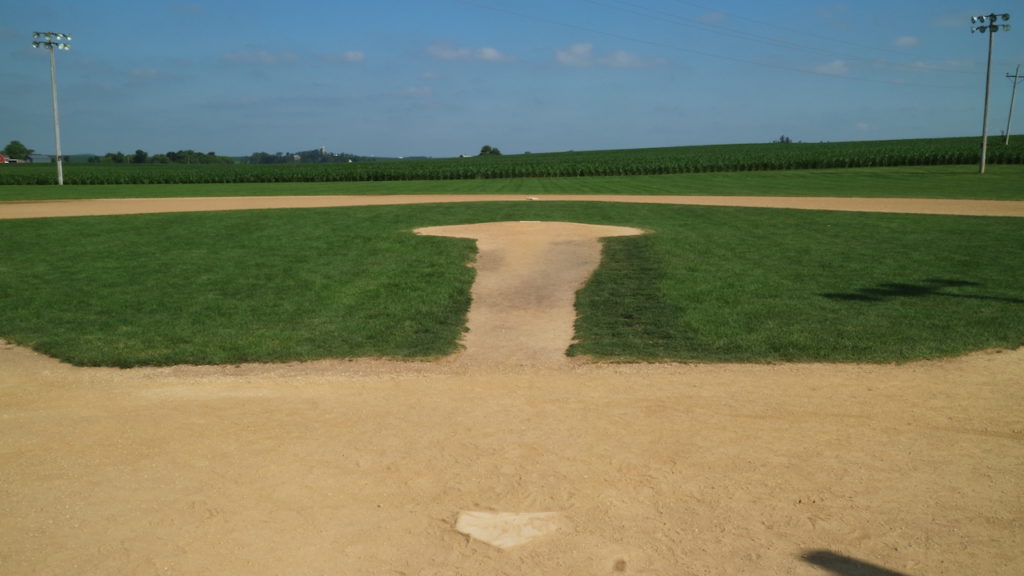 WHEN
Wednesday, August 12 – Saturday, August 15, 2020
WHERE
Field of Dreams Movie Site
Dyersville, Iowa
Busch Stadium
St. Louis, Missouri
GAMES
Thursday, August 13th
Yankees – White Sox, Field of Dreams
Friday, August 14th
Pirates – Cardinals, BuschStadium
TRIP SUMMARY
In 1989 when Kevin Costner stepped onto that baseball infield in the middle of Iowa, his character Ray Kinsella came to life in the movie Field of Dreams. He heard a voice, he plowed up his farm, he drove across the country and he chased his dream. The movie site in Dyersville, Iowa has remained a tourist attraction for the past three decades. In August 2020, Major League Baseball is taking it one step farther as the New York Yankees and Chicago White Sox will play the first ever regular season game at the Field of Dreams! To read the MLB news release, click here and be sure to watch the video!
Major League Baseball is constructing a temporary ballpark next to the pristine Field of Dreams itself that will seat 8,000 people for this ultimate baseball adventure. As soon as MLB announced it's plans Simply A Fan began putting details together for this road trip from Nashville that will be four day, three nights, six states and 1,300 miles worth of adventure. In addition to the Yankees-White Sox at the Field of Dreams, on the way home we will stop in St. Louis for a "trip add-on" for a Pirates-Cardinals game.
To provide fans the best experience on the road trip, we will be traveling in Ford 15 passenger transit high top vans but only putting 10-11 people per van. Click here to see an overview of the van or one similar. Keep reading below for the trip schedule, package costs, how to secure your spot and more. It's never too early to start planning for next summer!
TRIP SCHEDULE
Wednesday, August 12th, 2020
Depart Nashville
Spend Night – Lincoln, Illinois
Thursday, August 13th, 2020
Depart Illinois
Arrive Field of Dreams
7:05 p.m. – Yankees – WhiteSox
Spend Night – Davenport, Iowa
Friday, August 14th, 2020
Depart Davenport
Arrive St. Louis
Cardinals HOF & Museum
7:05 p.m. – Pirates @ Cardinals
Spend Night – Fairview Heights, Illinois
Saturday, August 15th, 2o20
Depart Fairview Heights
Arrive Nashville
ACCOMMODATIONS
Hampton Inn & Suites at each location
PACKAGE COST & DETAILS
Full package price range: $915 – $1,015 per person, depending on number in party for hotel occupancy.
Cost includes the following:
• ground transportation throughout the trip (rental + gas + parking fees), see below for mode of transportation
• 3 nights hotel at the Hampton Inn & Suites in each location
• game ticket to the Yankees – White Sox at the Field of Dreams
• admission to the Cardinals HOF & Museum
• game ticket to the Pirates – Cardinals at Busch Stadium
• a copy of the book "Going The Distance: The Life & Works of W.P. Kinsella" by Willie Steele, released April 2019
• a tour guide for your detailed trip itinerary
• a Simply A Fan lanyard
• an unforgettable baseball adventure!
BUDGET VARIABLES
A minimum 10 people are necessary for this trip to confirm, but as of October 2019, that does not look to be a problem based on the interest and demand thus far.
Game tickets variable. Ticket information has not been released yet by Major League Baseball. We expect that MLB will release that information in by the end of December. Based on research and past experience in leading adventures, Simply A Fan has budgeted a reasonable amount of the trip budget to go towards the ticket for the Field of Dreams game. If once the ticket information is released the tickets are more than budgeted, that cost will be added to the total cost of the trip. Please inquire with more details on budget, amount, specifics.
SECURE YOUR SPOT
To secure your spot you need to complete two steps.
(1) Register. Click on the red "Register" button at the top or bottom of this page to complete your trip registration.
(2) Deposit. On your registration you will be prompted to pay a $100 per person deposit by card or you can choose to be invoiced if you wish to write a check.
PAYMENTS
A second payment of $250 will be due on March 1st. Remaining balance will be due on June 1st. You may also choose to pay your trip in full if you'd like. Deposits and payments are non-refundable, unless the trip does not make. If you have questions, please email Simply A Fan's chief trip planner, Mark Jent, at markjent@simplyafan.com.

---
FREQUENTLY ASKED QUESTIONS
What is Simply A Fan?
Simply A Fan is a Nashville-based sports travel company that organizes adventures to ballparks, stadiums and arenas across the country, while giving baseball fans a platform to share their personal baseball story.
In the inaugural year of business, in 2018 Simply A Fan organized 11 trips and mobilized 185 people. So far in 2019, Simply A fan is projected to have organized 15 trips comprised of over 300 people.
How can I support and follow Simply A Fan?
There are tangible ways you can simply get aboard this grand adventure.
(1) Subscribe to the mailing list where you will receive periodic emails full of baseball stories and upcoming trips. To subscribe, click here. If our baseball spam ever becomes too much, you can always unsubscribe!
(2) Follow Simply A Fan on social media – Facebook, Instagram, Twitter.
When will we know if the trip is confirmed?
You will be updated along throughout the process on confirmations. As soon as we hit the minimum 10 people, the trip will be confirmed and you will be informed and invoiced accordingly.
Are meals included in this package?
No meals are included in the package options above.
If I have hotel points for the hotel we are staying at, can I save money and my trip cost be adjusted?
Yes, we will gladly accommodate if able. You will be responsible for booking your own reward travel. If staying at our accommodations, that would be great, but if staying elsewhere, you will likely be for your own ground transportation to and from events. Inquire within for specifics budget adjustment.
Would Simply A Fan be willing to "a la carte" any of the logistics of the trip?
Yes! Although we feel like we offer a very convenient and price competitive package, we understand that every one has different needs when it comes to their adventures. Whereas most of our clients are based out of Middle Tennessee, we have people join us on trips from all over the country! If you live elsewhere and would like the full experience with our group by traveling to Nashville and meeting up with us from the outset, we can help you secure travel to and from Nashville and even accommodations. Or if you would like to meet us in route and take advantage of our group blocks of hotel rooms or just buy game tickets with our group, we'd love to have you!
All that to say, once we hit the 10 people necessary to confirm the trip, Simply A Fan will gladly accommodate via the a la carte option by just offering ground transportation, just hotels or just game tickets. You can mix and match the options how ever you would like. We love to include as many people as possible in our groups!

What other trips does Simply A Fan have coming up?
Click on the following link to see all of the upcoming adventures – Trips.
What else does Simply A Fan offer in addition to organizing trips?
We tell and share baseball stories! Click this link to find all sorts of stories from the stands – Stories
---
FEATURED IMAGE
June 2019 – Welcome to Iowa sign on the way to Omaha, Nebraska for the College World Series