December 1, 2019
102.5 The Game Preds Trip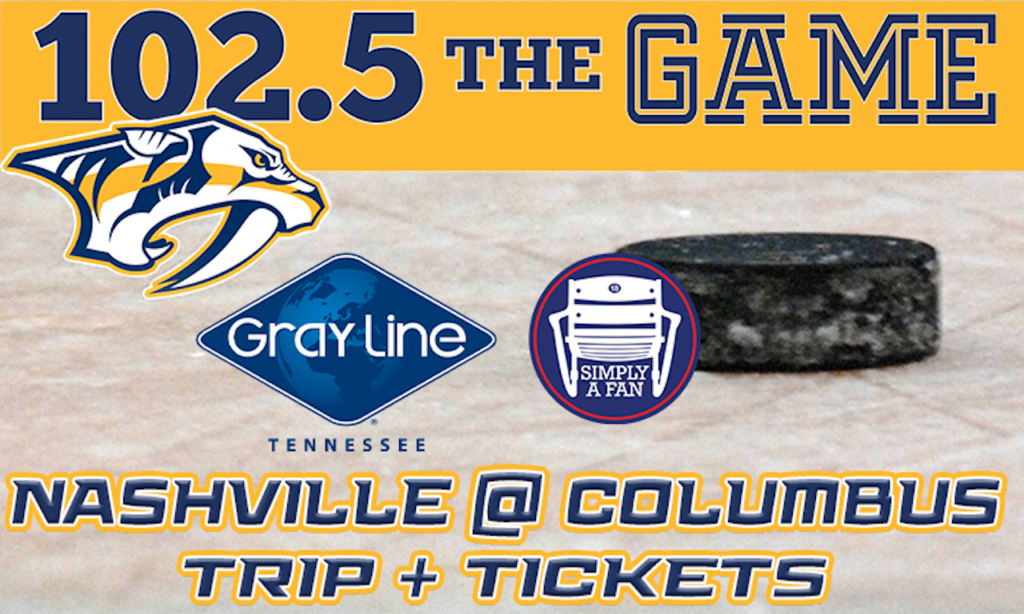 WHEN
March 14-15
WHERE
Nationwide Arena
Columbus, Ohio
TRIP SUMMARY
ESPN's 102.5 The Game and Simply A Fan are collaborating on this charter bus road trip from Nashville to Columbus to see the Predators take on the Blue Jackets! Below you will find the trip schedule, package cost, how to register and other items of note.
TRIP SCHEDULE
Saturday, March 14th
7:30 a.m. – depart Nashville
3:30 p.m. – arrive Columbus, Holiday Inn Downtown (checkin)
6:00 p.m. – doors open, Nationwide Arena
7:00 p.m. – Nashville Predators @ Columbus Blue Jackets
Sunday, March 15th
9:00 a.m. – depart Columbus
5:00 p.m. – arrive Nashville
Eat breakfast before you arrive on Saturday. We will stop for lunch, which is not included in the cost of your package. We will make one rest stop along the way to and from the game.
PACKAGE COST & DETAILS
The package price is based on the number of hotel rooms how many spots on the bus and game tickets you purchase for your party. Double occupancy comes to $219 per person.
• hotel rooms are $130 each
• each bus spot and game ticket combo are $154 per person
• charter bus roundtrip ground transportation from Nashville to Columbus
• game ticket in upper level of Nationwide Arena
• one night hotel stay, Holiday Inn Downtown (0.9 miles from Arena)
• a tour guide for your detailed trip itinerary
• there will be 102.5 The Game and Predators giveaways
• an unforgettable road trip hockey adventure!

ITEMS OF NOTE
Age Limit. This is a family-friendly adventure, however there is minimum age of 4 years old for this adventure.
Alcohol Policy. Alcohol is not permitted on the charter bus and will be disposed of immediately. Public intoxication is also not allowed on the bus. Passengers will have to make alternate transportation arrangements.
Group Size. There will be 56 people aboard the charter bus!
Luggage. Please limit yourself to one small suitcase and carry-on bag / backpack.
Charter Bus. Transportation is provided by Grayline. Charging stations, Wifi are available on the bus. A restroom is available in lieu of an emergency. We will make appropriate stops along the way. Upon arrival in Columbus, the charter bus will stay parked at the Holiday Inn. The Blue Jackets' Nationwide Arena is within walking distance of the hotel only 0.9 miles away.
Departure & Parking. To be determined, will be in follow up communication.
Payments. Payments are nonrefundable.
SECURE YOUR SPOT
Registration will be open on Monday, February 17th.
DISCLAIMER
Simply A Fan, LLC is a family-owned, Nashville-based company and is neither affiliated, nor endorsed by, the Nashville Predators, Columbus Blue Jackets or the National Hockey League.
---
FREQUENTLY ASKED QUESTIONS
What is Simply A Fan?
Simply A Fan is a Nashville-based, family-owned sports travel and adventure company that organizes sporting trips to ballparks, stadiums and arenas across the country. Adventures with Simply A Fan are more than just a ballgame, but are designed to take all of the hassle of logistics off you the fan, creating opportunities for you to enjoy your trip in fellowship and community with others. We act as both the travel agent and the tour guide from all the from all of the pre-trip logistics (hotel, ground transportation, game tickets, trip add-ons, daily itinerary) to the execution of the trip itself.
In 2018 and 2019 Simply A Fan organized and mobilized 22 baseball and football trips there were comprised of over 500 people.
How can I support and follow Simply A Fan?
There are tangible ways you can simply get aboard this grand adventure.
(1) Subscribe to the mailing list where you will receive periodic emails full of baseball stories and upcoming trips. To subscribe, click here. If our baseball spam ever becomes too much, you can always unsubscribe!
(2) Follow Simply A Fan on social media – Facebook, Instagram, Twitter.
Are meals included in this package?
No meals are included in the package options above.
What other trips does Simply A Fan have coming up?
Click on the following link to see all of the upcoming adventures – Trips.
What else does Simply A Fan offer in addition to organizing trips?
We tell and share baseball stories! Click this link to find all sorts of stories from the stands – Stories
---

FEATURED IMAGE PROVIDED BY
ESPN 102.5 The Game