by Kerry Patterson
Although I have lived in locations that were within easy striking distance of attending a Major League Baseball game throughout my life, it had been 14 years since I had last seen a game. As a matter of fact I've probably been to less than 10 games ever. My last game was actually a Nationals game in their first season in Washington, during their short tenure at RFK Stadium. I am not an avid baseball fan myself, but my son Chad is and I am a big fan of his.
Last week after the World Series opponents were set, I got an itch to break my nearly decade and a half streak. So I contacted my friend, Mark Jent, the chief trip planner for Simply A Fan to seek his assistance to help me make it happen. Mark quickly jumped into action, bought me an airline ticket and secured two tickets to Game 4 of the World Series at Nationals Park in DC. The second ticket was for Chad who had attended the game with me at RFK, still lives in the DC area and is a huge Nats fan. He didn't know I was even thinking about it until I called him on that Monday and told him I was coming to pay him a visit and was surprising him with tickets to Game 4 of the World Series on Saturday night.
This spontaneous adventure not only ended my long streak of no major league baseball, but more importantly we got to spend quality father-son time together in an electric atmosphere at the ballpark. The featured image of this story shows us wearing a Nationals' NLCS "FINISH THE FIGHT" shirt from our seats high atop Nationals Park. (Chad bought my shirt since I didn't own any Nats apparel!)
Although it was a great time together for us, a Nationals win in Game 4 was the only thing missing from this trip being all we had hoped it would be. (The Astros prevailed 8-1.) After the Nationals masterful evening in Game 6 last night, it is our hope that the "host team losing pattern" holds true for Game 7 and the only thing missing from our Game 4 experience will be realized in Game 7 by the Nationals winning and taking the series.
Let's Go Nats!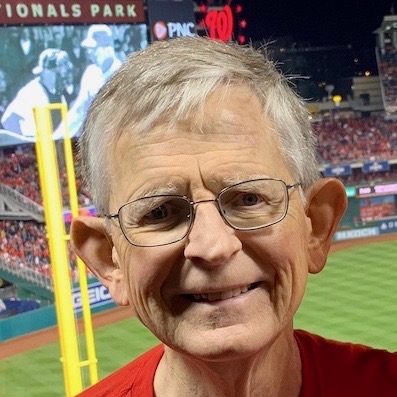 Kerry Patterson and his wife Carolyn live in Brentwood, Tennessee. Kerry is a retired mechanical engineering professor from Lipscomb University. He and Carolyn have two sons and five grandchildren and are active members of the Otter Creek Church in Brentwood.
FEATURED IMAGE:
10.26.2019 – Kerry and Chad Patterson
Nationals Park, World Series Game Four
FOLLOW SIMPLY A FAN
Want to support and follow along Simply A Fan? Click here to subscribe to receive periodic emails full of baseball stories and upcoming adventures. You can unsubscribe any time.
READ MORE
Click here to read more stories from Simply A Fan.
UPCOMING ADVENTURES
Looking for a fun baseball adventure? Click here to see all of the scheduled upcoming trips.