by Mark Jent
With the regular season behind us and October baseball underway, I found myself thinking of a few notable milestones from this season. If you are a stats-person or a regular scroller on Twitter, most of these will not be news to you. But to the casual fan, they might be note-worthy, interesting, quirky or fun. Enjoy.
The Magic & Despair of 100
There were four teams this year that won 100 games – Astros (107), Dodgers (106), Yankees (103) and Twins (101). There has never been a season in baseball history when four teams won 100 games.
On the contrary, there were also four teams that lost 100 games – Tigers (114), Orioles (108), Marlins (105) and Royals (103). There has never been a season in baseball history when four teams lost 100 games.
The Really Bad Tigers
The Detroit Tigers had a really bad season. It may not be the worst season in baseball history by all measurements, but it was really bad. They finished the season 47-114. They finished 53.5 games behind the first place Twins in the AL Central. In order for the Tigers to catch the Twins in the standings, it would take nearly 8 weeks of the Tigers winning every game while the Twins lost every game. They also tied the 1939 St. Louis Browns for the most losses at home in baseball history with 59.
The Smashing Polar Bear
Mets rookie phenom 1B Pete Alonso made his major league debut on Opening Day this year – March 28th. He proceeded to hit a lot of home runs. On June 23rd Alonso hit his 27th home run of the season, which broke the Darryl Strawberry's rookie record of 26 from 1983. On August 28th Alonso hit his 42nd home runm of the season, which broke Todd Hundley's franchise record of 41 from 1996. On Sunday, the final day of the season, Alonso hit his 53rd and final home run of the season, which broke Aaron Judge's MLB record of 52 home runs by a rookie from 2017.
Pete Alonso also hit 57 at the Home Run Derby in July and gave away $100,000 of his winnings to the Wounded Warrior Project and Tunnel to Towers Foundation. Oh, and his nickname is Polar Bear.
3,000 Strikeouts
Two players joined the exclusive club of 3,000 career strikeouts. Coming in to the 2019 season there were less players who had accomplished this feat than players who have hit 500 home runs (27) or won 300 games (24). The Yankees CC Sabathia became the 17th player in history on May 1st when he recorded his 3,000th. The Astros Justin Verlander became the 18th player in history recorded his 3,000th strikeout on Saturday night becoming the 18th.
Last Saturday in the game that Verlander recorded his 3,000th career strikeout, he also recorded his first career 300 strikeout season. This put him in company all by himself as the only player in history to record his first ever 300 strikeout season in the same year in which he recorded his 3,000th career strikeout. On top of that, he did them both IN THE SAME GAME just one inning a part from each other. Quite an amazing feat.
The Coaching Carousel
Managing a major league baseball team is an interesting job. If you do a really bad job, you get fired. If you do a really good job, you get fired. If you do a mediocore job for a long time, win a few important games in October, you get to keep your job and one day wind up in the Hall of Fame.
The Chicago Cubs have been around since 1876. When the Cubs played their first baseball game the Civil War had only been over for 11 years and Civil War commanding general Ulysses S. Grant was serving as the 18th President of the United States. The Cubs have been around for 134 season, so they are a really old and historic baseball franchise.
All that to say, Cubs manager Joe Maddon just completed the greatest five year stretch in the history of the Chicago Cubs. Over this five year stretch he won 471 games and his .581 winning percentage makes him the winningest manager in Cubs history. He led the Cubs to the playoffs four straight seasons, something that had never happened in club history. He led the Cubs to three straight National League Championship Series. And he most famously led the Cubs to the 2016 World Series to break the team's 108 year old curse. After Sunday's final game of the season, he was not retained by the Cubs and is currently a free agent manager.
Andy Green was hired to the manager of the San Diego Padres in 2016. Over four seasons at the helm, Green won 274 games and lost 366 games. His team finished in last place, 4th place, last place and 4th place. Green was fired by the Padres because his team was really bad and he never stood a chance.
After 25 seasons of managing for two teams, Bruce Bochy retired on Sunday. Bochy managed the Padres for 12 seasons from 1995-2006, then the Giants for 13 seasons from 2007-2019. A few weeks ago as the season was coming to an end, his career record was 1995-2019 which matched his years managing 1995-2019. Bochy finished his career with a record of 2003 wins and 2029 losses.
In his 25 seasons, he had 13 losing seasons where his team finished below .500. Bruce Bochy's legacy will best be known for winning three World Series with the Giants in 2010, 2012, 2014. He announced his pending retirement back in spring training. Rightfully so, Bruce Bochy was honored throughout the season at ballparks across America and his career was celebrated last weekend in San Francisco as he closed out his career. Bochy will inevitably be inducted into the Hall of Fame in 2021.
Andy Green had a losing record and was fired. Bruce Bochy had a mediocre career record and was celebrated. Joe Maddon did something that no manager has done since before cars and airplanes were invented and his services were not retained.
The Greatness of Trout
Angels CF Mike Trout is a really good baseball season. At 28 years old, Trout just completed his 8th full season in the big leagues. He made his major league debut on July 8. 2011 when he was 19 years and 335 days old. He was the youngest player in baseball. The next season in 2012, he was unarguably the best player in the game.
He has made the All-Star team eight times. He has won a Silver Slugger award six times. He won the AL Rookie of the Year award in 2012. He won the All-Star Game MVP in 2014. H won the AL MVP in 2014 and 2016. He finished 2nd in AL MVP voting four other times, all of which he should have won. Last month he became the youngest player in MLB history to reach 200 home runs and 200 stolen bases.
To put the greatness of Mike Trout in perspective, let's look at who he passed this season on the all-time WAR list. For those not used to newer statistical measures, WAR stands for Wins Above Replacement, and measures a player's total contributions to his team versus a replacement level player. In this new age of available data, many see WAR as the statistic that is most accurate in showing one's value over batting average, home runs, rbi's, hits, etc…
At the end of this season Trout has accumulated a career 72.5 WAR. Every month of every season he passes players on the career WAR list that make you pause and think "Wait, what? Are you serious? He's already better than that guy?" In 2019 Mike Trout passed the following Hall of Famers in career WAR: Dave Winfield, Roy Halladay, Willie McCovey, Andre Dawson, Craig Biggio, PeeWee Reese, Duke Snider, Joe Cronin, Don Sutton, Don Drysdale, Roberto Alomar, Ernie Banks, Ryne Sandberg, Carl Hubbell, Jim Palmer, Edgar Martinez, Carlton Fisk, Pudge Rodriguez, Eddie Murray, Al Simmons, Red Ruffing, John Smoltz, Tony Gwynn, Tim Raines, Gary Carter, Barry Larkin, Ron Santo, Alan Trammell and Johnny Mize. Reminder those are JUST the hall of fame players he passed with his 8.3 WAR this season.
Oh and he also just passed 2020 Hall of Fame inductee Derek Jeter, who played 20 seasons to accumulate his 72.4 career WAR.
Stats are fun.

FEATURED IMAGE:
March 2018 – Arizona Spring Training
---
FOLLOW SIMPLY A FAN
Want to support and follow along Simply A Fan? Click here to subscribe to receive periodic emails full of baseball stories and upcoming adventures. You can unsubscribe any time.
READ MORE
Click here to read more stories from Simply A Fan.
UPCOMING ADVENTURES
Looking for a fun baseball adventure? Click here to see all of the scheduled upcoming trips.
---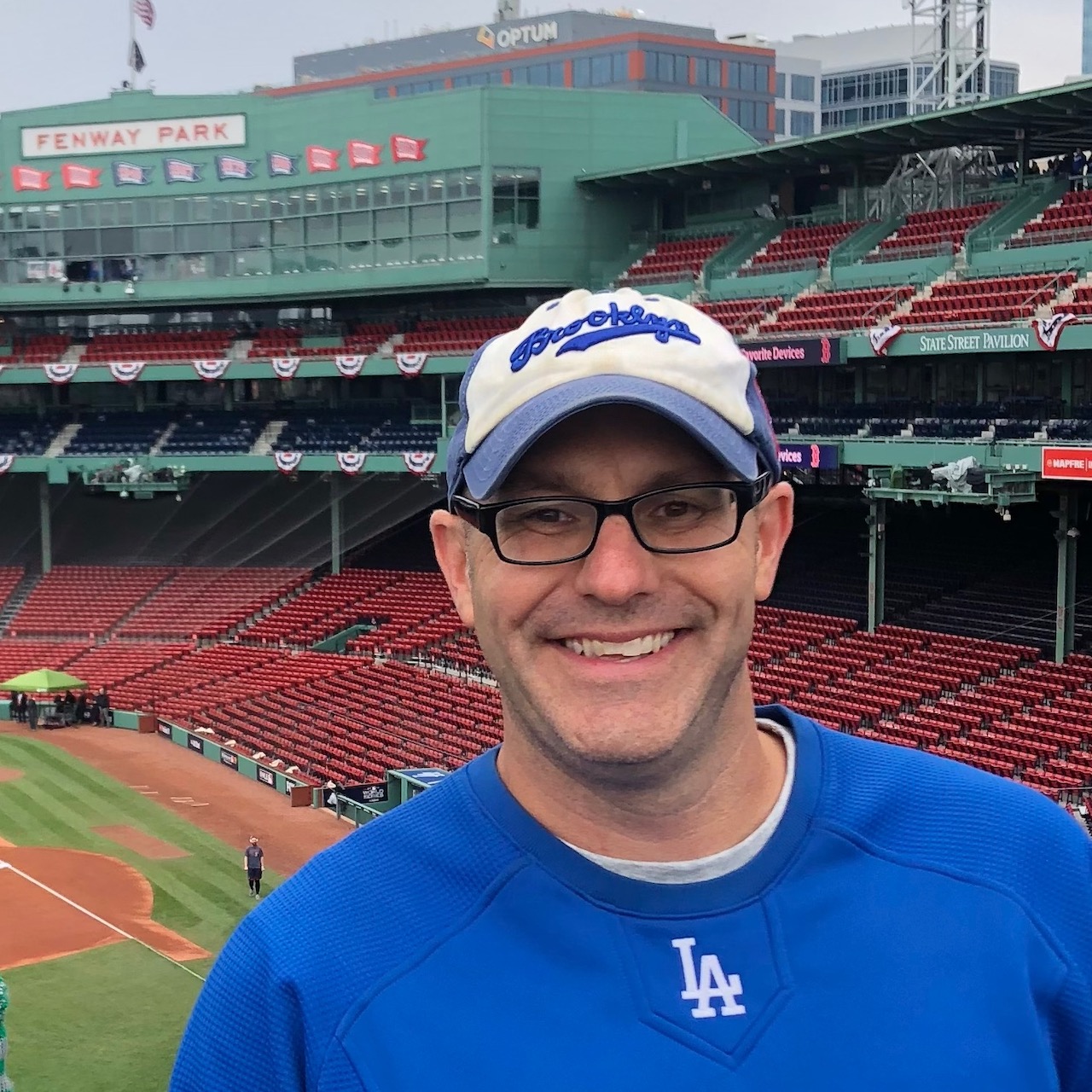 Mark Jent is the chief trip planner and designated storyteller for Simply A Fan. He lives in Nashville with his wife Beth, and their three kids, Brooklyn, Harrison and Zach. He enjoys cheering on his Dodgers, reading baseball history, hiking at Radnor Lake and chasing waterfalls throughout Tennessee with his family. He launched Simply A Fan in July 2018 with the two-fold purpose of taking people on adventures to ballparks across the country and providing fans a platform to share their baseball stories. He is currently on a quest to meet as many of the living Brooklyn Dodgers as possible.