by Mark Jent
This is what makes baseball adventures fun. Meet my friend Emily Rickelton. Her and her husband Michael, their two kids & his parents all joined us two weeks ago in Baltimore for the first stop of our Epic East trip, Dodgers-Orioles from Camden Yards. They live in Baltimore plus Michael is a huge Dodgers fan like myself. Their boys names are Clayton and AJ. Yes the same as the Dodger best friends and (former) teammates Clayton Kershaw and AJ Ellis. Some how, albeit ironic or not – Clayton and AJ are both family names. How convenient for someone who bleeds Dodger blue?!?!
I've known Emily for 16 years, almost to the day! When I started working with Lipscomb Missions in the fall of 2003, she was the very first student who committed to believe in me enough to go on a mission trip with me in my new gig. Emily was a sophomore at the time and was more experienced in going to serve at the orphanage in Mexico than I was, the team leader. I was brand new being on staff and looking for a new mission team to lead. Emily had been to serve with Ciudad de Angeles with her youth group in high school from Charlotte, NC. So as I was searching for students to join the trip, she said "I'll go and I'll help you lead it." So that she did.
Little did we know what that would look like all these years later. Not only did she go that first year, she continued to go every year of college she had left, then stayed aboard as a volunteer alumni team leader. In total she went with me and Beth and our teams to Cozumel for eight years. Even after her and Michael moved to Baltimore, she continued to return with us to encourage and love on our friends at Ciudad de Angeles. We have traversed hundreds of miles together on the dusty streets of Cozumel walking back and forth to the home. We had many days playing with kids, visiting our friends at the church and late nights with our Cozumel teams at the Mirage where we stayed among so many other adventures. Beth and I look back fondly on that chapter of our lives and students like Emily are the ones who we love dearly and made the job so much fun along the journey.
Fast forward all these years later. When I was planning this Epic East trip, Emily saw that we were going to be in Baltimore for Dodgers-Orioles and she wanted her whole family aboard. "Mark, I want our family to buy tickets with your Simply A Fan group, " she said.
It was so much fun to have three generations join us! It was a game in which she bought tickets through me with Simply A Fan, but then I bought our group of ten tickets through Pantone 294, a massive Dodgers fan club. So not only did we get to experience a Dodger game together, but we did so with 300 other Dodgers fans!
During the game it occured to me that not only was Emily the first student who jumped aboard a mission trip with me at my previous job, but out of the hundreds of students who went with us on mission adventures over my nearly 15 years, she was now the first former student who signed up for a baseball adventure with my new venture Simply A Fan. Emily is a special person and hence why I titled this article "A First Twice."
FEATURED IMAGE:
September 12, 2019 – outside Camden Yards
---
FOLLOW SIMPLY A FAN
Want to support and follow along Simply A Fan? Click here to subscribe to receive periodic emails full of baseball stories and upcoming adventures. You can unsubscribe any time.
READ MORE
Click here to read more stories from Simply A Fan.
UPCOMING ADVENTURES
Looking for a fun baseball adventure? Click here to see all of the scheduled upcoming trips.
---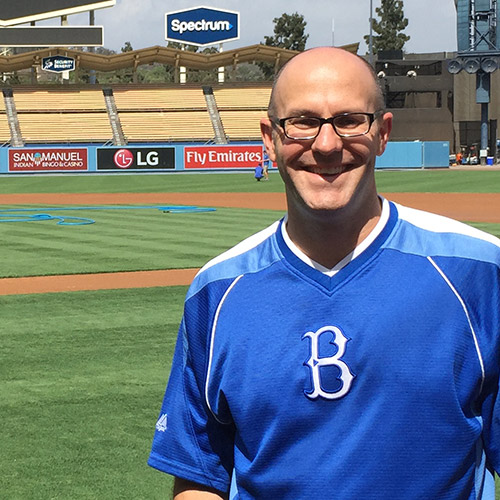 Mark Jent is the chief trip planner and designated storyteller for Simply A Fan. He lives in Nashville with his wife Beth, and their three kids, Brooklyn, Harrison and Zach. He enjoys cheering on his Dodgers, reading baseball history, hiking at Radnor Lake and chasing waterfalls throughout Tennessee with his family. He launched Simply A Fan in July 2018 with the two-fold purpose of taking people on adventures to ballparks across the country and providing fans a platform to share their baseball stories. He is currently on a quest to meet as many of the living Brooklyn Dodgers as possible.