September 1, 2019
2019 World Series Game One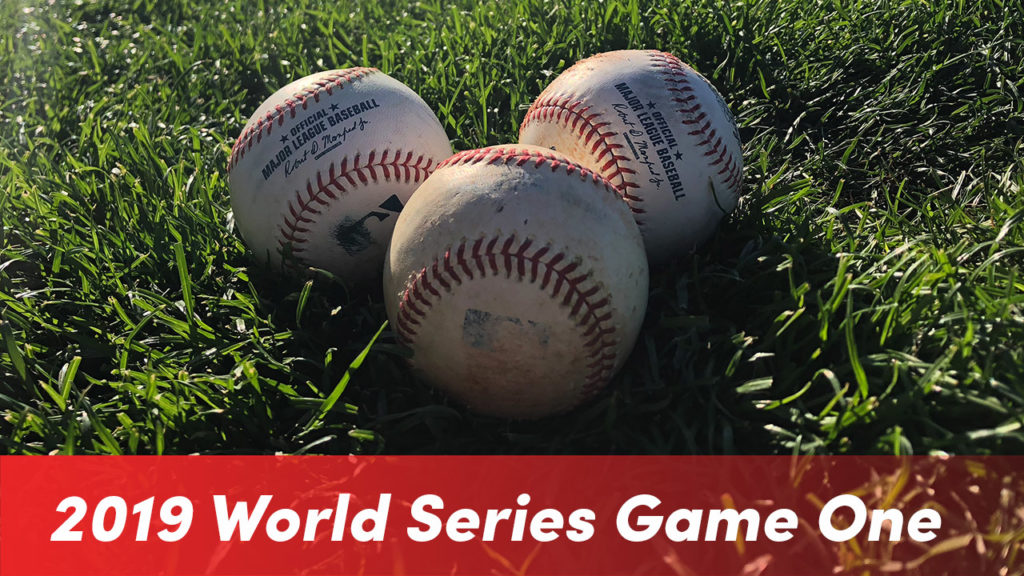 WHEN
Tuesday, October 22nd
WHERE
To Be Determined
WHAT
2019 World Series Game One
TRIP SUMMARY
This is a two day, overnight baseball adventure to Game One of the 2019 World Series! Location is to be determined, but research and logistics have been put in place to accommodate fans wherever the host city is located. Below you will see a sample itinerary, an estimated trip cost and the variables that go into planning a last minute trip of this nature. As you will see below, you can go ahead and secure your spot with only a $300 deposit!
TRIP SCHEDULE
Tuesday, October 22nd
– Arrive host city
– Ballpark tour
– Gates open
– First pitch – Game One, World Series
Wednesday, October 23rd
– Depart for home
ACCOMMODATIONS
Hilton Honors hotels have been booked in seven different cities.
PACKAGE COST & DETAILS
Full package is an estimated $2,200 if Houston or New York are the host cities for Game One.
• Please read the "Variables" section below for how the price could fluctuate if St. Louis is the host city or for a St. Louis Game Three option.
• If necessary, roundtrip airfare from city of your choice to host city.
• 1 nights accommodations at a Hilton Honors member hotel
• Ground transportation throughout the trip
• Ticket to the World Series Game One
• A tour guide for your detailed trip itinerary.
• An unforgettable baseball adventure!
VARIABLES
Obviously planning a trip of this nature involves several unknown variables, but the estimated cost of $2,150 is based on Simply A Fan having attended the 2017 (Los Angeles) and 2018 (Boston) World Series Game Ones. Hilton Honors member hotels (Doubletree by Hilton, Hampton Inn, etc…) are already reserved and have been narrowed down to three cities – Houston, New York and St. Louis. As the playoff pictures comes into focus and the NLCS and ALCS opponents are determined, the hotel reservations in these cities will be adapted accordingly. Due to the last minute nature of the trip, the quoted package has $500 person slotted for airfare. If airfare is higher, your trip cost will be adjusted accordingly.
If New York is the host for Game One, the trip cost will increase slightly due to the additional cost of the Hilton Honors hotel reserved in New York City.
If St. Louis is the host city for Game One, flights will be subtracted and the reserved hotel is cheaper, therefore making the trip package significantly cheaper. Stay tuned here for an updated price for the package.
If St. Louis wins the National League pennant, Simply A Fan is prepared to mobilize fans to World Series Game Three at Busch Stadium on Friday, October 25th. We realize this option might be more appealing to some Cardinals fans from Middle Tennessee seeing that it would be cheaper with no flights, cheaper hotel, etc… (FYI – Simply A Fan is based out of Nashville.)
SECURE YOUR SPOT
To secure your spot you need to register and pay a $300 deposit. Please click on the red "Register" button above or below to complete the registration. You will then be directed to pay online or by check. A minimum of 5 people are needed. Deposits are non-refundable if the trip makes the trip minimum and you choose not to go. Deposits are refundable if the trip does not meet the trip minimum.
If you are interested, but not ready to make a commitment depending on matchups and would like to let us know of your interest, please email Simply A Fan's chief trip planner, Mark Jent, at markjent@simplyafan.com.

---
FREQUENTLY ASKED QUESTIONS
What is Simply A Fan?
Simply A Fan is a Nashville-based sports travel and adventure company that organizes baseball trips to ballparks across the country, while also providing a platform for baseball fans everywhere to share their personal baseball stories.
How can I support and follow Simply A Fan?
There are tangible ways you can simply get aboard this grand adventure.
(1) Subscribe to the mailing list where you will receive periodic emails full of baseball stories and upcoming trips. To subscribe, click here. If our baseball spam ever becomes too much, you can always unsubscribe!
(2) Follow Simply A Fan on social media – Facebook, Instagram, Twitter.
When will we know if the trip is confirmed?
You will be updated along throughout the process on confirmations. As soon as we hit the minimum five people, the trip will be confirmed and you will be informed and invoiced accordingly.
Are meals included in this package?
No meals are included in the package options above.
If I have hotel points / rewards for the hotel we are staying at, can I save money and my trip cost be adjusted?
Yes, we will gladly accommodate if able. You will be responsible for booking your own reward travel. If staying at our accommodations, that would be great, but if staying elsewhere, you will likely be for your own ground transportation to and from events. Inquire within for specifics budget adjustment.
If I have airline points / rewards for the flight, can I save money and my trip cost be adjusted?
Yes! You will be responsible for booking your own reward travel and your trip cost will be adjusted accordingly. Inquire within for specifics budget adjustment.
What other trips does Simply A Fan have coming up?
Click on the following link to see all of the upcoming adventures – Trips.
What else does Simply A Fan offer in addition to organizing trips?
We tell and share baseball stories! Click this link to find all sorts of stories from the stands – Stories
---
FEATURED IMAGE
March 2018 – Arizona Spring Training