by Rob Touchstone
I loved Mary Gill like a grandmother. After working on a church staff with her for almost 11 years I could share many memories but this story and these pictures represent my favorite. Mary and I had much in common, including our love for the Atlanta Braves. It seemed almost every day we'd have some kind of conversation about baseball. When they weren't playing well I'd often be greeted at the church office door with, "Rob, what are we going to do with our Braves?"
Several years ago, I said "Mary, we're going to a game. Together. You and me." I don't think she believed I was serious at first. But I kept insisting. She'd laugh it off and say, "Well I'm probably too old to make the trip." But she always grinned, just daring me to formally ask, hinting, "But I just might try."
The perfect opportunity arose and she couldn't resist. It was October of 2012. The 162 game regular season had ended and the Braves would face the Cardinals in the inaugural Wild Card Playoff game to determine who would move on to the National League Division Series. Even more dramatically Chipper Jones had announced his retirement that season so everyone knew this was potentially the last time we'd ever see him take the field after a Hall of Fame career.
We loaded up and made our four hour trek to Atlanta. I told her we were going to take the Jeep with the top and doors off, but showed up in my wife Aimee's mini-van. I think she was disappointed but she got over it. Now she didn't have to worry about her hair.
My son John Mark joined us for what became his first MLB game. The three of us talked life and baseball all the way while listening to all the pregame excitement on the radio. As always, Mary was filled with such joy. She was posing for selfies with us on the MARTA ride all the way to our seats at Turner Field.
To say we had a great time would be putting it mildly. It was a riot. Almost literally.
We experienced one of the most controversial infield fly rule calls in baseball history that invoked the wrath of the entire stadium. I've been to hundreds of Braves games and have never seen anything like it. Thousands of fans revolted, littering the field with trash for a solid 30 minutes even when the PA announcer warned three times that the game was going to be forfeited if they didn't stop. We kind of nervously giggled our way through it trying to entertain John Mark in hopes he wouldn't hear all the obscenities being shouted at the umpires. My running joke was that Mary caused the whole thing by throwing her cup onto the field. If you didn't know her this was made even funnier by the fact that she would have been the last person on earth to do such a thing.
The game finally resumed after what must have been the longest fan-induced stoppage of play in Major League history.
We cheered. 

We chanted. 

We chopped. 

We laughed. 

We agonized.

…and we nearly cried.
Our beloved Braves couldn't quite overcome. They lost 6-3. We had witnessed with our own eyes what became Chipper's final major league at bat, an infield single. And we had stood with him and our beloved Braves until the very end.
I think we griped about that lousy call all the way home. Like always, our conversation came back to Jesus. I may or may not have convinced her that the enforcement of the infield fly rule we witnessed was a good example of the dangers of legalism.
Our conversations did indeed almost always come back to Jesus. Because faith, hope, and love was the ultimate thing we had in common. Mary was joyous about baseball. But that was nothing compared to how joyous she was about Jesus. He was her true love.
I am so blessed to have witnessed the last few innings of a life so beautifully lived. In the bottom of her ninth inning I have no doubt she was cheering for Jesus more than ever even if her body couldn't keep up. And I know He cheered for her in her final at bat a few weeks ago as He welcomed her into His arms more fully than ever.
I love you, Mary. I don't know if we'll still be talking about baseball in heaven. But I do know we'll talk about Jesus. Better yet, we'll talk directly to Jesus. Together. Maybe He can explain that silly infield fly rule.
*This story originally appeared on Rob's Facebook page and was re-purposed with his permissions for Simply A Fan.
---
FEATURED IMAGE:
Turner Field, October 2012 – Mary with Rob and John Mark at Game 163 between the Braves and Cardinals.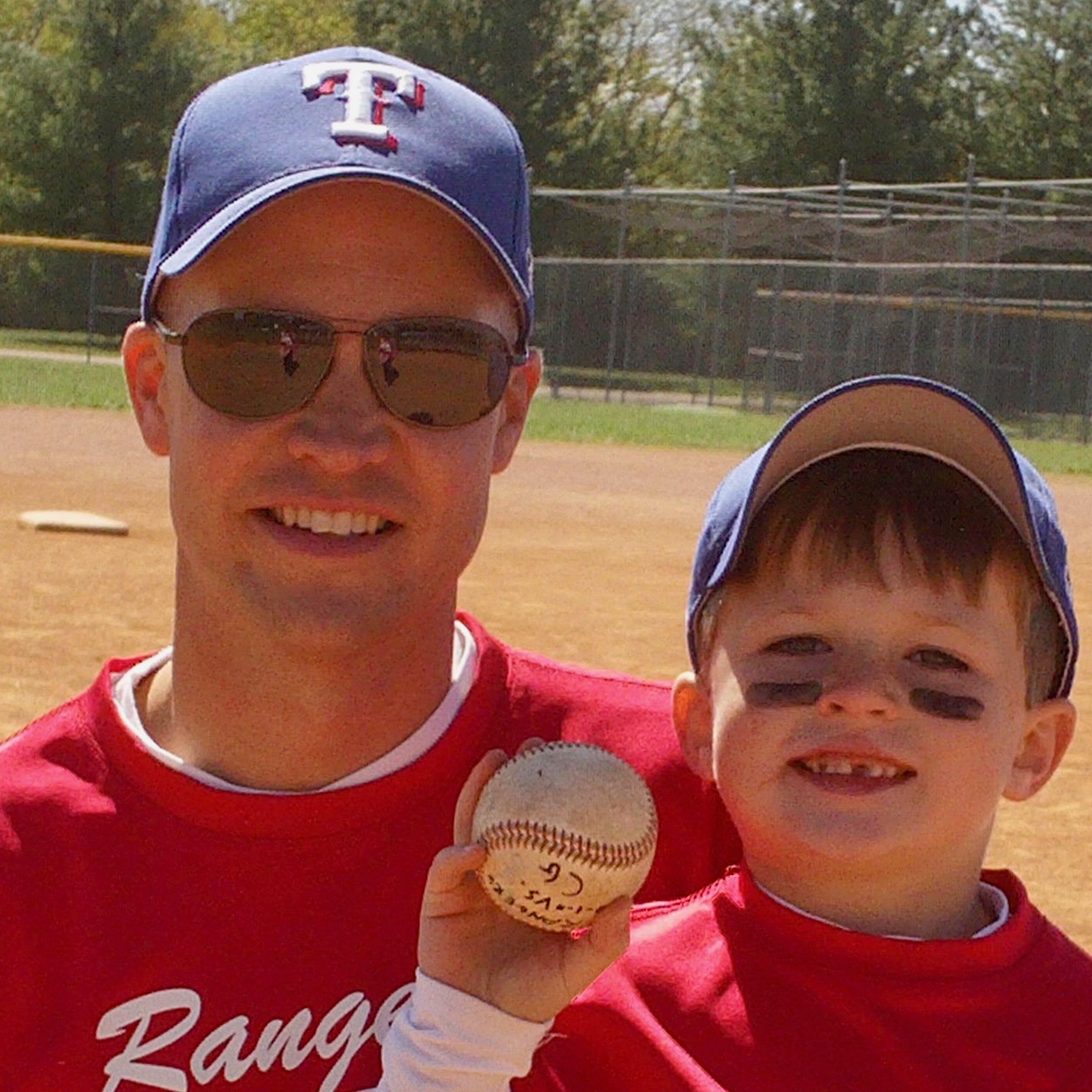 Rob is the creator and Director of the Center for Business As Mission at Lipscomb University in Nashville where he teaches and mentors students at the intersection of faith and marketplace.  He is happily married to Aimee and they have four children. Rob grew up in the Atlanta area playing in the baseball hotbed of East Cobb where he still proudly wears a scar under his left eye from the stitches of a baseball.  He has cheered for the Atlanta Braves from birth and attended more games at the original Fulton-County stadium than he could ever count. Rob played baseball in high school in Baltimore where he also became an Orioles fan and attended the 2nd game ever played at Camden Yards.
---
READ MORE
Click here to read more stories from Simply A Fan.
UPCOMING ADVENTURES
Looking for a fun baseball adventure? Click here to see all of the scheduled upcoming trips.

FOLLOW SIMPLY A FAN
Want to follow along with the latest stories from Simply A Fan? Click here to subscribe to receive periodic emails full of baseball stories and upcoming adventures. You can unsubscribe any time.
---