by Ryan Davis

I have been a baseball fan since I fell in love with the Boston Red Sox in the summer of 1986 when I was 8 years old. That was also the year I learned what being a Red Sox fan was all about. I am a high school history teacher and one of the things that drew me to the Red Sox was their history. It started out great in the early 1900's as they won the first World Series in 1903 and then five of the first fifteen World Series overall. Everyone knows what happened next, Babe Ruth was sold to finance No, No Nanette to the hated New York Yankees and followed by decades of mediocrity at best.  Over the next 85 years the Red Sox went to four World Series and lost them all four games to three. None was more heartbreaking than my first World Series that I remember in October of '86. Winning 5-3 in the bottom of the tenth inning, the Red Sox were one strike away from the first championship in 68 years. Then the bottom fell out. Single. Single. Single.  Wild Pitch. Error. Just like that, the game was over Mookie Wilson raced down the first base line and Ray Knight came around to score. Prior to that last at-bat of Game 6, the New York Mets scoreboard was congratulating the Red Sox for winning the World Series. The champagne was on ice in the visitor's clubhouse. But after one of the most infamous plays in baseball history, it was over. Although the series was now tied 3-3, the Mets had home field advantage and all the momentum going into the decisive Game 7, which they won 8-5. That, my friends, was my introduction into being a Boston Red Sox fan.
I have been to see the Red Sox in person 11 times.  The first was the most memorable. It was 1990 on my 12th birthday.  We were having a family reunion in New Hampshire. My mom and dad surprised me with a visit to historic Fenway Park. We scalped some tickets and watched the Red Sox play the Texas Rangers. Nolan Ryan was pitching for the Rangers and I saw him strikeout Wade Boggs three times. (A five time batting champion and future Hall of Famer, this feat was one of only thirteen times in Boggs' career that he did that.) The game was tied 2-2 in the bottom of the 9th inning when the Red Sox's Kevin Romine hit a walk off homerun off Kenny Rogers to win the game! I have been back to Fenway four other times – in 2008 for my one-year anniversary and for three games with Simply a Fan in May of 2018. I have seen the Red Sox play in Cincinnati and Atlanta six times. I grew up in Tennessee, but live in Kentucky now, so St. Louis and Cincinnati are where I get to see most of my baseball these days.
Another baseball moment that stands out to me was a game in Cincinnati in the fall of '98 when Mark McGwire and Sammy Sosa were chasing Roger Maris' home run record. I was in college in Nashville at the time. Some friends and I looked at the schedule to estimate when McGwire might break the record and bought tickets for September 9th when the Cardinals played the Reds in Cincinnati. Unfortunately for us, McGwire broke the record the night before on September 8th against the Cubs in St. Louis. We just barely missed it! We went to the game anyway and saw him take one at bat and then sit down. While it was disappointing that we missed the record, it was still an  exhilarating moment as a baseball fan. The energy and applause that McGwire got is something that I will never forget.
As a Red Sox fan, I saw my team exit early from the playoffs in 1988, 1990, 1995, 1999, and 2003.  The Game 7 loss to the Yankees in the 2003 ALCS was one that I wasn't sure that I would be able to recover from. Former manager Grady Little is still a name that gets my blood pressure boiling! Grady left Pedro in too long, then Tim Wakefield floated a knuckler up to Aaron Boone who crushed it over the fence to send the Yankees to the World Series….again.
I let myself hope again in October 2004 only to find the Red Sox down 3-0 following a 19-8 beatdown at the hands of the Yankees. Something I have not mentioned yet is the fact that my father is a Yankees fan. He grew up outside of New York City while the Yankees were dominating baseball. He came by it naturally in the 60's. I'm sure it came as a shock to him that his only son became a Red Sox fan. To this point it must have only been a minor annoyance since the Yankees dominated the Red Sox completely up to this point. The day after going down 3-0, I was with my mom at Sam's Club when we ran into Dale Palmer, a Yankees fan and friend of my dad. He pulled up his sleeve to show a Yankees tattoo on his bicep and smiled at me. I wanted to strangle him, but with so many witnesses around I refrained. As he walked away laughing, my mom turned to me and said, "When the Red Sox win the World Series, I will pay for you to get a Red Sox tattoo." Since no team had ever come back from a 3-0 deficit in baseball history to win a best of seven series, I did not think much of it. Then the curse began to break and the Red Sox re-wrote the history books. We won Game 4 on a David Ortiz walk off homerun in extra innings. We won Game 5 on an Ortiz walk off single. We won Game 6 with the blood seeping through Curt Schilling's bloody sock, along with an improbable Mark Bellhorn home run and A-Rod slapping at Bronson Arroyo. We found ourselves in another Game 7, yet the outcome of this one was different. Behind Derek Lowe's strong pitching performance and a long line of home runs by Bellhorn, Ortiz, and two from Johnny Damon, my Red Sox won 10-3 and were headed back to the World Series for the first time in 18 years. The World Series was a blur. We swept the Cardinals 4-0 and were World Series champs! I vividly remember the feeling when the last out happened that night in St. Louis as I watched it on television from my old Kentucky home. Finally I knew what it was like to love a team that won the last game of the season. A few minutes after the final out, my mom called and asked when I wanted to get my tattoo. She kept her word.
October 27, 2004 – my life and fandom as a baseball fan changed that day. Instead of expecting the worst, I began hoping for the best. It is amazing what a 10 day stretch of baseball did for my perspective. Fast forward to now in 2019 and my Red Sox have won four World Series in fifteen years. It almost feels like we are back in the early 1900's again! Although I reside in Kentucky, I am thankful and blessed to be part of Red Sox Nation.
I became a Dad eight years ago. My wife and I were excited about being first time parents. And yes, we named our son Boston.
FEATURED IMAGE:
May 2018 – The Lone Red Seat. Ryan at Fenway Park by the famous red seat in right field. This is where Ted Williams' home run landed in 1946 that traveled an estimated 503 feet, the longest HR ever hit at Fenway Park.
---
READ MORE
Click here to read more stories from Simply A Fan.
UPCOMING ADVENTURES
Looking for a fun baseball adventure? Click here to see all of the scheduled upcoming trips.

FOLLOW SIMPLY A FAN
Want to follow along with the latest stories from Simply A Fan? Click here to subscribe to receive periodic emails full of baseball stories and upcoming adventures. You can unsubscribe any time.
---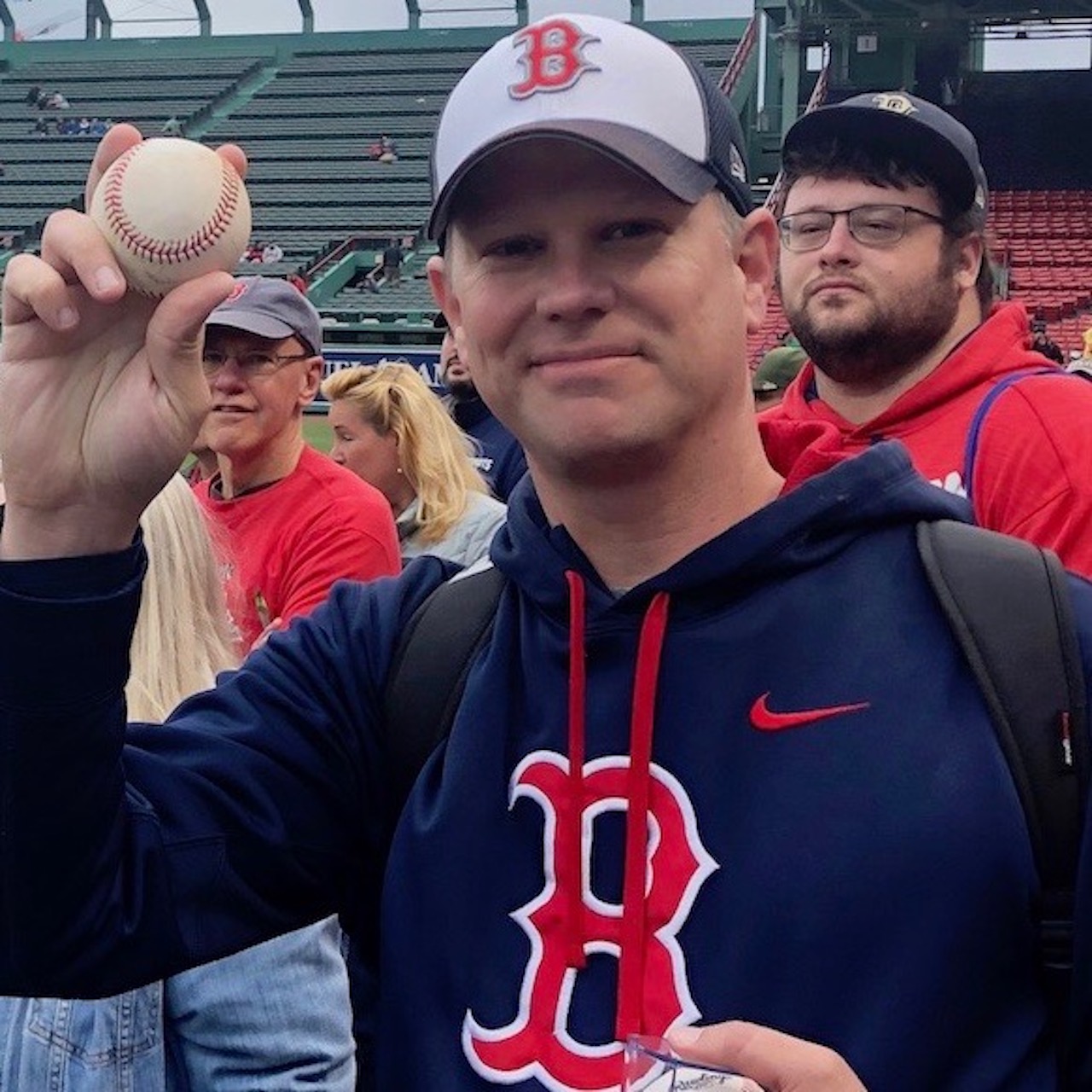 Ryan is a high school history teacher living with his wife and kids in Kentucky. A die-hard Red Sox fan, he has experienced the agony of defeat along with the exhilaration of victory during his 30+ years cheering on his Red Stockings. He enjoys fishing, crochet, collecting gold fish, mountain climbing and reading romantic novels.