by Mark Jent
About two years ago I had this idea. Beth and I were taking a pretty significant step of faith and entering uncharted territory for us and our family. She fully 110% supported it, actually encouraging me to go for it. We didn't want to look back at 50 years old with regrets and wish we had the courage to do something unthinkable at 40. So we jumped. With my passion for baseball combined with my experience in organizing travel, the idea was to see if we could create a business with a mission to mobilize as many baseball fans as possible to ballparks across the country. I will admit – Omaha, Nebraska was not in those plans! Yet over the past 11 plus months since we launched Simply A Fan, I've learned, like all small business owners, that you've got to be willing and flexible. This week has been so much fun and has not felt like work for a minute.
Sure, the business is not yet where we want it to be eventually, but it's also not where it was two years ago, when it was a mere "what if" dream. This week's trip to Nebraska marked my 3rd World Series in less than two years.
2017 World Series, Game 1 – LA
2018 World Series, Game 1 – Boston
2019 College World Series – Omaha
Friends, it has not been easy. As a matter of fact, it has actually been one of the hardest things I've ever tried to do. For every day you see a post from me about a trip, taking a few people to a ballpark or telling a story, there are probably twice as many days that I either wanted to or have almost quit. For those who've walked with me closely in the journey, thank you.
With this fifth adventure of the season, Simply A Fan just surpassed its total number of people on trips of 2018. Last year there were 133 different people who went on one of eleven trips. Actually some went two, three, four, five, six or even SEVEN times, for an overall total of 184. This trip gets us up to 135 for 2019. I came in to the season with a goal of taking 300 different people to a baseball game. There are some big things coming up the second half of the season so stay tuned – jump aboard if you ever want to, or just keep liking, sharing, tagging and tuning in to Simply A Fan TV!
To Todd Cyphers who planted the seed at Moe's in Brentwood a couple of weeks ago at a random chance encounter, thank you. To Chris Lee with VandySports.com who encouraged me to go for it, thank you. To Brian Holaway who lets me bounce all of my crazy ideas off him, thank you. To the 13 people who entrusted me this week very last minute to bring them 1,500 roundtrip miles to Omaha, thank you. It has been so much fun to road trip with complete strangers who are now friends.
And finally, thank you Omaha. #AnchorDown
FEATURED IMAGE:
June 26, 2019 – TD Ameritrade Park
College World Series, Game 3
---
READ MORE
Click here to read more stories from Simply A Fan.
UPCOMING ADVENTURES
Looking for a fun baseball adventure? Click here to see all of the scheduled upcoming trips.

FOLLOW SIMPLY A FAN
Want to follow along with the latest stories from Simply A Fan? Click here to subscribe to receive periodic emails full of baseball stories and upcoming adventures. You can unsubscribe any time.
---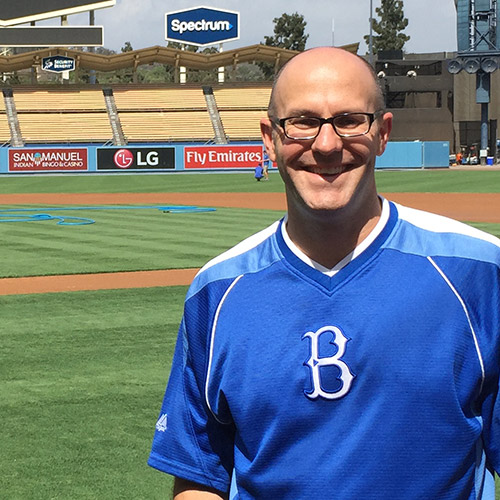 Mark Jent is the chief trip planner and designated storyteller for Simply A Fan. He lives in Nashville with his wife Beth, and their three kids, Brooklyn, Harrison and Zach. He enjoys cheering on his Dodgers, reading baseball history, hiking at Radnor Lake and chasing waterfalls throughout Tennessee with his family. He launched Simply A Fan in July 2018 with the two-fold purpose of taking people on adventures to ballparks across the country and providing fans a platform to share their baseball stories. He is currently on a quest to meet as many of the living Brooklyn Dodgers as possible.