by Mark Jent

He was signed by the Los Angeles Dodgers in 1994 as a 15 year old, found by a scout on a Dominican sandlot. When most 19 year olds are figuring their way through a freshman year of college or meandering through their first job, this guy was making his major league debut. When he became the Dodgers every day third basemen in his rookie season of '98, he was the youngest player in the league. When he took his jersey off for the final time last year, he was one of only two guys left who played in the 90's and the fifth oldest player in the league.
Along the way he often hit mammoth home runs from one knee. He would dance and jiggle his legs at the plate between pitches. When he was only four hits away from 3,000, he got ejected for moving the on deck circle. Last September in what would be his final road trip before retirement, he voluntarily participated in rookie dress up day with guys on his team who were in diapers when his illustrious career began. His character and reputation preceded him in every clubhouse he called home. In baseball circles he is known just as much for his contagious and jovial personality as he is for his accolades on the field.
This is the career of Adrian Beltre, who had his number 29 retired on Saturday night by the Texas Rangers in a pre-game ceremony in Arlington at Globe Life Park. Over the course of 21 seasons that saw him put up better numbers in his 30s than he did in his 20s, Adrian Beltre became one of the greatest players of his generation. In an era when most players begin to DH as they age, he continued to play third base as evidence by the fact that his 2,759 games at the hot corner rank second all-time, only trailing Brooks Robinson. His accomplishments and stats are staggering:

His 3,166 hits rank 16th all-time and are the most ever by a foreign-born player.

His 477 home runs rank 30th all-time.

His 1,707 RBIs rank 24th all-time.

His 11,068 at bats rank 8th all-time.

His 636 doubles rank 11th all-time.

His WAR of 95.6 is 26th all-time among position players, and trailed only Albert Pujols among active players before his retirement.  

He is the first player since 1940 to hit for the cycle three times in his career, and only one of three to accomplish the feat all-time.  

He made four All-Star Games, won five Gold Gloves and won four Silver Slugger awards.

And maybe the most impressive accomplishment of his storied career, Adrian Beltre and Carl Yastrzemski are the only two players in baseball history with 3,000+ hits, 450+ home runs, 600+ doubles and 5 gold gloves.
In July 2024 when he takes his rightful place on stage in that small central New York village as a first ballot Hall of Famer, he will be stand on that stage as one of the greatest third basemen in the history of baseball. Period. Kids, if you want to make the Baseball Hall of Fame one day, don't play third base! It is the most under represented position in Cooperstown with only 17 men having a plaque in the gallery. With names like Brooks Robinson, Eddie Mathews, Mike Schmidt, George Brett, Wade Boggs and Chipper Jones leading the way, some would argue that Adrian Beltre is in the top five or even as high as the top three of the best to ever play the game at his position! This guy was not just a good baseball player, he was historically great.
Beltre retired back in November with no "farewell season" fanfare like others have in recent years (i.e. – Rivera, Jeter, Ortiz, Sabathia). During his final season of 2018, he was presented with opportunities by the Rangers brass to be traded to a contending clubs so he could chase that elusive World Series title that he never achieved. With his 10/5 rights in his back pocket, he chose to finish his career as a Ranger with teammates he had mentored for years. Although it seemed inevitable the end was near, instead of making a big deal about it, he chose in his final game to just hug all of his teammates and coaches, tip his hat to the crowd, and walked off the field for the final time. Two months later, he then went the unconventional route of releasing a statement through the Rangers announcing his retirement.
Of course Adrian Beltre will be remembered for what he did on the diamond, but he might actually be remembered even more for his sense of humor that he took with him between the white lines. He loved playing baseball, he was funny and he didn't feel the need to separate the two.
Although I'm not sure I have much more to say than has already been written about Beltre, my friend and lifelong Rangers fan Karin Wheat encouraged me to do so. Since he was once a Dodger, she knew I have great admiration for Beltre. Like many Rangers fans, Karin found herself emotional on Saturday night watching the jersey retirement live as she reflected on the career of her favorite player. Watching from her house in Dallas, this was more than a ceremony for Karin, this moment honoring #29 that conjured up baseball tears in the best way possible saying, "I felt incredibly sad knowing we'll never see him again, but equally proud that he wore a Rangers uniform for eight seasons."
I have long admired Beltre's career, especially in recent years as he marched his way into the record books and paved his path to Cooperstown. Just like Dodgers fans think of Pedro Martinez and Mike Piazza in the same vain, I often think of Beltre as a Dodger "who also got away." Although each had journeys that led to their departures (Pedro and Piazza by trade, Beltre by free agency) their legacies should have been forever cemented in Dodger blue. And one day when Adrian Beltre's Hall of Fame plaque will bear the Rangers "T" on his cap, I can't help but think how it should be "LA" instead with how he could have been enshrined as an all-time great Dodger. In an age of free agency and trades for prospects, Adrian Beltre might not have been a Dodger for life, but he should have been a Dodger for longer.

He was scouted and signed by the Dodgers in '94 and ushered to the big leagues by Tommy Lasorda in 1998 when others thought he was too young. (Albeit he was improperly signed as a 15 year old when the international signing age was 16.) In his MLB debut he hit a double in his first at bat and would go on to hit more doubles than all but ten men who ever played the game. He hit his first career homer a week later when the Dodgers were playing in Arlington of all places, where he would end his career as a Ranger.
In 2004, in what would be his final season as a Dodger, he hit a franchise record 48 home runs, an impressive feat that still stands today for a team that dates back to 1891. During that '04 season, he helped lead the Dodgers to the playoffs for the first time in eight years and win their first playoff game in sixteen years. He would finish 2nd to Barry Bonds in the NL MVP award.
Then just like that, it was over. The future Hall of Famer who had been with the franchise for over a decade, left Los Angeles as a free agent for Seattle. As Dodger fans lament the fact, this wasn't because Beltre wanted to leave the only team he'd ever known, but Dodgers' General Manager Paul Depodesta decided he wasn't worth the money. (Thanks Paul.) Instead Depodesta decided to sign outfielder JD Drew who had a sub-par three years with the club. With Beltre gone, thus began the revolving door of various Dodgers' third basemen that lasted for over a decade until Justin Turner arrived.
I only ever saw Adrian Beltre play two games, both in August 2004 when my friend Drew Bingham and I took a road trip to Wrigley Field. With Drew a Cubs fan, we enjoyed two days of summer afternoon baseball watching our favorite teams as we enjoyed our seventh row seats behind the Cubs dugout (shout out to Spike O'Dell). To put in perspective how long ago that was in baseball terms:
Greg Maddux had just won his 300th game in his second go around with the Cubs.

Sammy Sosa was still sprinting at full speed towards the ivy in right field.

Cubs pitcher Mark Prior was in his heyday.

Current Red Sox manager Alex Cora was playing second base for the Dodgers.

Current Dodgers manager Dave Roberts had been traded two weeks before to the Red Sox.

Future Cubs World Series hero David Ross was the catcher for the Dodgers.

Eric Gagne was still dominantly closing out games for the boys in blue.
Looking back with 15 years of hindsight, little did we know that out of all the players on the field that day, the one who will go down in history as the best of them all was the one who was actually closest to us – Dodgers' third baseman Adrian Beltre. (see featured image)
On Saturday night in Arlington as the Rangers honored his eight seasons with the team, tributes poured in from teammates, coaches and dignitaries. As is customary in a moment like this, rarely do you hear from the fans in the stands who were oftentimes equally as impacted by one's career. "I don't think there's ever been another player who more fully embodies the love for baseball than Adrian Beltre," says Karin Wheat. "His passion, toughness and leadership were unmatched bar none. With all his lovable quirks, Adrian Beltre is exactly what we love about baseball."
Not only did Adrian Beltre love the game, but his hitting homers from one knee, antics with Elvis Andrus and hating head rubs from his teammates, but he helped shape others' love and passion for this great game as well. Adios Adrian. We'll see you in Cooperstown.

FEATURED IMAGE:
August 2004 – Wrigley Field
---
READ MORE
Click here to read more stories from Simply A Fan.
UPCOMING ADVENTURES
Looking for a fun baseball adventure? Click here to see all of the scheduled upcoming trips.

FOLLOW SIMPLY A FAN
Want to follow along with the latest stories from Simply A Fan? Click here to subscribe to receive periodic emails full of baseball stories and upcoming adventures. You can unsubscribe any time.
---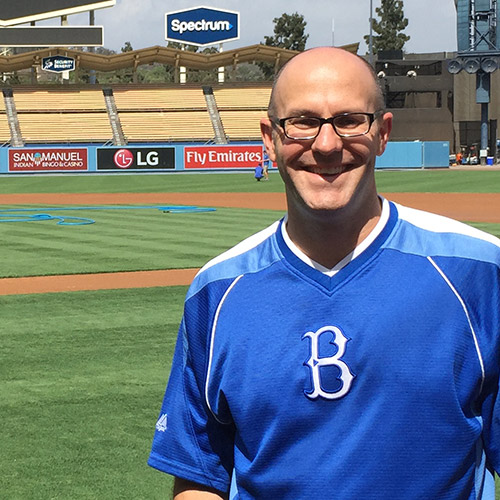 Mark Jent is the chief trip planner and designated storyteller for Simply A Fan. He lives in Nashville with his wife Beth, and their three kids, Brooklyn, Harrison and Zach. He enjoys cheering on his Dodgers, reading baseball history, hiking at Radnor Lake and chasing waterfalls throughout Tennessee with his family. He launched Simply A Fan in July 2018 with the two-fold purpose of taking people on adventures to ballparks across the country and providing fans a platform to share their baseball stories. He is currently on a quest to meet as many of the living Brooklyn Dodgers as possible.