May 29, 2019
Epic East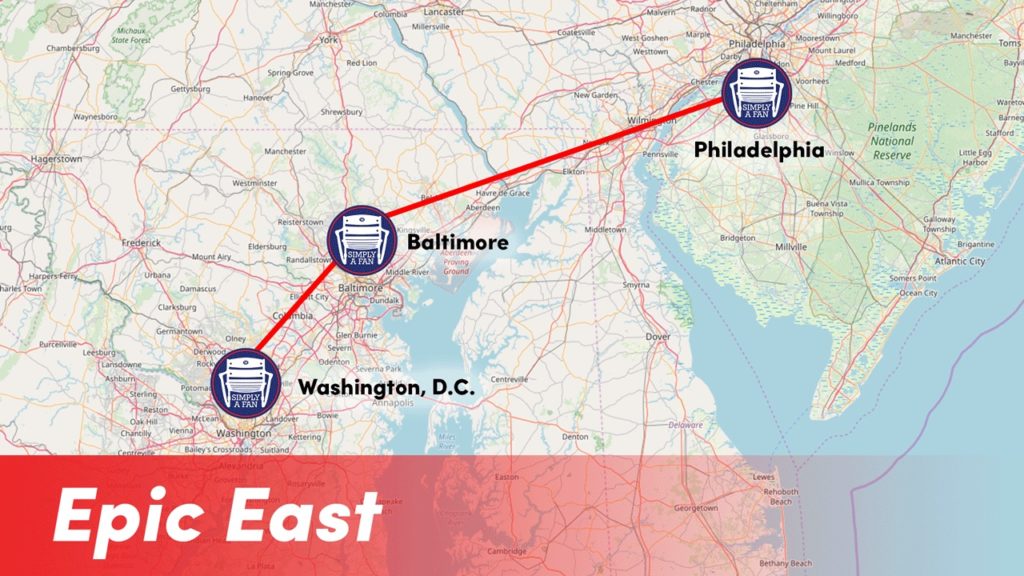 WHEN
Thursday, September 12th – Sunday, September 15th
WHERE
Baltimore – Washington D.C. – Philadelphia
GAMES
Thu 9/12 – Dodgers @ Orioles, Camden Yards
Fri 9/13 – Braves @ Nationals, Nationals Park
Sat 9/14 – Red Sox @ Phillies, Citizens Bank Park

TRIP SUMMARY
Join Simply A Fan on this east coast trip to see three games in three parks in three days! As the travel agent and tour guide, Simply A Fan will take care of all the trip details so all you have to do is show up, go and enjoy. We will get to watch six different teams over the course of the adventure and outings to the Babe Ruth Birthplace & Museum, a ballpark tour of Camden Yards and sightseeing days in DC and Philly are on the schedule!

TRIP SCHEDULE
Thursday, September 13th
Arrive Baltimore
Adventure – Babe Ruth Birthplace & Museum
Adventure – Ballpark Tour, Camden Yards
5:05pm – Gates Open, Camden Yards
7:05pm – Dodgers @ Orioles
Friday, September 14th
Train Baltimore to DC
Sightseeing: Washington DC
5:05pm – Gates Open, Nationals Park
7:05pm – Braves @ Nationals (Anthony Rendon BobbleheadNight)
Saturday, September 15th
Train Baltimore to Philadelphia
Sightseeing: Philadelphia
5:05pm – Gates Open, Citizens Bank Park
7:05pm – RedSox @ Phillies
Sunday, September 16th
Sightseeing: Philadelphia
Depart for Home
PACKAGE COST & DETAILS
Trip cost is $1,425 paying by check or $1,470 paying by card (3% card fee). See Frequently Asked Questions for additional pricing information. Your trip cost includes the following:

• one-way flights into Baltimore, out of Philadelphia
• 2 nights hotel – Hampton Inn, Baltimore
• 1 night hotel – Doubletree Suites, Philadelphia
• price is quoted as double occupancy rate; please inquire for adjusted occupancy rate
• train tickets roundtrip Baltimore to DC, one-way Baltimore to Philadelphia
• Uber / Lyft rides as necessary throughout trip
• tickets to all 3 ballgames
• admission to Babe Ruth Birthplace & Museum
• admission for Ballpark Tour, Camden Yards
• a tour guide for your detailed trip itinerary
• Simply A Fan lanyard
• an unforgettable baseball trip!
Misc Logistics
Note that that airfare is based on $300 budget and trip cost will be adjusted accordingly if higher. Out of Nashville, non-stop Southwest Airlines flights are the probable option. A minimum of 5 people are needed for this trip.

To secure your spot, click the red register button above or below to fill out your registration form. Once the trip minimum has been met, you will be invoiced accordingly and can choose to pay via check ($1,425) or by card ($1,470). Payments are non-refundable, but are potentially transferrable if you cancel and find someone to take your spot.

---
FREQUENTLY ASKED QUESTIONS
What is Simply A Fan?
Simply A Fan is a Nashville-based baseball venture that organizes and leads baseball trips to MLB ballparks across the country, while also providing a platform for baseball fans everywhere to share their personal baseball story.
Do I have to live in the Nashville area to go on a trip?
Not at all! We will coordinate logistics for you to join us wherever you are coming from.
What if I live in the Baltimore, DC or Philly area, can I just buy game tickets from Simply A fan to be part of the group?
Certainly! We will gladly have you just join us for games! Inquire for details.
How can I save money on the trip cost?
If you have 3 or 4 people in your party and would prefer triple or quadruples occupancy with two queen beds, this would reduce your trip cost.If you would like to join us for a portion of the trip, your cost can be adjusted accordingly. Inquire for details.
What if I have airline points / rewards, can I save money and book my own flight to save money?
Yes, we will gladly accommodate and will adjust your trip cost accordingly.
What if I have hotel points / rewards, can I save money and stay at a nearby hotel and my trip cost by adjusted?
Yes, we will gladly accommodate if there is a nearby hotel. See above details above for which hotels in what cities we will be staying in.
What other trips is Simply A Fan taking in 2019?
Click on the following link to see all of the upcoming trips for this season – Trips.
What is this about Simply A Fan stories?
To read some pretty cool stories from the stands of people who are simply baseball fans – Stories
---
---
FEATURED IMAGE
Map courtesy of OpenStreetMaps.com
Graphic create by Brian Holaway