by Danny Morgan
My baseball story begins long before I was even born. It was the summer of 1955, in rural Ohio, and 12-year-old Vinton Morgan was hit by a car after leaving his church's Vacation Bible School one night. Although he recovered from most of his injuries, the accident left young Vinton unable to throw any sort of ball. It is not that he didn't want to throw a baseball, but he physically could not. Seventeen years later, this boy became my father. I have always looked up to him with reverence and respect and he will always be my hero, but I truly wish my dad and I could play catch one time.
I guess I will never know why but mom and especially dad, never got upset with me for buying baseball cards. Every time we went to the supermarket or a gas station, I would get a pack of cards instead of candy or a drink. Living in the country of southern middle Tennessee, I would ride my bicycle up and down roads looking for glass bottles that I could return to Kroger. Back then, a couple of returned bottles could equal at least one or two packs of cards! Collecting baseball cards just became something I did as a kid of the 70s. I studied the players and their stats and could spit out some very random trivia. Did you know that Rangers shortstop, Toby Harrah, played a double header and never had an opportunity to field a ball? Random I know, but years later I still remember that tidbit. Baseball cards, This Week in Baseball with Mel Allen, The Baseball Bunch and Starting Lineup figurines fueled my love for the sport of baseball.
The Cincinnati Reds were a dominating team in the 70s so they were often on the NBC Game of the Week. As we rolled into the 80s, the Reds could be found on channel 30 several times a month because of their minor league affiliation. The Nashville Sounds became the Triple A affiliate of the Reds in 1987. Dad and I went to see many Sounds games and got to see several future Reds roaming the grounds of Greer Stadium. I saw Rob Dibble drinking a beer near the bathroom one night. I asked him for an autograph and he said yes as long as I held his beer. Just then my dad walks out of the bathroom! I never asked him about that, but I guess he knew it wasn't my beer when I showed him the ball. For that reason, and also the fact that we drove by their stadium at least four times a year on my way to my grandparents in northern Ohio, I became a Cincinnati Reds fan. I loved watching Bench, Rose, Seaver, Foster, and Morgan in the 70s & 80s, but the 1990 wire-to-wire team is my favorite! Eric Davis, Paul O'Neill, Jose Rijo, Chris "Spuds" Sabo, The Nasty Boys, Barry Larkin, and the rest of the gang hold a special place in my heart. I remember Dad and I watching Billy Bates race home on a Joe Oliver shot down the left field line to win Game 2 of the '90 World Series! Baseball, unlike other sports, can be managed by one outstanding player carrying the weight of the team, but the 1990 Reds were truly one of the best teams in MLB! Characters? Yes! Once in a lifetime performances? Yes! Star players? Yes! A Hall of Famer? Yes! And a bunch of team-first guys equal winning a championship over a superior opponent!
That's an important life lesson I tried to carry into my professional teaching and coaching career. Players can be dominant, but team players win championships! I have coached some great players and even coached one in high school; Mike Minor, who was drafted by the Braves out of Vanderbilt and this year was the Opening Day starter for the Texas Rangers. But my favorite coaching memory is happening now by being able to coach my two sons. It has brought me great happiness. Why is it so great? I get to play catch with my two boys. Maybe this is God's way of helping me understand the importance of not taking anything for granted.
I have heard for years how great Opening Day in Cincinnati was and I knew I wanted to attend when Simply A Fan put it on the schedule. When I found out that Opening Day was scheduled during our school spring break, I jumped for joy. I told my wife Jaime that we were going to make that trip no matter what. The experience did not disappoint! A nearly three-hour parade, that included MLB Commissioner Rob Manfred as the Grand Marshal, was followed by a star studded pregame ceremony with Eric Davis throwing out the first pitch. Our kids were waning in the late innings and we had a five hour drive home to Tennessee, so we left the game a little early and missed the Reds epic comeback victory!
It was a wonderful memory-making trip and it added another notch for fueling my passion for the game.
FEATURED IMAGE:
March 27, 2019 – MLB Opening Day.
Danny with his wife Jaime and their three kids at Great American Ballpark in Cincinnati.
---
READ MORE
Click here to read more stories from Simply A Fan.
UPCOMING ADVENTURES
Looking for a fun baseball adventure? Click here to see all of the scheduled upcoming trips.

FOLLOW SIMPLY A FAN
Want to follow along with the latest stories from Simply A Fan? Click here to subscribe to receive periodic emails full of baseball stories and upcoming adventures. You can unsubscribe any time.
---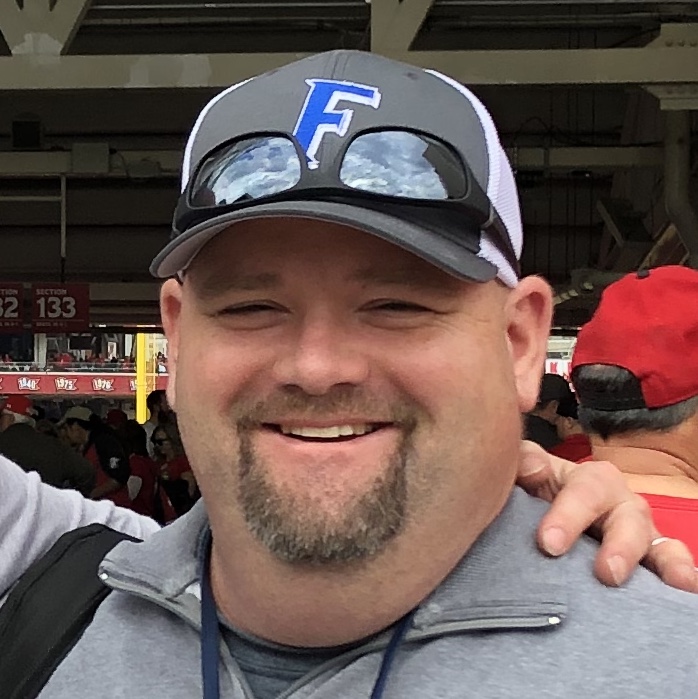 A long time educator, Danny and his family live in middle Tennessee. He has taught elementary, middle and high school along with coaching various sports on the middle and high school level. He now serves as a elementary school administrator in Chapel Hill, TN. He enjoys spending time with his family, being involved in his church, collecting Starting Lineups, cheering on his Reds and traveling to his family farm in Ohio to visit his Dad.