by David England
I remember standing in the hallway of my elementary school, just one of the boys talking about the World Series as we waited to brave the rain and a sloppy gravel sidewalk on our way back to class after lunch. The guys were pretty certain about how it would turn out.
"The Yankees are going to clobber the Cardinals."
Who could argue with that? We're talking Mickey Mantle and Roger Maris, Elston Howard and Bobby Richardson. Whitey Ford and his 2.13 ERA, although we weren't as much into stats as we were into heroes. But I argued anyway, and they just laughed at me.
I don't remember when baseball first caught my consciousness. My mom said I learned to read by asking about words as she pored through the Nashville Banner every night. Maybe it started with legendary sportswriter Fred Russell and the beat writers whose prose formed the sinews of my own writing.
But by the time I was in fourth grade, standing in that hallway, I had a strong opinion that the Cardinals would win the 1964 World Series. When Bob Gibson beat Mel Stottlemyre 7-5 in Game 7 — on two days' rest, for crying out loud — I got the last laugh.
And I was hooked. The Cardinals were my team. Gibson, the series MVP, was my hero. Baseball was my game, the National League was my league and the World Series was my Christmas, New Year's and July 4th rolled together.
It was a great time to fall in love with baseball.
The National League offered some of the best matchups of any era. I concurrently admired and despised guys like Sandy Koufax, Don Drysdale, Juan Marichal and Ferguson Jenkins. They were artists but enemies — especially Jenkins, who had the misfortune to be a Chicago Cub.
Fall Classic games were played during the day and we would rush to the cafeteria after school to see a few pitches on fuzzy, black-and-white televisions. That's where I allowed myself to be a Dodgers fan for a week in 1965, as Koufax, Drysdale and Tennessee native Claude Osteen triumphed over the Minnesota Twins in seven games.
In 1967, though, I was in seventh grade and rode the bus after school. I arrived home, where I could whoop and holler with impunity, in time to see the last inning or two of the weekday games as the Cardinals beat the Red Sox in seven. In '68 I got home in time to see Gibson fan the Detroit Tigers' Willie Horton for his 17th strikeout, breaking Koufax's record of 15 set in '63.
I'm pretty sure I was home to see centerfielder Curt Flood slip in game seven, most likely costing the Cardinals another championship. I'm also pretty sure I've repressed that memory.
A big year for me was 1970. At the end of the school year the English teachers decided to take all the ninth-graders on a weekend trip to Atlanta. Lord knows what they were thinking, but I saw history made as the Braves' Hoyt Wilhelm pitched in his 1,000th game — against the Cardinals.
It was also the year I realized my parents actually cared about my baseball obsession. We were a winter-vacation family but that year we took a summer trip, pulling the crank-up camper over to Big Springs in Missouri and then sweltering our way up to St. Louis.
They got tickets to the June 26 game against the Phillies, and Gibson just happened to be on the mound against normally dependable Rick Wise. He wasn't this day, failing to make it past the first inning as the Cardinals racked up seven of their 18 hits in that frame.
I left that night with the thrill of seeing my hero spin a four-hit, 7-0 masterpiece and go 3-for-4 at the plate to run his batting average to .396. With more years and perspective, I've marveled at the love and logistics that went into pulling that off for me.
Then in 1975 I was blessed to marry a red-haired girl from St. Louis. As strong as my devotion was to Gibson, Jackie's was to Lou Brock. She wore his number, 20, on her fastpitch softball uniforms and, when permitted, for the other sports she played.
The Cardinals became a joint venture. We reveled in WhiteyBall and the sustained success of the LaRussa years. When my mother-in-law joined us for the '85 playoffs against the Dodgers,  we cheered like kids as Ozzie Smith hit his first left-handed home run and Jack Clark made Tommy Lasorda pay for pitching to him with first base open and the tying run at second.
We yelled at Don Denkinger when he missed the call at first base that cost the Cardinals the World Series that year. I still do.
We were thrilled by the improbable, David Eckstein-led championship in 2006 and harried by the back-and-forth tension of game six against the Rangers in 2011 when David Freese simply wouldn't allow the Cardinals to lose.
Jackie's health failed in 2015 but she had me order her a hot new Yadier Molina t-shirt. She passed before she could wear it. As I attend my first Cardinals Opening Day this week, marking a new season in baseball and relationships, the Yadi shirt may come out with the Gibson jersey she got for me … along with memories of fourth-grade pundits, hot summer nights and lifelong heroes.
The Cardinals are going to clobber the Padres tomorrow.

FEATURED IMAGE
Busch Stadium II, 1991. David and Jackie with their son Tim. Photo taken by their daughter Melody.
---
READ MORE
Click here to read more stories from Simply A Fan.
UPCOMING ADVENTURES
Looking for a fun baseball adventure? Click here to see all of the scheduled upcoming trips.

FOLLOW SIMPLY A FAN
Want to follow along with the latest stories from Simply A Fan? Click here to subscribe to receive periodic emails full of baseball stories and upcoming adventures. You can unsubscribe any time.
---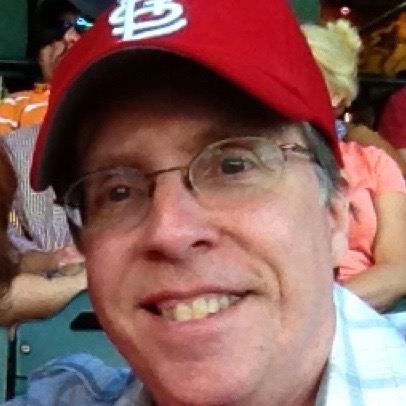 David England is one of the 17 actual Nashville natives remaining in the wild. A former journalist, David has worked at Lipscomb University for 40 years, in public relations and donor relations. He parlayed his extensive experience throwing a tennis ball against the side of his house into a "thank you for trying" letter on his high school baseball team in 1972 and a lengthy career in slowpitch softball (from which he still has a steel rod in his left leg as a souvenir). He enjoys his two children, three grandchildren, blue plaid, a good peanut butter sandwich, and the Cardinals.