by Mark Jent
It is 4:30 in the morning and I am watching a baseball game that is being broadcast live from Tokyo. I have never woken up at this hour in my life with the sole intent and purpose to watch baseball, but this isn't just any baseball game. It's a historic moment with an international legend and future Hall of Famer retiring at the conclusion of this game and I didn't want to miss it. I did not wake up to watch Khris Davis' quest to hit .247 for a fifth season in a row. I did not wake up before sunrise to see Mariner's phenom Mitch Hanniger smash balls over the fence. Ichiro woke me up. My alarm might have gone off at 4:15, but I was awake at 3:30 as I rolled over to check the time as my mind starting racing about the ensuing excitement. My feet had to hit the floor, I wasn't going to miss this moment.
As most of America slept the past two mornings, Major League Baseball kicked off the 2019 season with a two game Opening Series of the Seattle Mariners versus the Oakland Athletics from the Tokyo Dome in Japan. This is the sixth time in the past 20 years that MLB has opened the season abroad with Japan being the most frequent in 2000, 2004, 2008 and 2012, then in Australia in 2014. These are not spring training games as these two games count in the regular season standings!
Last May the Mariners released Ichiro and gave him a front office role as a special assistant to the chairman, yet he did not officially retire – leaving open the possibility of a return for this 2019 Opening Series in Tokyo. As for any 40+ year old, his value on the field has diminished, but his place on the active roster for these two games was an epic ending to a legendary career that will undoubtedly end in Cooperstown after his first time on the ballot in July 2025. While these two games will delay his eligibility for an entire year, he will become the first Japanese-born player inducted into the hallowed halls of the National Baseball Hall of Fame.
Yesterday as I considered the significance of his final game, I decided to wake up to watch him, knowing that regardless of the outcome it would be worth it. Rather than taking in the historic moment alone, I decided to invite two guys who love baseball enough to join me in the pre-dawn hours. Fortunately, I batted 1.000 in the acceptance of my early morning invitations to two friends I grew up with in Lewisburg, TN – Drew Bingham and Andrew Buzan. Though separated by the miles between Nashville, Franklin, and Memphis, we were able to watch Ichiro history together through FaceTime conference call.
Ichiro's leaves the game with a legacy that will be untouched for baseball perpetuity.
He was the first Japanese-born position player to play MLB, debuting in 2001.

In his 2001 rookie season, he won the AL Rookie of the Year, AL MVP, and the AL batting title.

In 2004 he broke George Sisler's single season hits record and finished with 262 hits, a record that could stand for all-time. Sisler's record dated back to 1920 and had stood for 84 years.

His retires with 3,089 hits, currently best for 23rd all-time.

His total combined hits of 4,367 hits between his 9 seasons in Japan and 19 seasons in America would rank him 1st all-time ahead of Pete Rose' 4,256 hits.

He retires as the active leader in hits, stolen bases, singles, triples, OF assists.

He retires in 2nd place as the active leader in games played, at bats and runs.  

He made 10 All-Star Games, won 10 Gold Gloves awards, won 3 Silver Slugger awards, won the 2007 All-Star Game MVP and won a second batting title in 2007.

When he took the field on Wednesday, he became the second oldest position player to start on Opening Day at 45 years, 149 days old.
As was evident this past week leading up to this MLB Opening Series in Tokyo, Ichiro is the heartbeat of baseball in Japan. Records and accomplishments aside, and with no disrespect to other Japanese baseball legends (Oh, Nomo, Matsui), Ichiro Suzuki is the single biggest baseball star in the history of the country. To put it in perspective, what Babe Ruth is to baseball in America, Ichiro Suzuki is to baseball in Japan.
A few years ago my friend Brent High was in Colorado for a Faith Day when he fortunately witnessed history on the day that Ichiro got his 3,000th career hit. "He just missed hitting a home run for that 3,000th career hit. It hit high off the right field wall at Coors Field and ricocheted into short right field giving him a stand up triple. There was a moment when I thought the third base coach was going to wave him home for an inside-the-park home run," said High. "The very knowledgeable, sold out crowd knew immediately what they had witnessed and responded appropriately, giving Ichiro an extended standing ovation." Watch here: Ichiro's 3,000th hit
Amidst my baseball adventures, I have only seen Ichiro play once.  In August 2011, I was on a long layover in Seattle with my dad and brother. As any good baseball fan would do while in a baseball town, I checked the schedule to see if the Mariners were playing at home. I was able to convince my dad and brother that a trip to Safeco Field would be far more enjoyable than hanging around the airport! Although he was in his prime, at the time I didn't fully appreciate the greatness of the future hall of famer that I was watching.
While there have been numerous celebrations and tributes to honor Ichiro's legacy and retirement, one of the best stories happened with an emotional embrace between countrymen.  Mariner's manager, Scott Servais, removed Ichiro in the bottom of the 8th inning to provide an opportunity for fans to show their appreciation. As he slowly jogged across the field, Ichiro waved to the crowd and tipped his cap to the A's dugout. Upon reaching the Mariner's dugout he hugged and high-fived every teammate and coach. The moment only got better when Ichiro reached his fellow Japanese-born teammate Yusei Kikuchi. On Thursday, Kikuchi made his MLB debut as he was the starting pitcher for the Mariners. When Ichiro made his MLB debut in 2001, Kikuchi was only 10 years old. The best part about the story, as was the case with most kids who grew up playing baseball in Japan over the past 25 years, Ichiro was Kikuchi's childhood baseball hero. As they exchanged a brief embrace, it was Ichiro who seemed to be comforting Kikuchi as tears flowed down his cheeks. (See video here.) This will be my lasting image of Ichiro's last game. That on one man's last day of baseball, a boy who used to emulate him on the sandlots of Japan was able to tearfully embrace his hero as he welcomed him into retirement. Both Japanese players came to America to follow their passion a dream, yet this ending could not have been scripted as the baton was passed from one to another.
Well done Ichiro. Your example of consistency and excellence deserves to be celebrated across your home country and around the world. Thanks for a good reason to wake up at 4:30 this morning.
FEATURED IMAGE
August 2011, Safeco Field – Ichiro at bat, my one and only time to see him play.

---
READ MORE
Click here to read more stories from Simply A Fan.
UPCOMING ADVENTURES
Looking for a fun baseball adventure? Click here to see all of the scheduled upcoming trips.

FOLLOW SIMPLY A FAN
Want to follow along with the latest stories from Simply A Fan? Click here to subscribe to receive periodic emails full of baseball stories and upcoming adventures. You can unsubscribe any time.
---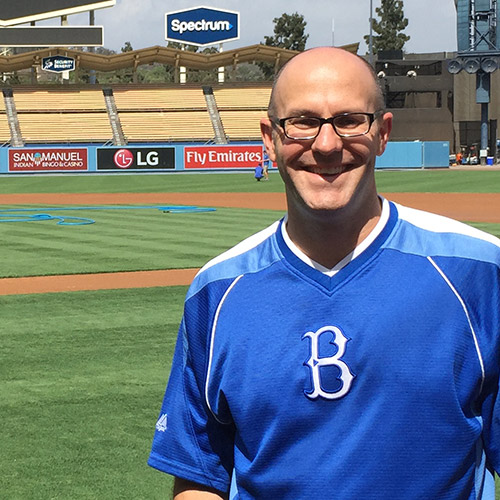 Mark Jent is the chief trip planner and designated storyteller for Simply A Fan. He lives in Nashville with his wife Beth, and their three kids, Brooklyn, Harrison and Zach. He enjoys cheering on his Dodgers, reading baseball history, hiking at Radnor Lake and chasing waterfalls throughout Tennessee with his family. He launched Simply A Fan in July 2018 with the two-fold purpose of taking people on adventures to ballparks across the country and providing fans a platform to share their baseball stories. He is currently on a quest to meet as many of the living Brooklyn Dodgers as possible.