by Mark Jent
With the Yankees' CC Sabathia announcing his retirement today from Spring Training, I was reminded of the one and only time I've seen him pitch in person.
My wife Beth and I were itching for a getaway trip in September of 2008. We were new parents with a 3-month-old baby girl. We weren't sure where we wanted to go, but we knew we wanted to get out of town (albeit if only for about 24 hours). It wasn't as much because we were tired and exhausted of parenting, it was more because we didn't want to wait too long to leave Brooklyn for the first time. We had heard these agonizing stories of parents who waited a year, or three years, or five years or never years in leaving their kids overnight. We were different. We were us. Plus we were incredibly blessed to have parents who lived nearby who could take care of her while we skipped town.
I'm not real sure how I convinced Beth that this was the best idea and how it slowly made its way to the top of our trip list. But the day came and we found ourselves boarding a Southwest direct flight bound for Chicago and were only then a train rides away from Wrigley Field. I do recall our seats – 7th row behind the Cubs dugout. Maybe that was the driving force behind the decision. I had a friend, Spike O'Dell, who was a long-time Cubs season ticket holder through his job at WGN Radio and he was retiring at season's end. Spike, and his wife Karen, were also moving away from the Windy City to the Music City. Spike's son Michael was a best friend in college so we had visited many times over the years. At one time Spike had told me, "Hey, if you ever want my Cubs tickets, just let me know." So with the MLB season winding down and our baby girl now three months old, I wanted his tickets! With a late afternoon flight from Nashville, followed by a night game and an early flight the next morning, we had it timed out to where we would be gone less than 24 hours.
Not only would this be our "Leave Our Kid for the First Time Getaway," it would also be Beth's first trip ever to Wrigley Field – which was equally if not more important. Although it was just my third trip to Wrigley, it was my first night game. This wasn't just any regular season game, both the Cubs and the visiting Brewers were in a pennant chase playoff push in the NL Central. On the mound for Milwaukee that evening was recent trade deadline acquisition CC Sabathia, who had only been with the club a few weeks having been dealt by the Indians to the Brew Crew. As we cozied up in our 7th row Wrigley seats, we thoroughly enjoyed our view as the "Moon over CC" rose above the hallowed grounds of the friendly confines – the featured image in this story.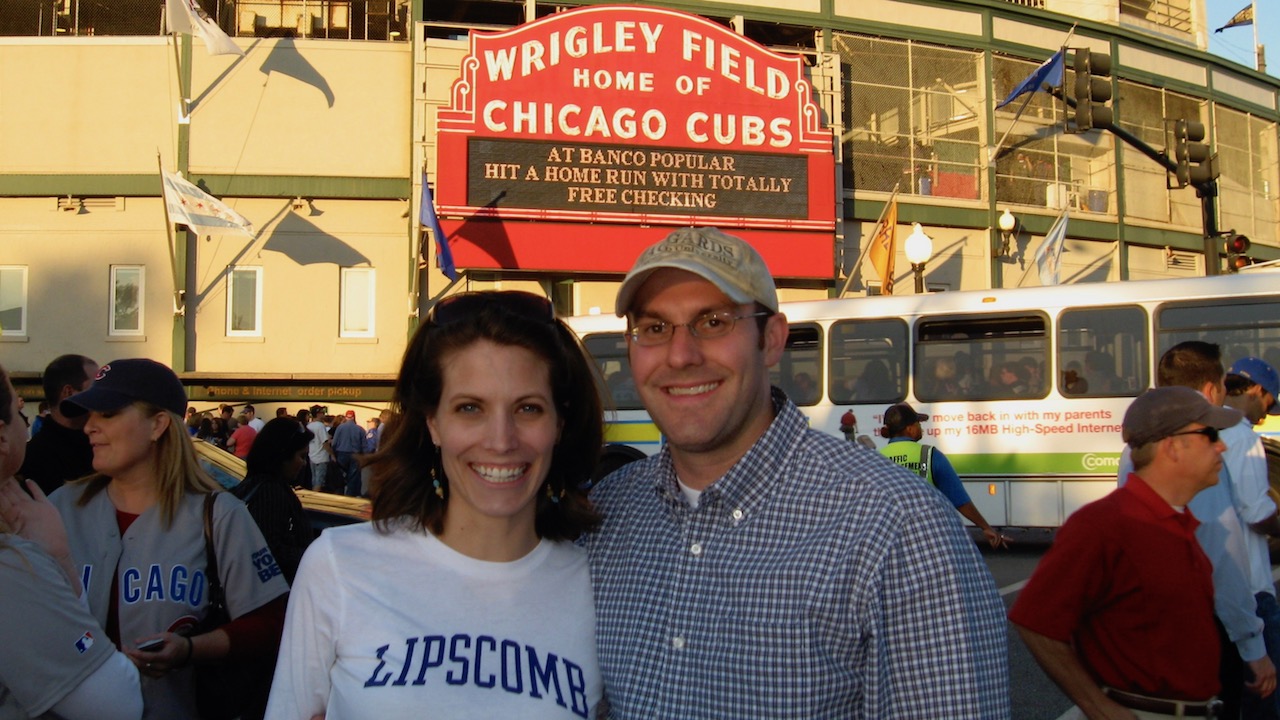 Sabathia went seven innings, but the Cubs won 5-4. We then took a train to a friend's house arriving well after midnight, then woke up the next morning to go catch our direct flight back to Nashville. With our spontaneous baseball trip complete, we arrived home that afternoon back to Brooklyn – who actually never knew we left much less actually miss us. So there you have it, my one and only time to ever see CC Sabathia on the mound.
As news of Sabathia's 2019 retirement hit the Twitter-sphere, I saw a tweet from MLB's Sarah Langs (@SlangsOnSports) who mentioned that Sabathia's MLB Debut was on April 8, 2001 when he was a member of the Indians and was playing the Baltimore Orioles. After I read Sarah's tweet, I then wondered who played in that game that was near the end of their career and how far back could the degrees of separation (shout-out to Kevin Bacon) be between CC Sabathia who is retiring in 2019 all the way to the beginning of professional baseball in 1869? I got pretty close! How is 1874 for a start? After a few minutes of research on Baseball Reference (okay it took an hour while my boys enjoyed skating at the Brentwood Skate Center) and tracking the earliest players MLB Debut from each next step, I had it all mapped out. It is geeky and nerdy and what baseball fans do on cold, cloudy, dreary days in February in Middle Tennessee – useless research and then write a story about it. As any good "Kevin Bacon-like degrees of separation" trivia goes, I give you the Seven Degrees of Separation between CC Sabathia and the Beginning of Baseball.
CC Sabathia's MLB debut was on April 4, 2001; his Indians vs. Cal Ripken's Orioles. This just so happened to be Ripken's last season.

Ripken's MLB debut was on August 10, 1981; his Orioles vs. the Royals. This was the first day back from the two month players' strike of '81. Ripken's debut was near the end of Orioles SS Mark Belanger's career.

Belanger's MLB debut was August 7, 1965; his Orioles vs. the Kansas City Athletics. Belanger made his debut merely as a pinch runner, but bullpen righty Dick Hall pitched two-thirds of an inning that day.

Dick Hall's MLB debut was April 15, 1952; his Pirates vs. the Cardinals. Hall didn't pitch in his MLB debut, he played 3B and went 1-4. Playing for the Cardinals that day? None other than future Hall of Famer, RF Enos Slaughter.

Slaughter's MLB debut was April 13, 1938; his Cardinals vs. the Pirates. Pitching one-third of an inning that day for the Pirates was pitcher Guy Bush.

Bush's MLB debut was on September 17, 1923; his Cubs vs. the NY Giants. Bush pitched one inning of scoreless ball. Playing catcher for the Giants that day was Hank Gowdy.

Gowdy's MLB debut was on September 13, 1910; his Giants vs. Pirates. Gowdy went 0-3 in his debut with two strikeouts. Playing in the game was original 1936 Hall of Famers, the Giants pitcher Christy Mathewson and the Pirates shortstop Honus Wagner. How about that as a MLB debut for Gowdy? There were five men elected to the Baseball Hall of Fame in 1936, the first class – and two of them were in his first game!

Wagner's MLB debut was on July 19, 1897; his Pirates versus an unknown team because baseball reference does not have a box score from a game that is 122 years ago.
So with Honus Wagner now as our 7th degree separator, and with us now all the way back to 1897, here is how seven degrees of separation between CC Sabathia and the beginning of baseball concludes. Honus Wagner was born in 1874, a mere five years after the Cincinnati Reds became the first professional baseball team in 1869. Okay, that's as close as I could get. Only if Baseball Reference had those box scores from the late 1800's could I get it all the way there!
Also interesting to note that Wagner's birth in 1874 was only nine years after the Civil War ended in 1865. To take it one more step, Wagner's parents, who were German immigrants, were born in 1835 and 1838 respectfully, which are about the time the game of baseball began.
To recap:
Sabathia debut 2001

Ripken debut 1981 (degree 1)

Belanger's debut 1965 (degree 2)

Hall's debut 1952 (degree 3)

Slaughter's debut 1938 (degree 4)

Bush's debut 1923 (degree 5)

Gowdy's debut 1910 (degree 6)

Wagner's debut 1897 (degree 7)

Wagner born, 1874

Cincinnati Reds the first professional team, 1869
So there you go…CC Sabathia's baseball heritage traced all the way back to the beginning of baseball. And if you want to really geek-out about it, pay attention to the box score of his last game in September and there will be some rookie call-up on a roster who plays 20 years that will nearly take us to 2040!
Featured image:
Wrigley Field – September 16, 2008.
---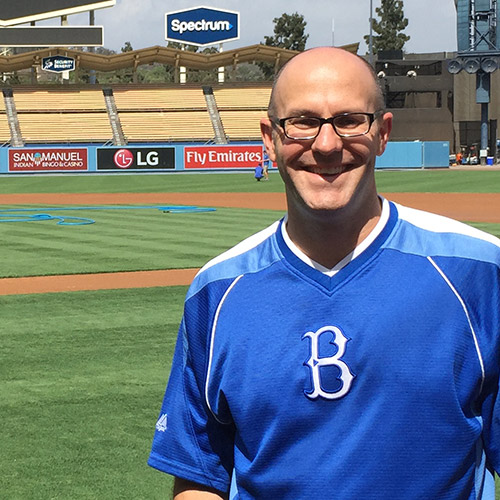 Mark Jent is the chief trip planner and designated storyteller for Simply A Fan. He lives in Nashville with his wife Beth, and their three kids, Brooklyn, Harrison and Zach. He enjoys cheering on his Dodgers, reading baseball history, hiking at Radnor Lake and chasing waterfalls throughout Tennessee with his family. He launched Simply A Fan in July 2018 with the two-fold purpose of taking people on adventures to ballparks across the country and providing fans a platform to share their baseball stories. He is currently on a quest to meet as many of the living Brooklyn Dodgers as possible.