by Mark Jent
I have long been enamored by numbers. I first recall this fascination in 3rd grade – not in Ms. Foster's class while learning multiplication and division, but in my bedroom floor at home with packs of 1987 Topps baseball cards. My brother and I would return home from a trip to the Sugar-n-Spice convenience store, settle in on the bedroom floor and open our 35 cent packs of cards and stuff our cheeks with that pink sugary gum.
In the safe haven of my bedroom, I would sit for hours opening packs of those wood-grained bordered baseball cards, then organizing them chronologically or by team. Once they were sorted, I would flip them them over to study each line of stats. These meaningful, yet useless, statistics still fill my head to this day – including that Darryl Strawberry hit 27 home runs and drove in 93 runs in 1986. It was then at 10 years old that I developed this love of numbers, especially those numbers connected to the game of baseball and it became deeply ingrained into who I was as a kid, and am today as a 41 year old husband and father of three.
Though my love for baseball cards dwindled over the years, my devotion to baseball statistics did not. This passion was encouraged by my parents' subscription to the Nashville Banner newspaper with its daily pre-dawn delivery. I learned to read box scores as I perused the paper that I retrieved each morning. Upon discovering that the USA Today Sports section released a weekly edition that included the statistics of every player in the National League, I thought I had died and gone to heaven. All the up-to-date baseball stats each Tuesday for only 50 cents!
Once we got cable in our house, ESPN's SportsCenter and Headline News with updates at :20 and :50 minute mark every hour followed, continuing to fuel my hunger for stats.  And in '94 I met the internet, where I would listen to the screeching sound of a dial-up connection as I waited five minutes for a game's box score to load. (If I sit in silence and close my eyes, I can still hear the screeching of that infamous dial-up connection.)
Regardless of the platform, I am grateful that I never lost my enjoyment in baseball numbers.  As I look back on the first calendar year for Simply A Fan, I can find no more interesting way to measure the growth than my sharing the numbers.  It is a different kind of storytelling, but each number below represents a variety of people and places. Whether it be a seasoned baseball fan who's traveled to many ballparks, a first MLB game for someone or a gentlemen who hadn't been to Fenway in over 70 years – each number represents a story of adventure for someone from the 2018 season. These numbers represent more than just games and trips, they also represent friendships both old and new.
So here you go, Simply A Fan's inaugural By the Numbers. Enjoy.
2

– Number of years in a row that Patrick Cameron and I have been present for Game 1 of the World Series Game 1. In 2017 it was Game 1 in Los Angeles; in 2018 it was Game 1 in Boston.

6 & 7 – The highest total trips for top two trip-going fans. My brother Jason Jent took the top notch with 7 trips followed shortly by my faithful sidekick Patrick Cameron who tallied 6 trips.
10 – Number of people from my immediate and extended family who went on a trip in 2018; my wife, three kids, my parents, my father-in-law, my brother and my two nephews.
11

– Number of total ballparks visited; five Cactus League parks during Spring Training plus six MLB ballparks.

11

– Number of trips by Simply A Fan in it's inaugural season of 2018; starting with March's Arizona Spring Training trip and concluding with October's World Series Game 1 in Boston.

21 – Total number of games attended; 7 spring training, 12 regular season, 2 postseason.
28 – Number of repeat customers (fans!) who went on more than one trip in 2018.
32 – Total number of fathers and sons who went on the two different father/son adventures. The first was the father/son weekend in June that hit Louisville, Cincinnati, Chicago; the second was a day trip to Atlanta in August for Braves' Alumni Weekend.
70 – Number of people in the largest group for any of the 11 trips in 2018. It was the  September 15th group from Chapel Hill, TN; a day trip to Atlanta to see the Braves take on the Washington Nationals.
133 – Total number of different individual people who went on a trip in 2018 (also, total for the year was 184 people units).
12,548

 -Total number of miles driven and flown to and from all 11 destinations in Simply A Fan's inaugural season of 2018.
So there you have it. Simply A Fan's first By The Numbers! Stay tuned for more baseball adventures in 2019 as my goal is to take 500 different individual people to a game this season. It's a lofty goal, but I'm an eternal optimist and am gearing up to try my best to make it happen!
To check out the 15 trips that are currently on the docket, click here – Your 2019 Trip Schedule, where you can also register for any trip of your choice.
Featured Image:
a scattering selection of 1987 Topps from my complete set that I collected as a kid.
---
READ MORE
Click here to read more stories from Simply A Fan.
UPCOMING ADVENTURES
Looking for a fun baseball adventure? Click here to see all of the scheduled upcoming trips.

FOLLOW SIMPLY A FAN
Want to follow along with the latest stories from Simply A Fan? Click here to subscribe to receive periodic emails full of baseball stories and upcoming adventures. You can unsubscribe any time.
---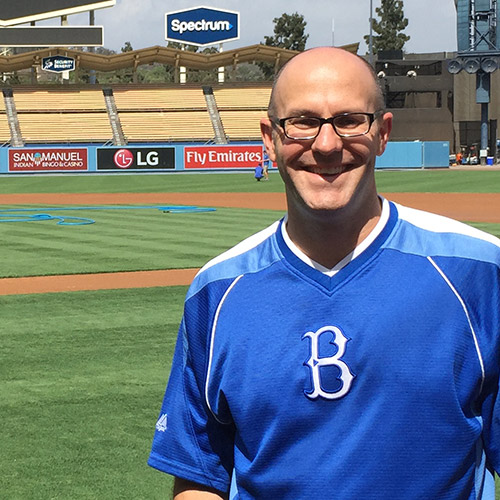 Mark Jent is the chief trip planner and designated storyteller for Simply A Fan. He lives in Nashville with his wife Beth, and their three kids, Brooklyn, Harrison and Zach. He enjoys cheering on his Dodgers, reading baseball history, hiking at Radnor Lake and chasing waterfalls throughout Tennessee with his family. He launched Simply A Fan in July 2018 with the two-fold purpose of taking people on adventures to ballparks across the country and providing fans a platform to share their baseball stories. He is currently on a quest to meet as many of the living Brooklyn Dodgers as possible.