by Mark Jent
With Christmas here (literally today), no doubt there are some of you who have waited until the last minute to decide what to get that special person in your life who just so happens to love baseball. Well, you're in luck as Simply A Fan has you covered! Or are you the person who is difficult to shop for and no one ever knows what to get you? Check out the 2019 Trip Schedule, point your last-minute-gift-shopper here to the website and tell them what baseball trip you want!
It may be Christmas Day already, which if you've still got presents to buy for upcoming gatherings, that may be stressful since malls are closed and Amazon isn't delivering today. Fear not – Simply A Fan has you covered as your Christmas shopping has never been so easy as I'm about to make it for you. Whichever category you fall in (shopper or shoppee), whatever trip you purchase (choose from 1 of 15), Simply A Fan will also send you a customized gift certificate for you to wrap up for your beloved to open.
Here are the next steps to make you the most popular baseball-gift-giving person in your house this week.
• See the full list of trips here: Your 2019 Trip Schedule
• Choose a trip. Or two…or three…or all fifteen. (there are no limits)
• Read through the adventure that awaits along with what it includes.
• Click this link or any that says Trip Registration.
• Register for the trip(s) of your choice.
• After completing the trip registration, you'll be directed to pay online.
• You can pay in full or just pay a deposit.
• Contact me if you want the customized gift certificate.
• Your Simply A Fan shopping experience is complete.
• Breathe. Relax. Enjoy Christmas.
Now about that picture of me and Santa…..
Christmas and baseball go together about as well as Santa's white beard is attached to his rosy-red cheek. This was confirmed last week when we made a family trip to the Bass Pro Shop at Opry Mills to get the kids' pictures taken with Santa. As you can see from the featured image, I took it one step further as I went prepared for something more. Before standing in line for 30 minutes, I received special permission from Mrs. Claus for my unique request as this was new territory for me. I have met many hall of famers, legends and current stars of the game along the way and if you know me, I am rarely shy about asking for an autograph or picture, but this was a first. After the kids got their picture with 'ole St Nick, it was my time. The look upon his face told me that he had never been approached by a grown man carrying two baseball bats, gloves and balls. As I put the 30 inch Louisville Slugger Pedro Guerrero model in his hands he said, "Wow, this takes me back to my childhood." I knew then I had him hooked. After a couple of takes, my first Baseball Santa photo session was complete, done so specifically with this post in mind. As I walked away, ideas and images for the next decade's worth of annual Baseball Santa photography sessions flashed through my mind.
The baseball items you see in the photograph are all from my childhood. The two wooden bats were my first as a kid. The glove I'm holding is my George Brett model from Little League. The baseballs that we both have are ones that I dug out of my parents attic a few years ago. They are old and tattered baseballs, worth nothing to anyone but me as they are from backyard baseball games my brother Jason and I used as kids. Just as baseball is a sentimental part of our American culture, so is Santa Claus – why not combine the two for Simply A Fan's first ever Baseball Santa.
Merry Christmas friends. May you and your family enjoy a day as fun as Santa himself hitting a walk-off homerun.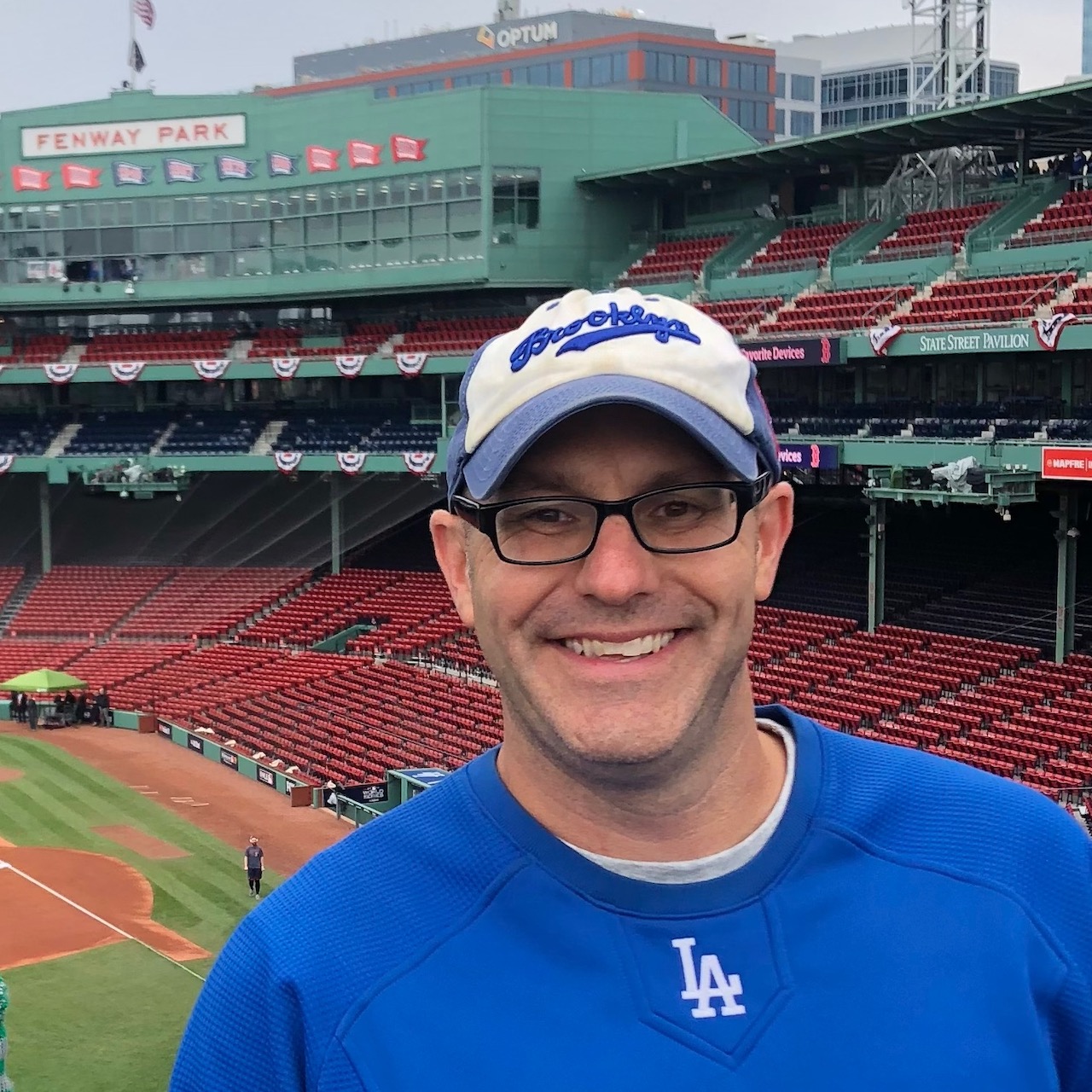 Mark Jent is the chief trip planner and designated storyteller for Simply A Fan. He lives in Nashville with his wife Beth, and their three kids, Brooklyn, Harrison and Zach. He enjoys cheering on his Dodgers, reading baseball history, hiking at Radnor Lake and chasing waterfalls throughout Tennessee with his family. He launched Simply A Fan in July 2018 with the two-fold purpose of taking people on adventures to ballparks across the country and providing fans a platform to share their baseball stories. He is currently on a quest to meet as many of the living Brooklyn Dodgers as possible.