November 15, 2018
Hall of Fame Classic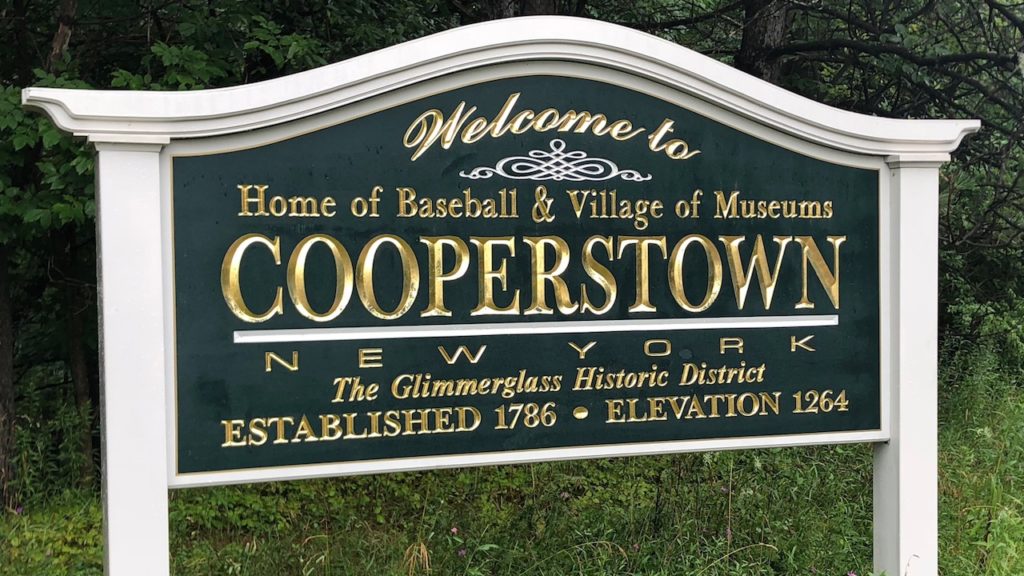 WHEN
Friday, May 24 – Monday, May 27
EVENT
The Hall of Fame Classic +
Night at the Museum
TRIP SUMMARY
This is a four day, three night to the best quaint village in the nation – Cooperstown, New York. This small town of less than 2,000 residents is home to the National Baseball Hall of Fame. The streets of Cooperstown are museum-esque all in themselves with baseball shops galore of memorabilia, artifacts, apparel and more.

We will fly into nearby Albany, a brief 90 minute drive to Cooperstown. With your Hall of Fame membership pass, your admission to the Hall of Fame gives you unlimited entry each day of our trip. On Saturday we will go to the Hall of Fame Classic at historic Doubleday Field. That evening we will have special access to tour the Hall of Fame during the "Night at the Museum" event where you will be walking the hallowed halls with Hall of Famers themselves!
HALL OF FAME CLASSIC
The Hall of Fame Classic is a seven inning game played between legends at historic DoubleDay Field in the middle of the Cooperstown village. It brings together several hall of famers and other former players representing all 30 teams. Prior to the 1:05 first pitch, there will be a Homerun Contest at noon.
Hall of Famers who are scheduled to appear as coaches for the Classic and include Bert Blyleven, Rollie Fingers, Goose Gossage, Trevor Hoffman, Tim Raines and Alan Trammell.
Some of the former players committed to appear for the Classic include: Cory Snyder (Indians), Todd Zeile (Mets), Steve Sax (Dodgers), Joe Nathan (Twins), Corey Hart (Brewers), Charles Johnson (Marlins), Orlando Hudson (Blue Jays), Michael Barrett (Nationals). For a complete listing of players, click here.
NIGHT AT THE MUSEUM
The Hall of Fame will reprise its Night at the Museum program, now in its seventh season. Hall of Fame legends and former players will greet fans throughout the Museum on Saturday evening beginning at 6 p.m. Legends participants will canvass the Museum during the course of a two-hour event that will bring the Museum to life with special programs and interactions. While the Night at the Museum program is not an autograph session, fans should remember to bring their camera to capture their special memories. *As taken from the Hall of Fame website.
NEW EXHIBIT – SHOEBOX TREASURES
A new exhibit at the Baseball Hall of Fame is set to open on May 25th and we will be one of the first to experience ShoeBox Treasures. Click here to learn more:
TRIP SCHEDULE
Friday, May 24th
Morning – arrive Albany; drive to Cooperstown
Rest of day – Tour Baseball Hall of Fame

Saturday, May 25th
Morning – Tour Baseball Hall of Fame
12:00 – Homerun Contest
1:05 – Hall of Fame Classic
6pm – Night at the Museum

Sunday, May 26th
Tour Baseball Hall of Fame
Walk streets of Cooperstown

Monday, May 27th
Tour Baseball Hall of Fame
Walk streets of Cooperstown
Evening – fly home

PACKAGE COST & DETAILS
• Trip cost: $1,275. Cost includes the following:
• roundtrip airfare into Albany
• 3 nights hotel at Hampton Inn in Oneonta (20 miles from Cooperstown)
• ground transportation throughout the trip (rental + gas + parking)
• annual membership to the Hall of Fame (unlimited admission)
• ballgame ticket to the Hall of Fame Classic
• ticket to the Night at the Museum
• a tour guide for your detailed trip itinerary
• Simply A Fan lanyard + decal sticker
• Cost of $1,215 is based on estimated airfare costs of $350. Higher airfare costs makes the overall trip costs subject to change, with Simply A Fan merely passing that additional cost on to the fan.

A minimum of 5 people are needed for this trip.

To secure your spot, click the red register button to fill out your registration form below. If you have questions, please email Simply A Fan's Chief Trip Planner, Mark Jent, at markjent@simplyafan.com.

WHAT IS SIMPLY A FAN
Simply A Fan is a Nashville-based baseball venture that organizes and leads baseball trips to MLB ballparks across the country, while also providing a platform for baseball fans everywhere to share their personal baseball story.
FREQUENTLY ASKED QUESTIONS
What other trips is Simply A Fan taking in 2019?
Great question and thanks for asking! Simply A Fan currently has 15 trips on the docket for 2019. To see the entire schedule, click here: Your 2019 Trip Schedule

What if I have airline miles, can I arrange my own flight and still be part of the group?
Great question and thanks for asking! Yes, we will gladly adjust your trip cost accordingly by subtracting the airfare costs. Please inquire for adjusted trip cost.

---