November 1, 2018
Buy Baseball: Blue Friday Specials!
by Mark Jent
Welcome to Simply A Fan's first ever BLUE FRIDAY! Also stay turned as they deals you're about to read about go through Koufax Monday. As the rest of businesses across America take advantage of Black Friday, Small Business Saturday and Cyber Monday, I decided that Simply A Fan needed to get in on the action as well.
With Simply A Fan's the 2019 trip schedule released, many baseball fans are already slotting their calendars with the trips of their choice for next season. From rollback prices to discounts, as you can see below there are options available for returning customers and first timers.
All specials will run from Blue Friday, November 23rd at 12:01am until Koufax Monday, November 26th at 11:59pm. Please see the very bottom for FAQs.
BLUE SPECIAL #1:  SPRING TRAINING SPECTACULAR
Trip:          Arizona Spring Training
Special:    $100 savings
Number:  1 available
Be the first person to secure your spot for Simply A Fan's first trip of the season and subtract $100 off your trip price! To secure your spot, you must register and pay your $200 deposit, then your discount will be applied on the balance.
Read all about this Spring Training Spectacular that includes a special day trip, secure your spot by registering and paying your deposit! Spring Training Baseball + Grand Canyon Visit
BLUE SPECIAL #2:  BRAVES HOME OPENER vs. CUBS
Trip:           April 1 – Braves Home Opener
Special:     $85 rollback price + $10 more savings
Number:   unlimited available
Buy your spot for the 2019 Braves Opening Day trip at the rollback price of the 2018 trip! On Monday, April 1st the Braves take on the Chicago Cubs for their home opener at Suntrust Park. Join Simply A Fan on this one day road trip from Nashville as we enjoy a behind-the-scenes tour of Suntrust Park, take in all the sights and sounds in The Battery outside the ballpark and be there as the Braves defend their NL East division crown!
The 2018 Braves Opening Day trip price was $95. The 2019 Braves Home Opener trip price is $110. Take advantage of this Blue Friday Special and secure your spot on the 2019 trip for $95. Scratch that. Take advantage of this Blue Friday through Koufax Monday Special, subtract ten more bucks and secure your spot for only $85! That includes ground transportation, ballpark tour and ballgame ticket
This deal is available to as many people who purchase this package between Blue Friday and Koufax Monday. Click here to register to secure your spot!
BLUE SPECIAL #3:  BE A ROOKIE
Trip:           Any
Special:     $50 savings
Number:   1 available
You didn't make it on a Simply A Fan trip in 2018, but you liked what you saw and you'd like to go ahead and make plans to join us in 2019? Be the first trip ROOKIE to commit to a trip between Blue Friday and Koufax Monday and you'll receive $50 off any trip of your choice.
Not sure which of the 15 trips you want to embark on? Click here: Your 2019 Trip Schedule
Since not all 15 trips are available on the website to register, the first rookie to email markjent@simplyafan.com with the trip of his or her choice will receive $50 off that trip!
BLUE SPECIAL #4:  COMEBACK FANS OF THE YEAR
Trip:           Any
Special:    $30/trip x 3 trips = $90 savings
Number:  5 available
You've already browsed the trip schedule and know which trip(s) you want to go on in 2019? Commit now and save up to $90 on 3 trips of your choice!
The first 5 fans (who went on a 2018 trip) who send an email to markjent@simplyafan.com with a list of up to 3 trips of your choice will receive $30 off each trip! (You are welcome to only join 1 or 2 trips, but you are welcome to join up to 3 trips.)
Not sure which of the 15 trips you want to embark on? Click here: Your 2019 Trip Schedule
BLUE SPECIAL #5:  BE EPIC
Trip:          Father/Son Epic Midwest or Epic East
Special:    $75 off
Number:  2 available
Would you like to cross several ballparks off your bucket list? Be one of the first two people to commit to going on either the Father/Son Epic MidWest Road Trip in June or Epic East in September and receive $75 off your trip price! One $75 savings per person, so one person cannot claim both. Click here to see both Epic Trips: Your 2019 Trip Schedule
Since neither trip is available for registration yet, email markjent@simplyafan.com to secure your $75 savings per trip.
POTENTIALLY FREQUENTLY ASKED QUESTIONS
Can I stack savings on the same trip or multiple trips?
Yes! Yes you can. Unlike some colleges who won't let you "stack scholarships," I like eager and ambitious people. You figure out your schedule and savings and claim it. Go for it partner.
If my savings exceed the cost of a trip will Simply A Fan pay me to go on a trip?
Negative. That means the answer is no. Simply A Fan's Chief Trip Planner Mark Jent has to put food on the table, buy flea/tick medicine for the family dog and still needs a '63 Sandy Koufax Sports Illustrated to complete his Dodgers SI collection.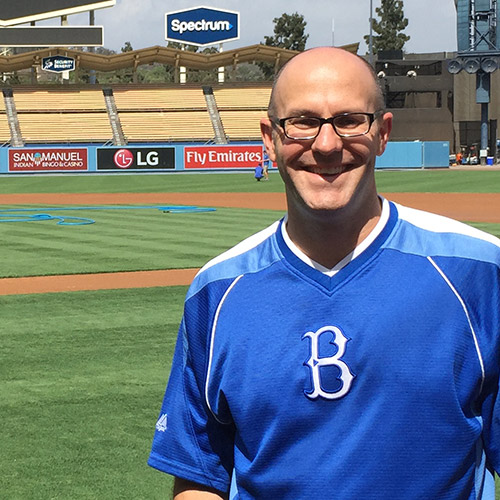 Mark Jent is the chief trip planner and designated storyteller for Simply A Fan. He lives in Nashville, TN, with his wife, Beth, and their three kids. They once had a family pet named Buttercup the Hamster. They now have a shih-tzu named Chewy. Mark thoroughly enjoys following and cheering on his Dodgers on from afar, chasing waterfalls with his family and taking early morning hikes at Radnor Lake. He also has an atrocious record of 5-27 as the head coach the past two seasons of his two boys' baseball teams. In addition to Simply A Fan, Mark and his wife Beth are also founders of 2×2 Global.