Delirious ramblings from a Dodger fan in the wee hours of the morning after the longest game in World Series history.
by Mark Jent
October 27, 2018  • 8:05 a.m. PST
It is now the top of the 33rd inning. The score is still tied 2-2. Eduardo Nunez is playing 3B on a gurney. Kike Hernandez just threw 12 scoreless innings, and the Dodgers are fresh out of arms. About two hours ago, in the 26th inning, Dave Roberts signaled for some guy sitting in the 2nd row to go suit up and get loose in case he's needed. The Red Sox brass are asleep in their box suite, so manager Alex Cora agrees to let it slide since the silver-haired guy hasn't played in 52 years.
After the random 2nd row guy throws only 7 warmup pitches, Dodgers bullpen coach Mark Prior tells Doc Roberts the guy is loose and his curveball is breaking like Kershaw's. So a mere 15 hours and 3 minutes after this game started yesterday, on the mound for the Dodgers in the top of the 33rd inning is 82 year old Sandy Koufax who has not thrown a pitch in a MLB game since October of '66. There are now 1,955 people left in Dodger Stadium
Koufax proceeds to throw a 9 pitch immaculate inning versus Betts-Bogaerts-Moreland, topping out at only 91mph. In the bottom of the 33rd, he leads off by hitting a dribbler down the third base line towards Eduardo Nunez in his gurney and Koufax beats it out. On the play, Nunez breaks his fibula for the second time in the game. Koufax then proceeds to steal his first base since '61. Nathan Eovaldi is now in his 21st inning. He threw 213 pitches as a RHP from the 12th thru 29th innings, blew out his arm, became an ambidextrous in between innings and has now gone all-Pat Venditte on us and is finishing Game 3 as a LHP.
Dodgers first baseman David Freese, who was 0-9 coming into the 33rd inning with 7 missed pop flys at 1B, hits a single. Koufax motors around third base and slides headfirst safely into home, barely beating the throw from Carl Yastrzemski who was flown across country about 12 innings ago to play LF. What an epic ending.
The Dodgers retire Koufax' number #32 a second time, and finally bump him up to 1st row lifetime seats after this performance. Simply A Fan who travels from Nashville for Game 4, arrive in time to see the 32nd and 33rd innings and get a free World Series game out of it.
Final Reflections
• Dodgers win 3-2 in 33rd inning.
• Koufax gets the win and lowers his all-time leading World Series era to 0.92.
• Both teams proceed to go to In-n-Out Burger on charter buses together for brunch.
• After the game Nathan Eovaldi is presented a $300 million contract by the Marlins delivered in person by Marlins Man, which Eovaldi respectfully declines.
Oh…and Manny Machado is still running to first base on his 4th inning single to LF.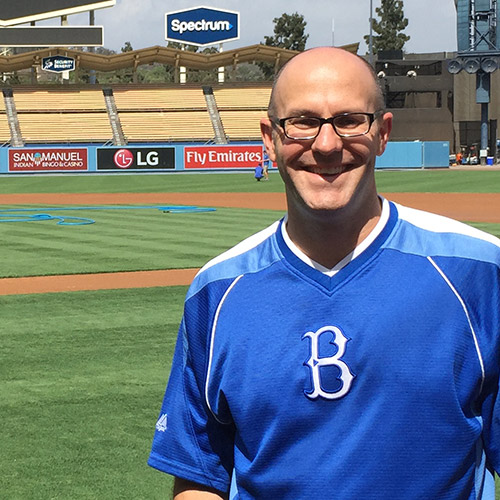 Mark Jent is the chief trip planner and designated storyteller for Simply A Fan. He lives in Nashville with his wife Beth, and their three kids, Brooklyn, Harrison and Zach. He enjoys cheering on his Dodgers, reading baseball history, hiking at Radnor Lake and chasing waterfalls throughout Tennessee with his family. He launched Simply A Fan in July 2018 with the two-fold purpose of taking people on adventures to ballparks across the country and providing fans a platform to share their baseball stories. He is currently on a quest to meet as many of the living Brooklyn Dodgers as possible.