October 21, 2018
2018 World Series, Game 1
Where
Boston, Massachusetts
Fenway Park
When
Tuesday, October 23rd – 8:09pm EST
What
Simply A Fan is a Nashville-based baseball venture that organizes and leads baseball trips to MLB ballparks across the country, while also providing a platform for baseball fans everywhere to share their personal baseball story. 
2018 World Series  |  Game 1

Los Angeles Dodgers @ Boston Red Sox

Two of the most iconic franchises in baseball history will face off in the World Series for only the second time in their respective franchise's history.
The last time these two juggernauts played each other was 1916 when 21 year old Babe Ruth was PITCHING for the Red Sox and the Dodgers still had 41 years left in at Ebbets Field in Brooklyn and their team name was the Robins!
In 2018, the Red Sox won a franchise record 108 games and dominated the A.L. East, winning the division by 8 games over their rival Yankees.
In 2018, the Dodgers were 10 games under .500 on May 16, had every pitcher from their starting rotation on the disabled list, missed their best player 3B Justin Turner to injury the first 40 games of the season, had to play an extra regular season game – Game 163 versus the Rockies – to win the N.L. West and are now in back-to-back World Series for the first time since 1977-78.
Simply A Fan is selling five spots for this epic Game 1 World Series trip.
Drive Package
Dates: Monday, October 22 – Wednesday, October 24
Cost:  $1,400 (estimate)
Includes: Ground transportation from Nashville (rental+gas+game parking), two nights in Hampton Inn, ballgame ticket.
A tentative trip schedule for the drive package:
10/22, 8am:   depart Nashville
10/22, 11pm:  arrive Hampton Inn – Clinton, NJ
10/23, 8am:   depart Clinton
10/23, 2pm:   arrive Fenway Park
10/23, 6pm:   gates open
10/23, 8:09:   first pitch
10/24, 1am:    arrive Hampton Inn – Sturbridge, MA
10/24, 8am:   depart Sturbridge
10/24, 11pm:  arrive Nashville
Fly Package
Dates: Tuesday, October 23 – Wednesday, October 24
Cost:  $1,800 (estimate)
Includes: airfare, one night lodging in Boston, transport within Boston (Uber, Lyft, etc…), ballgame ticket
A tentative trip schedule for the fly package:
10/23, 8am:   depart Nashville (or city of your choice)
10/23, 12pm: arrive Boston
10/23, 2pm:   arrive Fenway Park
10/23, 6pm:   gates open
10/23, 8:09:   first pitch
10/24, 12am:  arrive lodging / Boston
10/24, 10am:  Boston sightseeing tour begins
10/24, 4pm:   to airport
10/24, 6pm:   depart Boston
10/24, 8pm:   arrive Nashville (or city of your choice)
Ballgame Ticket
The listed price is for a legitimate MLB/Fenway Park-issued Standing Room Only (SRO) ticket. You will be standing on your feet the entire game, but will have a view of the playing field. You may choose to upgrade your package for a seat of your choice with Simply A Fan merely passing on the cost difference to you. Currently for an economical seat at Game 1, it would be approximately an extra $100.
Confirm Your Spot
With questions or to secure your spot, please text or call Simply A Fan's Chief Trip Planner, Mark Jent, at 615.579.5217…and also please email him at  simplyafanbaseball@gmail.com to let him know of your interest and intentions. Payment in full is expected up front and can be made via Paypal, the Cash App, Venmo, with a check or cash. (Once validated as legit, Bitcoin is also accepted.)
Frequently Asked Questions
Is Simply A Fan only selling 5 spots for this Game 1 trip?
No, five spots is the necessary minimum, not the maximum. Simply A Fan will gladly sell additional spots and make arrangements for however many people wish to purchase a package.
Can I use airline frequent flyer miles and arrange my own airfare for the trip?
Yes you can! Your trip cost will be adjusted accordingly.
If I buy the fly package, can you arrange for me to fly home early Wednesday and forego the Boston sightseeing that day?
Yes we can! The trip cost will remain the same as there are no budgeted items in the sightseeing portion of the trip, but Simply A Fan can adapt your flight as you wish.
I am friends with Red Sox OF Mookie Betts and I already have a ticket to Game 1 compliments of Mookie himself. Could I still jump aboard your trip and take advantage of you arranging my transportation and lodging?
Great for you in knowing Mookie who is a Nashville-native himself! The answer is yes. Simply A Fan would be glad to have you on our trip and will gladly adjust trip costs accordingly.
Instead of staying a second night at the Hampton Inn in Massachusetts, could we just drive on back to Nashville after the game to save money and get home sooner?
The answer is no. No matter how great of a late night driver you say that you are, the answer is no.
I am really interested but I do not live in or near Nashville. Can I travel separately and still be part of your group?
Yes you can! Simply A Fan can arrange your transportation or you can do so yourself and your trip cost will be adjusted accordingly.

I do not have enough money to afford the entire package, but I'd really like to just go and experience the atmosphere surrounding the excitement of a World Series Game 1 at historic Fenway Park. Would you let me tag along to do that? 
Yes you can! Simply A Fan would subtract the game ticket from your trip costs, you would still pay the rest and you would still have an incredible experience on the trip if you never stepped foot inside Fenway Park.
If the drive package is the majority winner, what mode of ground transportation will Simply A Fan be using?
It will depend on the final size of the group. If only five spots are sold, we will be taking a new 2018 Toyota Sienna (or something similar) from Enterprise. If the group size exceeds five, we will adjust the rental vehicle accordingly with a SUV, a 12 passenger van, a 15 passenger van, etc…
If the Drive Package is the majority winner, would you sell 15 spots and put every one in a 15 passenger van. 
No we would not do that as common sense prevails. A 15 passenger van would likely have a maximum occupancy rate of 10 people to give sufficient space for luggage, elbow room, World Series paraphernalia, etc…
Are your quoted prices of $1,400 (drive) and $1,800 (fly) firm?
No, they are estimates based on previous experience in leading trips in addition to hours worth of research for this specific World Series trip. If the price adjusts, you will be given notice prior to purchases being made on your behalf.
Do I have to be a Dodgers or Red Sox fan to go on this trip?
The answer is no. As long as you are a paying customer, your allegiance does not matter. Although there is an additional $50 surcharge for any fans of the SF Giants or NY Yankees to participate in this grand adventure.
What if I commit to go on the trip, proceed to send you payment, but then have to cancel for unforeseen circumstances outside of my control? 
There are no cancellations or refunds. You are welcome to "transfer your spot" to another individual if you can sell it yourself, but your transaction with that individual assumes all additional costs and we will gladly accept them in to our group!
Can I upgrade to a seat behind home plate right beside or near Marlins Man in the orange jersey?
Yes! You are welcome to upgrade your seating preference to the location of your choice. As stated earlier, Simply A Fan will just pass on the difference to you.

I am an older person, I have bad feet and do not think I could do a Standing Room Only ticket for the entire game. Can I still go?
Yes! Simply A Fan will accommodate your feet with a proper seat.
I am interested, but need to think about it. When do I need to make a decision by?
Until the spots are sold and there is still time on the clock to get us to Boston by 8:09pm Tuesday, this experience is available for purchase. With that said, the sooner the better for efficient trip planning purposes. A strong preference is by Sunday 10/21 at 8pm.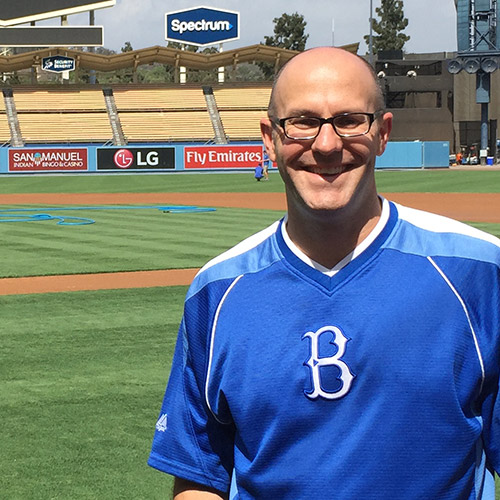 Mark Jent is the chief trip planner and designated storyteller for Simply A Fan. He lives in Nashville, TN, with his wife, Beth, and their three kids. They once had a family pet named Buttercup the Hamster. They now have a shih-tzu named Chewy. Mark thoroughly enjoys following and cheering on his Dodgers on from afar, chasing waterfalls with his family and taking early morning hikes at Radnor Lake. He also has an atrocious record of 5-27 as the head coach the past two seasons of his two boys' baseball teams. In addition to Simply A Fan, Mark and his wife Beth are also founders of 2×2 Global.