by Aaron Burtch
I was about a half an inning away from living in Michigan and being a Texas Rangers fan. See, my father spent time in Texas and was a big Dallas Cowboys fan. It was only fitting that the first Tigers game that I remember going to was on April 30, 1980 against the Rangers. I was finishing up second grade and when your Dad wants to know if you want to skip school and go to the game, the answer is yes…..always yes!
My memory is sketchy. I always thought that my boyhood Tiger hero, Jason Thompson, hit a home run to win the game. I was close. He hit a two-run homer to give the Tigers a 4-2 lead which the Rangers later came back and evened up. It was actually a walk-off single in the bottom of the 10th by another great Tiger, Lance Parrish, that sent me home a Tiger fan for life. My dad tells me that I had been to Tiger games before that day in April but I don't remember. Shoot, I have a ticket stub from June of 1972 and there's no way I'm remembering that game considering I was born in November of '72.
I'm not sure which I fell in love with more; the Tigers or Tiger Stadium. I am one of those kids that claim they "grew up" there even though we only went to about a game a year. Man, I loved that ballpark. I loved the white castle-like framework with the yellow flags and the names of the American League cities on them blowing in the breeze. I loved the dark, old ramps and concourses that led to the blue and orange seats and oh, that grass. I loved looking over in right field knowing that's where Al Kaline played. I loved looking out to the mound and knowing that's where Denny McClain, Mark Fidrych and Hal Newhouser pitched. I loved looking over at first base knowing Ted Williams rounded that same place after hitting a game-winning home run in an All-Star Game. It was awesome looking over at the visitor's dugout and knowing that's where Lou Gehrig sat when he ended his streak. The players changed over the years but the building and emotions were the same. Baseball in Detroit isn't about specific players; it's always been about memories and time.
I grew up in a time where I was lucky to fall in love with my hometown team and my team was awesome. The Tigers competed for the pennant almost every year in the 1980's and early 1990s. Being at The Corner was just an awesome place to be despite the city of Detroit itself completely dismantling. Baseball in Michigan was an escape. I truly believe they built that stadium so you didn't have to care or worry about what was going on outside of those tall ivory walls that completely enclosed the field. The only thing that mattered was how hard and far Kirk Gibson or Cecil Fielder's home runs would be hit. Did I mention the sounds? You could hear everything. Literally….everything. On the field and off. I remember going and hearing one of Mickey Tettleton's home runs hitting off the facing of the third deck and I swore it only took three seconds to get there and it made this THUD that echoed throughout.
That place had so much history so, when they began the slow process of tearing it down in 2008, it felt like pieces of my childhood were slowly crumbling. During the late 90's and mid-2000's, I lived in Texas and, as my Tigers were wallowing in mediocrity, I adopted the Rangers as my second team. Juan Gonzalez, Pudge Rodriguez, Dean Palmer, Kenny Rogers, Will Clark….what a squad and what a ballpark! I met my wife during this time and my wife's team was becoming my team but they would never overtake my Tigers.
My baseball story is about exactly that….stories. I remember moments instead of entire games. I remember most of the players from my childhood. Maybe that's why I'm not as connected to Comerica Park but they are still my Tigers. It's still the old English D. The statues are cool, the way the tigers' eyes on the top of the scoreboard light up when we hit a home run. It's the sound of the roar when we score a run.
My dad says that he has never been to Comerica and will never go. I've had the chance to go with my step-dad and, more importantly, with my wife. My wife who grew up in Texas and loved the Rangers. She looks at me and loves the way I root for the Tigers. She enjoys going to Tigers games now and loves watching me cheer, boo, groan, get excited about stupid things and get angry about stupider things. She enjoys watching me jump up and down in our living room in Abilene, Texas like a 12 year old in 2006 when Magglio Ordonez hit that walk-off home run off of Huston Street to send the Tigers, and former Rangers Kenny Rogers and Pudge Rodriguez, to the World Series. She enjoyed watching me go to Cooperstown, New York to see the heroes of my childhood enter into the Hall of Fame this past weekend and I became 12 years old again then, too.
I've always wanted to go and see every ballpark. I've been lucky to see a lot of them but not all and there have been a lot of great moments. I always compare them to that spot on the corner of Michigan and Trumbull. I went back a couple years ago and was able to sneak through one of the unlocked gates and went onto the field and sat on the mound that Jack Morris used to dominate from. The memories immediately began flooding back and as I sat on the mound, I just looked around and tried to fill in those blanks where walls and seats were. Baseball is about memories and I'm so grateful that my Dad decided to keep me out of school so I could always have that memory with him that has snowballed to the fan of the game I am today.
Feature photo: Aaron and his uncle, Tim Anderson, old Tiger Stadium, 2007.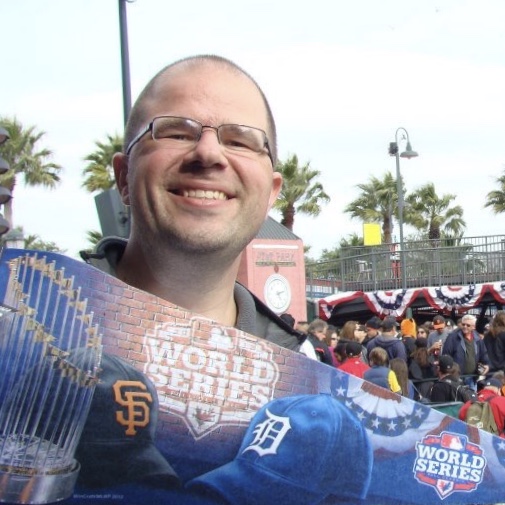 Aaron Burtch wears three hats at Lipscomb University. He's an Associate Director of Transfer Recruiting, teaches part-time in the Communications department and is the Public Address Announcer for Soccer, Men's Basketball and Baseball. Aaron has worked for numerous media outlets including the Detroit Pistons as a Broadcast Producer before recruiting for Abilene Christian and Lipscomb. He has also made three appearances at the National Baseball Hall of Fame presenting research for the Symposium of Baseball and American Culture on Christian Rhetoric in the movie, "Field of Dreams", the uniqueness and cultural impact of jerseys and the psychology of the walk-up song. Aaron also has a wife of 20 years, Sara, who loves him despite his numerous hats and absurd love for bad 80's music.