by Mark Jent
In his prime, Andre Ethier became known in the Dodgers clubhouse as Captain Clutch. He was clutch from the very beginning, and he was clutch right up until his last at-bat. In the beginning, he was former General Manager Ned Colletti's first trade during his tenure as GM back in 2005. Over the next decade plus, he would become so much more than just the Double-A player we got in return from the A's for troubled outfielder Milton Bradley. Andre Ethier became a cornerstone of a core group of Dodgers that the team was built around that included a young Matt Kemp, catching sensation Russell Martin and first baseman James Loney. Fast forward 12 years to last October and he's getting a pinch-hit RBI single in Game 7 of the World Series to drive in the Dodgers only run that game. It would be his last career at-bat. In between all he did was place himself in the company of the greatest Dodgers in team history, ending his career in the team's Top 15 in homeruns, runs batted in, doubles, at-bats, games, total bases and extra base hits.
As the Dodgers celebrated Andre Ethier tonight in a pregame retirement ceremony at Dodger Stadium, Dodger fans across the nation are standing to applaud a man who only wore the blue Dodgers script across his chest throughout his 12 seasons in the big leagues. Although in recent years he has been sidelined with numerous injuries, we were reminded tonight in the stories and highlight reels of just how solid of a player Andre Ethier was in his prime. He was part of Dodger teams that went to the playoffs eight times in his twelve seasons. He was a two-time All-Star, a Silver Slugger, a Gold Glove Award winner, once had a 30 game hit streak and in one season he had 4 WALK-OFF HRs!
With all that said, if I only recited his career accomplishments in this piece, I would have totally swung and missed at the original intent of my reflection to honor a career Dodger. You see, I've been a Dodgers fan since I was 13 years old in 1991. I went through the five straight Rookies of the Year in the 90's that did not produce a single playoff victory. I went through the Rupert Murdoch/Fox years when MLB let that ownership group rip to shreds the legacy of Dodger baseball by trading Mike Piazza, firing manager Bill Russell and kicking legendary Dodger GM Fred Claire to the curb. I recall Gagne's 84 straight saves, only to be fooled that it was completely needle-induced. I was bewildered when we traded Paul LoDuca during the middle of an All-Star season – only to find out later that he too was juicing.
Yes, I watched Jose Lima beat the Cardinals in 2004 for our first playoff win in 16 years, but I also watched Jeff Kent and JD Drew both get tagged out at the plate on the same play two years later in the '06 playoffs. You see, I wasn't a Dodger fan yet in '88 when Gibson limped to the plate and fist-pumped around the bases on one leg. I love seeing that replay and yes I do get goose bumps, but that wasn't my team! During the aforementioned woeful Fox/Murdoch years in the late 90's and early 2000's, I found myself not quite as passionate about the Dodgers as I once was or am today. Not until about the time Andre arrived.
Beth and I got married in 2003 and it was in the next few years that I began "coming back around" to my loyalty and passion for Dodgers baseball. By no means was I a fair weather fan, but I didn't have much to cheer for when we had Hee-Seop Choi at first base and Gary Sheffield wagging his bat at the plate. I recall shaking my head in disgust that Milton Bradley was wearing Dodgers across his chest in knowing that many of our former greats were rolling over in their graves as he acted like a 3 year old in right field. Then, in a flash it all seemed to change as GM Paul Depodesta got fired and the new guy, Ned Colletti, traded Bradley to the A's for a Double-A outfielder who had just won the minor league player of the year award for the Athletics. Shortly thereafter, with a new crop of young talent on the horizon, it felt like the Dodgers had hope and a fighting chance with the core of Ethier, Kemp, Martin, Loney, Broxton and Billingsley. The new core almost immediately produced back-to-back NLCS appearances in '08 and '09, something the team had not done in two decades since Orel jumped in to Dempsey's arms on that mound in Oakland.
After the youth movement arrived, over the coming years I found myself excited again about Dodgers baseball. We would go watch them play in all cities within driving distance of Nashville – St. Louis, Atlanta, Cincinnati and Chicago, then had the occasional trip to Dodger Stadium. During my adventures, I met Andre several times either at the ballpark, the team hotel, in Vero Beach at Dodgertown, etc…and what stood out to me about him was his kindness, his approachability and his calm demeanor. Sure, he might have occasionally overreacted when he struckout and yes he annihilated a few to many water coolers in the dugout, but Andre Ethier more times than not said yes. He said yes to a picture, he said yes to an autograph, he said yes to local charities. You name it, he usually said yes. Even when he said no, he still said yes! (i.e. – the time in St. Louis that he politely declined to sign for me, but then said yes to taking a picture with me, the featured image of this story). Then there was the time in Vero Beach when I took a really bad selfie before they were known as selfies, but got a great picture of our chins. (I need to find that picture and get him to sign it at an alumni game one day.)
Being from Nashville and living 2,000 miles away, my neighborhood isn't exactly "blue heaven on earth" or "bleeding Dodger blue" as Tommy Lasorda would say. It was then that Andre Ethier came along as part of a core group of young players at just the right time in my life when I had some discretionary time and a wee bit of discretionary income (i.e. – young married, no kids) that fueled my fire again for Dodger baseball. One story in particular took place in Atlanta in early 2006 when Beth got her first and only baseball autograph. I had just gotten him to sign a card on the field level pre-game, but I really wanted this other card signed too, but was hesitant to ask for seconds! So I rushed back to our seats, found my stunning bride and posed the question that every autograph collector never wants to ask his wife "Would you go get his autograph for me?" She said yes to me, then he said yes to her. To "return the favor" two years later in St. Louis, on the trip where Andre and I are pictured together I had Andre sign a card 'To Beth: All the Best – Andre Ethier.' She had that card on her dresser for years. Rather….I put that card on her dresser and it stayed there for years.
Andre Ethier was a free agent at the end of 2017. He had just completed the fifth year of a five year contract he signed with the Dodgers when he was still in the prime of his career. With an abundance of outfielders already, on the field the Dodgers would not have benefited from his services in 2018, leaving him two options. Instead of choosing to play for a new organization on a minor league deal in spring training when he would be fighting for a job with guys 15 years younger than him, he waited and waited on the right offer, yet it never came along. So instead of chasing a few at-bats on AAA bus trips, that might or might not have led him back to the big leagues this season, he decided to retire as a career Dodger. In true Dodger fashion, they celebrated his career with a proper send-off tonight with his family in attendance and former teammates watching from the dugout. (Click here for the Dodgers pregame tribute video shown during his retirement ceremony.)
Andre, seeing that the Simply A Fan blog is a mere three weeks old, you'll likely never see or read this and that's okay. By some chance if you, Maggie or the kids come across it years from now, know that your impact off the field was felt just as much as what you accomplished between the lines. Thank you for being a career Dodger who made the organization and fanbase proud. Thank you for being the consummate professional in recent years when injuries derailed your career and left you cheering from the dugout as the veteran and mentor. Thanks to saying yes to me and so many other fans time and time again. Thanks for being part of the core group of guys who captivated my attention as a 20 something year old and reminded me why I really enjoy the history and legacy of Dodger baseball. Most importantly, thank you for all you did and will continue to do in the community through your generosity of both money and time to the Union Rescue Mission, the Jackie Robinson Foundation and so much more. You will be a husband, father, neighbor and friend far longer than you roamed right field. Enjoy retirement, keep making a difference.
Featured image: Mark meets Andre in 2008, St. Louis.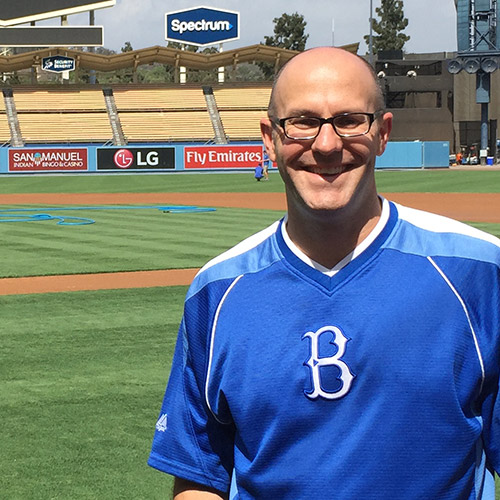 Mark Jent is the chief trip planner and designated storyteller for Simply A Fan. He lives in Nashville with his wife Beth, and their three kids, Brooklyn, Harrison and Zach. He enjoys cheering on his Dodgers, reading baseball history, hiking at Radnor Lake and chasing waterfalls throughout Tennessee with his family. He launched Simply A Fan in July 2018 with the two-fold purpose of taking people on adventures to ballparks across the country and providing fans a platform to share their baseball stories. He is currently on a quest to meet as many of the living Brooklyn Dodgers as possible.