by Mark Jent
The idea for "Simply a Fan" has been simmering with me for nearly two years. It started as merely a platform to serve as an outlet for me to organize and lead more "bucket list" baseball trips to ballparks across America. Simply put, I got to go to more baseball games with my wife Beth's blessing because I was including my cost in the price for those who go!
Yet shortly after that original idea came to mind, I realized I had also become more passionate about storytelling. And not just telling stories that you can find every day about game highlights, recent trades or who's "hot," as I did not feel like that was my niche in a saturated market of baseball coverage. The stories that fascinate me the most are those that take you away from the diamond and into the stands, stories that highlight how and why someone became a baseball fan.
Back in 2016, when the Cubs were marching towards the World Series (over my Dodgers), the stories that kept me on the edge of my seat were of Cubs fans who had waited their entire lives to see the Cubs not only playing in, but winning the World Series. One particular story that captured my attention featured Cubs fan Wayne Williams of North Carolina, who kept a lifetime  promise to his dad by driving across the country to sit by his father's grave so they could listen to Game 7 together. While it may seem morbid to some, the story here is that baseball has transcended and connected generations, to a point where people like Wayne will go to great lengths to stir emotions that once brought a father and son together.
What I eventually began to dream about was how maybe – just maybe – if I worked up enough courage, I could take this wild idea by combining the areas of trip planning and storytelling to create a platform to share the stories of baseball fans whose stories have never been told. This would be a forum to bring people into the stands, so that  every-day fans (who are die-hard enthusiasts for their team) could share how they once became baseball fans. I knew that if I started with the stories of my baseball friends, I could eventually invite those I meet at different ballparks to share their stories as well.
As the idea became more and more clear, I realized my dream was actually marching into the realms of reality. I found myself swimming amidst a sea of startup questions, including: "What image best tells the story of a baseball fan?" "What will resonate with fans, no matter their age, gender or other demographics?" "What could be an original idea for a baseball logo?"
The answer – a ballpark seat.
Yes, just an old, rickety, wooden ballpark seat.
No matter who you cheer for, how long you've been a baseball enthusiast or your level of passion for the game – every fan of the game finds him or herself having a single identifiable commonality about them: we all started out as a fan in the stands.
No matter whether you only played the game as a youth, whether you got a cup of coffee in the big leagues or whether your bronze plaque hangs on a wall in a museum in a tiny village in upstate New York, every individual who has ever played this great game was also once (and likely still is) a fan. Thanks to Father Time, people eventually return to where they started: a ballpark seat, cheering on the game.
Numerous friends along the way have given credible opinions and valuable advice. But there is one friend whom I am indebted to that gets the credit for the initial vision and actual design of the Simply A Fan ballpark logo – Joseph Mankin.
Joseph is a youth minister at a local church by day, but his former graphic design wheels can't stop turning at night. When I reached out to him recently for thoughts, I fortunately caught Joseph on a night when he was on his couch watching television with a laptop and some free time. Instead of just choosing an option and casting his vote on some other designs, Joseph, a baseball fan himself who just so happens to be a creative genius, within minutes, sent me back the ballpark seat and said, "here's your logo." It immediately captured my attention.
Although I wrestled with the finality of it over the coming days, I cannot think of a more fitting image that depicts my vision for Simply A Fan. Whether you went to your first game in 1955, or just last week, either way you sat in a ballpark seat. Whether you have been to a hometown Little League game or found yourself at Game 7 of the World Series last year in Los Angeles, you sat in a ballpark seat. No matter who you are, which generation you belong to, where you are from or who your favorite team is, we all started out in a ballpark seat as simply a fan.
Coming soon: The Story Behind the Number.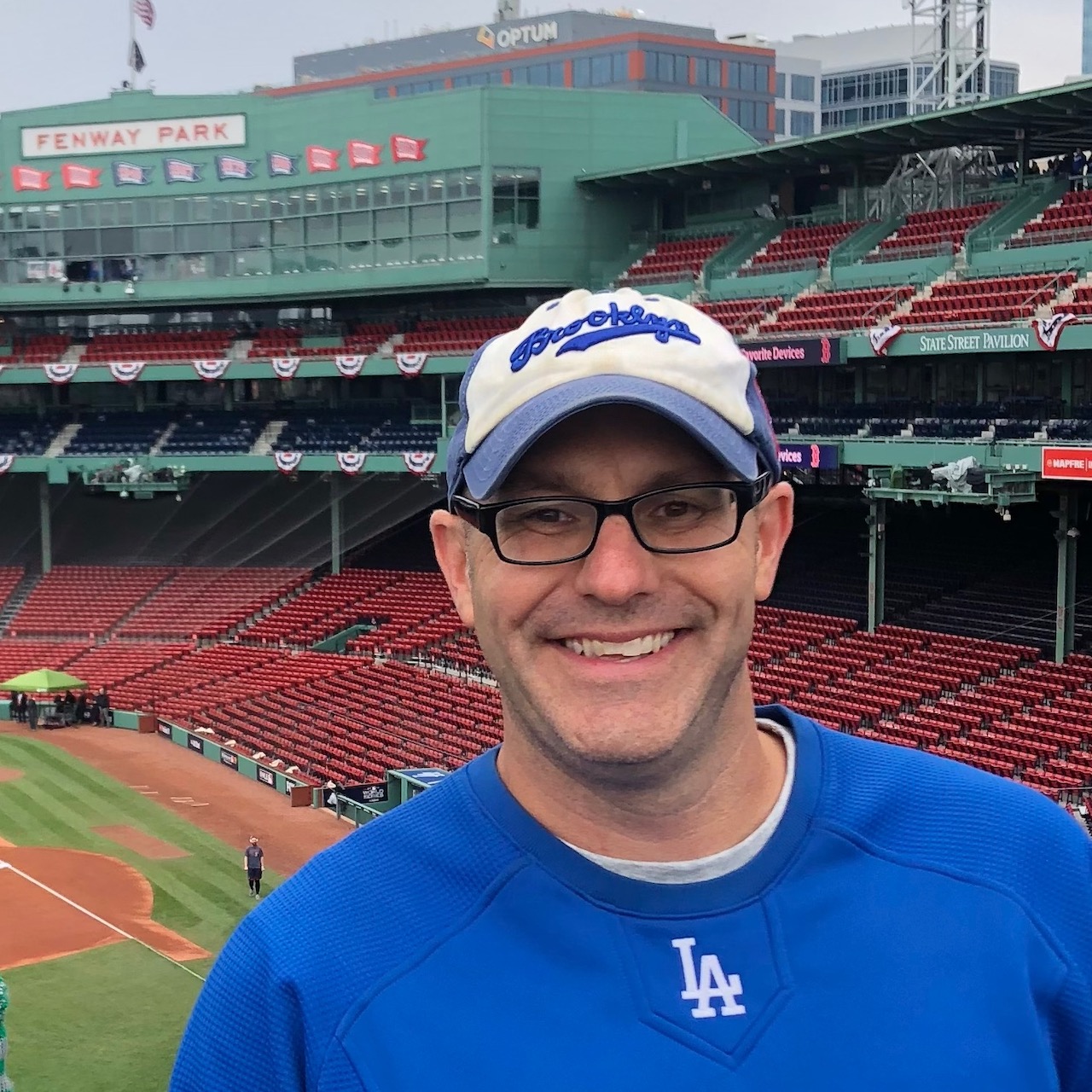 Mark Jent is the chief trip planner and designated storyteller for Simply A Fan. He lives in Nashville with his wife Beth, and their three kids, Brooklyn, Harrison and Zach. He enjoys cheering on his Dodgers, reading baseball history, hiking at Radnor Lake and chasing waterfalls throughout Tennessee with his family. He launched Simply A Fan in July 2018 with the two-fold purpose of taking people on adventures to ballparks across the country and providing fans a platform to share their baseball stories. He is currently on a quest to meet as many of the living Brooklyn Dodgers as possible.